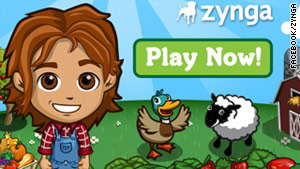 More than 232 million users play games from publisher Zynga on a monthly basis alone.
STORY HIGHLIGHTS
Putting a game on Google+ isn't about reaping huge returns
Power is already beginning to consolidate in the hands of giants like Zynga and EA
Developers have been seeking alternatives to Facebook's developer program
Editor's note: Scott Steinberg is the head of technology and video game consulting firm TechSavvy Global, as well as the founder of GameExec magazine and Game Industry TV. A celebrated business keynote speaker, he frequently appears as an on-air technology analyst for ABC, CBS, NBC, FOX and CNN.
(CNN) -- Google's social network, Google+, recently sent tremors through the gaming world with the announcement that it would be launching a new social games service.
But despite offering players 16 games, from Angry Birds to Bejeweled Blitz, and providing software developers more generous financial terms than competitors, it's dubious whether there's any real danger to rival Facebook.
Currently offering a small selection of digital diversions, many available from numerous other devices and sources, Google's initial library of games doesn't raise the bar for quality or innovation.
What's more, with an audience of 25 million users as compared to the nearly 800 million on Facebook, Google+ isn't suddenly going to topple Mark Zuckerberg's electronic entertainment empire overnight.
Given the thousands of titles already available on rival social networks, with dozens more released every day, it probably won't be the first place bored office drones look for entertainment either.
Still, as game makers from PopCap ("Plants vs. Zombies") to Rovio ("Angry Birds") and Electronic Arts ("The Sims Social") are aware, to dismiss the considerable opportunity that Google+ presents would be a fatal error.
Not only does the social network present a massive chance to greatly expand social gaming's reach and grow the audience for interactive entertainment as a whole -- it's also a prime opportunity for developers to hedge their bets on Facebook by creating another channel through which to sell high-quality, intuitive and free to play games.
With the market for virtual goods pegged somewhere around $1-to-$2.1 billion in revenue in 2011 by industry insiders, there's considerable extra money to be made hawking new buyers their simulated clothes, cars and power-ups.
Moreover, given Google's announcement that it would take only 5% of payments made to game companies for now, as opposed to the 30% toll demanded by Facebook, developers have added incentive to take the plunge.
Bolstering creators' bottom line, such efforts may provide greater windfalls, at least for a short while, that can be reinvested into more sophisticated and enjoyable games.
Above all else, however, Google's foray into social games provides some protection should Facebook decide to change the rules, up fees or meddle with an already delicate situation, with most games and developers currently struggling to gain visibility.
On social networks, power is already beginning to consolidate in the hands of giants like Zynga, Playdom and Electronic Arts, whose large audiences and deep pockets make an ever-shifting array of new releases easier to find. Once a bastion for independents, advertising and well-known brands are rapidly beginning to outpace creativity and innovation as the catalyst for success in these play environments, as in the traditional video games business.
If Google+ blossoms, unlike Buzz and Orkut, it presents what's possibly fertile new ground for scrappier competitors to colonize and cultivate.
For now, putting a game on Google+ isn't about reaping huge returns, raising the bar for innovation or unseating reigning titans. It's a means to establish an early beachhead that can possibly produce decent returns and, more importantly, help build brands and create user awareness before an oncoming tidal wave of competition arrives.
All but certain to inspire another social gaming gold rush, Google+ appears to be the next battleground in a coming war for players' hearts and minds. Whether it'll also be the best place to kill five minutes between filing sales reports or just one of many nondescript options for idling away the time going forward, well... For now, it's too early to say who'll really emerge ahead of the game.
FOLLOW THIS TOPIC