STORY HIGHLIGHTS
To boost authenticity, creators enlisted advisor Andy McNab
McNab is a member of the British Army who worked on covert and overt special operations
He also penned a novel based on one of the characters in the game
(CNN) -- Military-style, first-person shooter video games typically emphasize tactics and group play to achieve objectives. But a high-profile game due out this fall wants to break the mold by bringing story to the forefront.
"Battlefield 3" (DICE, Electronic Arts) is the 11th game in the franchise and a sequel to the 2005 hit, "Battlefield 2." While the gameplay will feature combat across several different terrains and scenarios, developers at DICE also wanted to feature a compelling narrative to bring a new feeling to the typical military-shooter game.
Executive producer Patrick Bach admits storytelling wasn't really a big focus in past installments of the "Battlefield" series.
"You can have a great story, and if you don't have it in the right way, especially when it comes to a military shooter like 'Battlefield,' it just feels (arcade-like). It feels like a game rather than a real story about real people having this as a profession," Bach said.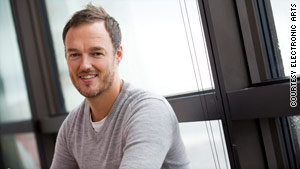 Patrick Bach said the narrative will immerse players both physically and mentally in the game.
"Our biggest win, and the thing that stands out most, is when people see things we've done (with the new game) so far," he added.
"It's the emotion and the grit and the physicality ... all of these small things -- everything from movement to lingo to storylines -- have to have emotion."
To boost authenticity, Bach enlisted the help of Andy McNab, a highly decorated member of the British Army who worked on covert and overt special operations around the world. McNab is also an author and a consultant to Hollywood -- he advised Michael Mann on the 1995 crime thriller "Heat" -- which allowed him to translate his battlefield experiences into something the development team could put into the game.
"Andy, coming from his career in real-world events and entertainment, was the perfect match to do this," Bach said. "We started out quite easy to see if we could get feedback (from him) on obvious stuff, but eventually that turned into feedback in most of the areas of the game."
When McNab joined the project, DICE had already been working on the game for about two years. It was his first attempt in advising on a video game, but his experiences working on feature films helped him integrate quickly with the development team.
"Working in film, there is a lot of creativity. But after a while that has to stop because within principal photography, there are other factors that restrict the amount of creativity you can have," McNab said. "But in games, it doesn't. What I found was everybody is a part of that creative process. Everybody wants to make it look good or sound good or get the story right."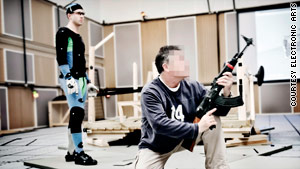 Military advisor Andy McNab, his face blurred for security reasons, worked with the actors to boost authenticity.
McNab says he was impressed by the amount of creativity that goes into building a video game. During motion-capture work he described each scene in real-world terms so the actors could portray the proper emotions.
"There is a lot more flexibility and constant creativity, which is great," he said. "Obviously the game has got a story, which was one of the things that attracted me in the first place rather than just a shoot-em-up."
Credible dialogue was particularly important, he says. Soldiers in the game needed to have the right words and inflections to accurately reflect what solders in the real world are doing.
"Words like 'will try to,' 'maybe,' 'we will attempt' -- they don't exist," McNab said. "It's all about 'you will,' 'I will,' 'we will.' Everything is positive and all dialogue is progressive because you need that start point to make all actions work."
McNab didn't write the script for the game, but as the story developed graphically, he began adding details and elements to create a more realistic feel.
Getting the right emotions was key in putting together "Battlefield 3" and setting it apart from other military games, Bach says.
"We actually wanted to move the genre forward by creating deeper emotions, more physical presence in the world ... the most sophisticated 'Battlefield' experience (yet)," he said.
Bach said the single-player narrative will immerse players both physically and mentally in the game's characters. There is also another story for the game's multiplayer action that he thinks will get people talking with their friends.
Test players say, "This game gives me a completely new feeling when I play it, but can't really pick out why.' I think that's our biggest win."
And the story doesn't stop when the game ends.
McNab penned a new novel based on one of the characters in the game, a Special Forces operator named Dmitri "Dima" Mayakosky. Dima is a Russian who is prepared to do whatever it takes to get the job done.
"It is impossible for any single medium to fully capture the emotion and intensity of war. The 'Battlefield 3: The Russian' novel is one window into the experience, and the game is another," McNab said.
"It just evolved (while working on the game). It seemed a natural progression to do a book because there was still a story to tell. Maybe we can get someone who is playing the game to actually pick up a book."
"Battlefield 3" will be available October 25 in North America for the PlayStation 3, Xbox 360 and PC.
FOLLOW THIS TOPIC