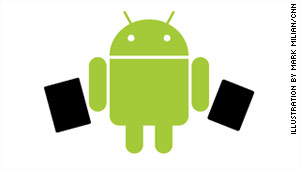 Google's Android tablet system, slow to take off, is getting more support from hardware partners.
STORY HIGHLIGHTS
Sony Electronics and Adobe Systems team to show support for the Android tablet

Consumers have plenty of tablets to choose from, but they aren't flying off shelves

Analysts say Android tablets are not poised to pass the iPad any time soon
(CNN) -- The Android cabal is reuniting in a new territory.
In the burgeoning tablet computer market, Google and its legion of hardware partners appear to be recreating the conditions that helped crown the Android operating system king of the hill in smartphones.
Two newer members demonstrated firm commitments to Team Android Tablet last week.
Sony Electronics plans to launch the S1 and S2 tablets, both running Google's Android, in the fall. Those devices will be Sony's first major tablet products. And together with Adobe Systems, Sony is hoping to breathe life into Android's tablet marketplace with a $200,000 competition for application developers.
"We understand that the Android market today hasn't been exactly what it was forecasted to be," Phil Molyneux, the president and operating chief for Sony Electronics, said during an interview with reporters on Wednesday.
While the total number of Android apps designed for phones continues to skyrocket, into the hundreds of thousands, apps designed for tablets remain a relative rarity. The total, by some estimates, is less than 300.
Compare that to some 90,000 apps made for the Apple iPad or even the 300 available for Hewlett-Packard's just-released TouchPad, which uses the proprietary webOS software. An abundance of apps is crucial to a platform's success, most operating-system providers agree.
A Google spokeswoman declined to make a representative available for an interview. At the company's developers conference in May, Google unveiled a new version of Android that would help app makers design their software to work on most Android phones and tablets.
"We know that high-quality apps are the lifeblood for Android," Android executive Mike Cleron said on stage.
Even Google's partners aren't satisfied in that respect.
"Consumers want more apps for Android tablets," Sanjay Jha, chairman and chief executive officer of Motorola Mobility, said in a recent earnings call. Motorola sold fewer than 250,000 units in the first few months, a far cry from the 300,000 iPads sold on its first day and the 25 million sold in the first 14 months.
Nvidia CEO Jen-Hsun Huang told the technology website CNET that Android tablets have several problems, including pricing, marketing and app availability.
Over the next four years, Android tablets are forecast to gain market share but fail to overtake the iPad, according to a recent report from Gartner Research. Meanwhile, Google had already overtaken all smartphone competitors for dominance in that industry, less than four years after the launch of the iPhone and three years after the release of the first Android device.
But Android's rise to prominence in smartphones, likewise, did not start with a big bang.
However, its challenges were different then. The first Android smartphones were sold by smaller cellular carriers like T-Mobile USA, and there weren't many devices to choose from. It wasn't until Verizon Wireless threw its weight behind Google, with the Droid campaign, that Android blasted off in the United States and then elsewhere.
Consumers shopping for a tablet today can choose from a bevy of Android devices. Samsung Electronics has been producing tablets in various sizes since last year. The needle didn't move much when Motorola debuted the Xoom for telecom giant Verizon.
Industry analysts and executives are struggling to answer the question: Do consumers want tablets, or do they want iPads?
It's a question worth asking, and this discussion is similar to the portable-media players vs iPods debate. The answer in that case, as Microsoft and others learned, was the latter. People wanted iPods. Samsung isn't coming close to unseating the iPod Touch with its Galaxy Player, based on Android software.
Electronics manufacturers aren't waiting idly to find out the answer to the iPad-or-Android tablet question. They are banding together and again, betting on Google to turn the tides.
Toshiba released the Thrive last week. Amazon is working on a tablet, and the Wall Street Journal reports that it will use Android. Research in Motion's BlackBerry PlayBook tablet will eventually be able to run Android apps, RIM executives have said.
Many players will rely on the success of Android as a means to break into the tablet market, but they are still looking for the impetus that gets consumers onboard.
FOLLOW THIS TOPIC