STORY HIGHLIGHTS
It pays to be selective about the games you buy for the new Nintendo 3DS device
"Ridge Racer 3D" gives long-running arcade driving franchise a useful 3-D makeover
"Lego Star Wars III" scores with predictable button-mashing space age showdowns
Editor's note: Scott Steinberg is the head of technology and video game consulting firm TechSavvy Global, as well as the founder of GameExec magazine and Game Industry TV. The creator and host of online video series Game Theory, he frequently appears as an on-air technology analyst for ABC, CBS, NBC, FOX and CNN.
(CNN) -- Much ado has been made about the new Nintendo 3DS, a portable handheld video game system capable of displaying three-dimensional special effects without the need for goofy glasses.
But even with a wide selection of welcome features like online play, motion controls, and 3-D photo taking and movie playback, the 3DS -- which went on sale Sunday -- isn't exactly a bargain at $249.
Older, less expensive systems such as the DSi ($149.99) or DS Lite ($129.99) offer better battery life. The Nintendo 3DS gets three to four hours of juice with Wi-Fi connectivity and 3-D special effects activated.
The older devices also offer a much broader software catalogue for the entire family, and at more affordable prices.
Thankfully, though, the device is backwards compatible with existing DS/DSi software.
Be glad, as new Nintendo 3DS games cost $39.99 on average, except for budget-priced outings like "Balloon Pop 2" and "Bust a Move Universe" ($19.99 and $29.99, respectively).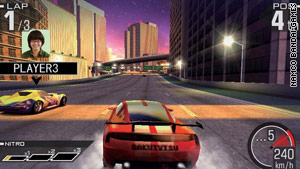 "Ridge Racer 3D" puts you behind the wheel for high-speed racing thrills.
Not all of the games take great advantage of the system either. "Madden NFL Football," while enjoyable and expansive, may feature too much jarring on-screen activity for 3-D viewing comfort.
Still, the best dedicated 3-D games -- which can also run in 2-D mode, with special effects controllable via an optional depth slider -- look visually striking. They literally pop out of the screen as promised, no glasses required.
On the downside, though, you have to be staring directly at the dual-screened device head-on to enjoy the 3-D benefits. And doing so for extended periods of time may cause fatigue and eyestrain.
Don't expect to easily peek over a friend's shoulder while they play, either. Viewing at an angle can cause disorienting blurring effects, as if looking through someone else's eyeglasses.
Pick the Nintendo 3DS up for the first time though, and you can expect to experience a childlike sense of fun and whimsy -- doubly so, once held correctly.
The magic's especially pronounced as virtual pets hop out of the screen or projectiles suddenly come flying towards your unsuspecting corneas. Even the simplest applications of the gadget's 3-D technology provide once-bland 2-D objects with the illusion of genuine depth.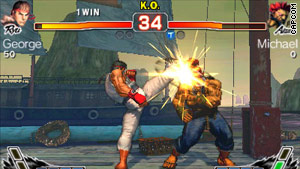 "Super Street Fighter IV" lets you whip-kick foes in three dimensions.
Tons of built-in activities, including augmented reality mini-games and passive networking StreetPass features that let you wirelessly exchange data -- e.g. collectible goodies and avatars -- with other nearby 3DS owners, also add charm.
Whimsical menus, guides and characters only further help make setup and play enjoyable. Nearly every game screams its family-friendly nature, from cartoon visuals to a quirky sense of humor.
Despite its shortcomings, the 3DS is a genuine joy to behold and pleasure to play. Whether you'll want to shell out for one, or borrow a more affluent friend's system is another story, however.
For those pondering making the upgrade, it pays to be selective about the 3DS games you pick. Here's a short list of launch titles that serve as the finest showpieces for the gadget's 3-D charms.
'Ridge Racer 3D'
Takes the long-running arcade driving franchise and gives it a surprisingly useful 3-D makeover, with added visual depth making it easier to gauge distances, plot hairpin turns and decide when to start your skids.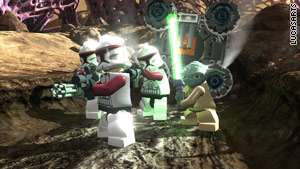 "Lego Star Wars III: The Clone Wars" could become a kids' favorite.
'Lego Star Wars III: The Clone Wars'
While gameplay benefits little materially from the addition of 3-D effects, this addictive little sci-fi action-adventure for the family nonetheless scores with its predictable button-mashing space age showdowns.
'Nintendogs + Cats'
Anyone who ever dreamed of having a pet, or not having to clean up after one, will enjoy feeding, playing fetch with and petting furry friends whose personality literally hops off the screen here. Options to communicate via microphone voice commands are an added bonus.
'Tom Clancy's Ghost Recon: Shadow Wars'
A turn-based strategy game that excels for its tactical play more than eye-popping effects, "Shadow Wars" nonetheless offers solid soldiering well-suited to a handheld format that any portable gaming system would gladly play host to.
'Super Street Fighter IV'
Although 3-D effects prove enjoyable, helping martial arts brawlers better stand out from backgrounds, what you'll really love are the stunning quality of featured animations -- equally enjoyable in 2-D -- and online play options, which add massive replay potential.
'Pilotwings Resort'
Reinventing the classic SNES series for a new generation, this casually accessible flight simulator makes a ready showpiece for the hardware and its 3-D graphics capabilities, though it's more high-concept technology demo than full-fledged game.
FOLLOW THIS TOPIC