STORY HIGHLIGHTS
Sound system makers are preparing to introduce receivers with Apple's AirPlay

The function will allow computers and Apple gadgets to wirelessly stream music

Apple is said to be considering carrying high-end audio equipment in its stores

San Francisco (CNN) -- Audio equipment manufacturers are increasingly dancing to Apple's tune.
Starting next month, a slew of new sound systems are slated to debut, all of which come with a wireless music streaming function from Apple called AirPlay.
Formerly named AirTunes, the format has only recently been opened up to third-party equipment makers to use through licensing agreements with Apple. AirTunes was compatible only with Apple-made gadgets like the AirPort Express and Apple TV.
With one of these systems coming out soon, people with an iPhone, iPad, iPod Touch or computer running iTunes will be able to press a button on a song or video and wirelessly transmit the audio -- or, in the TV unit's case, video -- to their home theater.
Pioneer Electronics announced a new receiver, the VSX1021-K, at a news conference Monday. The $579 system will be available in stores early next month, representatives said. It will be the first of eight devices from Pioneer available this year that will have AirPlay built in, company spokesman Christopher Walker said.
Denon Electronics, another major sound system manufacturer, plans to hold a news conference next month to introduce a new line of receivers, said Jeff Talmadge, a director of product development for the company. Declining to discuss specifics, Talmadge said that "most likely," the hardware would be more affordable and have AirPlay built in.
The plan is to add AirPlay to every Wi-Fi internet-capable device Denon sells, Talmadge said. The company will continue rolling out more AirPlay systems this year and keep that pace into early next year, he said.
Currently, five Denon systems are compatible with AirPlay, but they require the owner to purchase a $50 software upgrade. About one-quarter of customers who own an AirPlay-supported Denon unit sprung for the extra software, Talmadge said. The fee was designed to recoup Denon's research and development costs, he said.
Companies have to pay a $4-per-unit tax to Apple to make their hardware fully compatible with iOS gadgets' dock connectors and to include "Made for" logos on their packaging, multiple manufacturers said. The AirPlay capability was recently included as part of that licensing package, called the MFi Program, Talmadge said.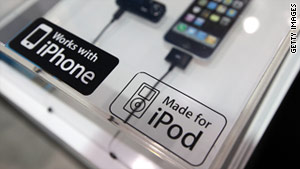 Companies must pay Apple a fee in order to sell certified electronics compatible with its gadgets.
Apple Stores carry hardware from accessory makers only if they have paid the licensing fee, an Apple spokeswoman said.
Apple is "seriously considering" expanding inventory in its stores to include high-end audio equipment and has held talks with some companies about the matter, Talmadge said. Now, Apple Stores have only a small section devoted to low-end speaker systems that dock an iPod, many of which double as alarm clocks.
To show off larger home theaters, Apple would probably need to retool the layout of its stores. Such a change could help to better demonstrate the $99 Apple TV, which is currently set on a table in the back in most stores, or to promote high-quality iTunes music.
The Apple spokeswoman declined to comment on plans related to new inventory.
At Monday's event, Pioneer also demonstrated two new receivers available this month that will be the first to carry Made for iPad certification, which means they can charge the tablet and play music through a dock connector cable.
Pioneer executives professed their love for Apple during the news conference. In the last few years, Pioneer has made it a priority to cater to Apple products and target "Apple-passionate customers," which is what executives call these people internally, said Russ Johnston, an executive in Pioneer's home electronics division.
"There's a new consumer," Johnston said. When these people pass an Apple Store, "they have to walk in to feel that culture, touch the products."
So it's obvious why the potential for having more audio equipment in Apple Stores is exciting for these companies. A Pioneer survey found that 62% of people who own a Pioneer device also own an Apple product. Nearly half own at least three Apple products, the survey said.
"Without expanding distribution, keeping our same retail base, our market share has almost doubled," Johnston said. That's largely thanks to integrating with Apple hardware and software, he said.
What most of these sound systems have in common, though, is that they support a protocol called DLNA. Like AirPlay, that standard can transmit audio and video over a Wi-Fi connection. Most new Windows computers and Android smartphones can stream using DLNA but not with AirPlay.
"DLNA is a great technology, and it works," said Talmadge, from Denon. "But the problem is no one knows what it is."
"How can we market DLNA?" he asked. "Give it a name, something that romances it."
While Apple is picking up steam in Japan, which is a major market for audio equipment, smartphones running Google's Android system are exploding. "I think we need to consider" spending more efforts catering to Android, said Mick Aizawa, a Pioneer home electronics spokesman who works as a liaison between the American and Japanese teams.
FOLLOW THIS TOPIC