STORY HIGHLIGHTS
Caroline Wozniacki is women's world number one in tennis but hasn't won a grand slam
She joins Jelena Jankovic and Dinara Safina with the dubious accolade
Injuries derailed the careers of Serena Williams and Maria Sharapova after reaching No.1
Kim Clijsters has missed the last three grand slams after a brief spell at the top early this year
(CNN) -- Reaching the top of the world rankings in your chosen sport is the pinnacle of achievement and often the culmination of a lifetime's ambition; with it comes fame, fortune and a place in history.
But in women's tennis the accolade is rapidly becoming something of a mixed blessing with loss of form, bad luck and freak injury blighting those who have scaled the heights of their sport.
The current No.1 -- Caroline Wozniacki -- has yet to win a grand slam and suffered an embarrassing defeat to Dominika Cibulkova in the fourth round at Wimbledon earlier this year, adding to her unexpected exits from the Australian and French Opens.
"I don't really care what people think or say," she told reporters in a rare fit of pique after her Wimbledon setback.
The U.S. Open offers Wozniacki her next opportunity to end the "world number one who hasn't won a grand slam" trend that started with Serb pair Ana Ivanovic and Jelena Jankovic, who looked set to dominate women's tennis in 2008.
Is Wozniacki feeling the weight of the world number one?
Ivanovic charmed the crowds at Roland Garros on her way to the French Open title that year and with it the No.1 spot.
She appeared to have the world at her feet, but an early exit at Wimbledon a few weeks later was the precursor for a major slide down the rankings to as low as 65.
Improved form has seen her rise into the top 20, but she has not been a factor in a grand slam since her 2008 triumph.
But at least Ivanovic has one under her belt, unlike compatriot Jankovic who, like Wozniacki, enjoyed a streak of awesome consistency later in 2008 and ascended the rankings in August of that year.
She lost to Serena Williams in the final of the U.S. Open and although regaining top spot from Ivanovic in the fall has never seriously threatened to win one of the four majors in tennis since then.
Jankovic has also struggled with a series of injuries and is just ahead of Ivanovic in the current rankings, but outside the top 10 where she was formerly a regular.
Next in the No.1 firing line was Dinara Safina, who took over at the top from Serena Williams, whose infrequent appearances in tournaments cost her dear in the ranking system adopted by the WTA.
The Russian wore the ranking, particularly in grand slams, like a millstone around her neck, not helped by Williams' cruel jibe that she did not deserve it.
Crushing defeats in the Australian Open final to Williams and in the French Open to Russian compatriot Svetlana Kuznetsova would hardly have helped her confidence and the decline set in.
Injuries have also taken a cruel toll and she dropped outside the top 100 before creeping back in earlier this year.
Caroline's performance over this period has earned her the World No.1 ranking.
--WTA spokesperson
Williams took over the mantle from Safina and carried it like a champion, culminating in her 13th grand slam title at Wimbledon in 2010.
She looked unstoppable, but it is often said triumph and disaster are twin imposters and no more so than in her case.
A cut foot after stepping on some glass in a Munich restaurant seemed not much to write home about, but it ended requiring extensive surgery and ruled Serena out for the rest of the season.
Recovery was painfully slow, but worse was to follow when it was reported she had diced with death after suffering a pulmonary embolism in her lungs.
Thankfully she has fought back to take her place at Wimbledon and wins in two recent tournaments is a good omen for Flushing Meadows.
Wozniacki, who took over from Williams at the top, briefly lost the ranking to Kim Clijsters after the Belgian won the 2010 Australian Open.
It may be curse or coincidence but Clijsters has not enjoyed the best of fortunes subsequently.
Initially it was a shoulder problem, but then another freak injury followed in the mould of Williams.
Some over-enthusiastic dancing at a friend's wedding left Clijsters with an ankle injury which caused her to miss most of the clay court season and it flared up again as she sat out Wimbledon.
A subsequent stomach muscle injury sustained in her comeback tournament ruled her out of her defense of the U.S. Open title as well, another victim of the misfortunes to befell No.1s.
Former men's champion Pat Cash told CNN the WTA ranking system is not ideal: "The female rankings are slightly different than the men. They encourage participation by rewarding plenty of ranking points to the top tier tournaments (arguably too much), with the idea of persuading the top players to play more often.
"Players who do not buy into this theory such as Clisters and the Williams sisters rank lowly because they haven't accumulated enough points even if they win grand slams. The men were similar at one stage thats when we had Marcelo Rios as number one even though he didn't win a grand slam."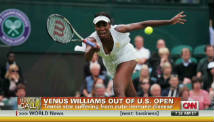 Venus Williams out of U.S. Open
Back into the hot seat came 21-year-old Wozniacki, who was set to face Maria Sharapova in the quarterfinals at Wimbledon until going out to Cilbulkova, despite winning the first set 6-1.
"I did my best and it wasn't good enough," she acknowledged.
Sharapova went on to lose in the final to Czech Petra Kvitova and has not won a grand slam since the Australian Open in 2008.
Shortly afterwards, the Russian superstar took over as World No.1 for the fourth time, but an old shoulder injury flared up and almost ended her career as it required major surgery.
So an unhappy tale which may say something about the grueling schedule that the leading tennis stars have to deal with, but the WTA robustly defend both the rankings system and the demands on their players.
"Since 2008 we have shortened and streamlined the season; increased prize money and bonus pool payouts; provided more breaks for top players; and reduced top player tournament commitments," a spokesperson told CNN.
"Caroline's performance over this period has earned her the World No.1 ranking. During this year alone, she's won a WTA leading five titles, including Premier events in Dubai, Indian Wells and Charleston.
"She has won 17 tournaments in four years and has consistently progressed deep at the grand slams," they added.
Wozniacki is playing in the U.S. Open at Flushing Meadows still holding top spot and will be hoping against hope to break her duck and lift the prestigious crown.
But with Serena Williams back to near her imposing best in the early rounds, it appeared odds against Wozniacki breaking "the curse."
FOLLOW THIS TOPIC