Favre: "It's time"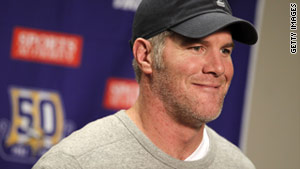 "It's been a wonderful ride for me," Minnesota Vikings quarterback Brett Favre said Sunday.
STORY HIGHLIGHTS
Minnesota Vikings quarterback gives nostalgic news conference
Favre is a three-time NFL MVP and 20-year veteran
He was fined last week for failing to cooperate with an investigation
(CNN) -- Brett Favre never used the word "retirement," but a post-game news conference after Minnesota's 20-13 loss to Detroit on Sunday had all the appearances of a swan song.
"It's time. I know it's time, and that's OK. It is," Favre said. "I hold no regrets. I can't think of too many players offhand who can walk away and say that."
If Favre is calling it quits, it will be the third time he has announced his retirement during a 20-year career. The 41-year-old future Hall of Famer said he was quitting in 2008 and again 2009 before continuing with the New York Jets and the Vikings.
"It's been a wonderful ride for me," Favre said. "It's the grace of God I got a chance to play this game and play it at a high level."
Should 2010 be Favre's final season, it was not at the same high level that marked most of his career. He finished with the lowest quarterback rating of his career -- other than his rookie season -- as the Vikings finished last in the NFC North. Injuries kept Favre out of three of the last four games.
Favre was league MVP three times during his 20 seasons in the NFL, 16 of which he spent with Green Bay, leading the Packers to the Super Bowl twice. Green Bay won Super Bowl XXXI in 1997.
"I'd be remiss if I didn't thank the Green Bay Packers, the fans," Favre said. "It's kind of tough to say that with Vikings fans at the same time, but it's been special."
In addition to taking his lumps on the field, Favre was bruised off the field.
Last week, Favre was fined $50,000 by the National Football League for failing to cooperate with an internal investigation into whether he sent sexually explicit texts to a New York Jets hostess.
But NFL Commissioner Roger Goodell, citing a lack of evidence, "could not conclude that Favre violated league policies relating to workplace conduct," the league said in a statement.
The NFL was unable to establish whether Favre sent objectionable messages to New York Jets game-day hostess Jenn Sterger in 2008, when he played quarterback for the Jets. He joined the Vikings in 2009.
Goodell has told Favre that if the investigation found a violation of the league's workplace conduct policies, the commissioner would have imposed a "substantially" bigger penalty.
But the league's investigation seemed to be far from Favre's mind Sunday.
"It's been a wonderful experience for me," he said. "I wouldn't change it for anything. It was special."
FOLLOW THIS TOPIC