Heat, Mavericks look for vindication as NBA Finals begin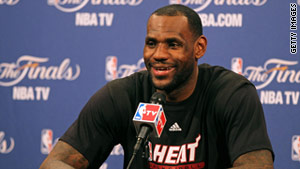 LeBron James told Miami Heat fans that he wants to bring multiple championships to South Beach.
STORY HIGHLIGHTS
Several players on either team have personal reasons to be vindicated by win
Jason Terry says he will remove his tattoo if he loses
LeBron James has promised his fans multiple championships
Read more about the NBA Finals from CNN affiliates WFAA and KDAF.
(CNN) -- The Miami Heat has been called whiners, opportunists and other derogatory names this year on its quest for championship rings.
And for many years now, the Dallas Mavericks has had to deal with the perception it is not tough enough to earn the trophy.
So winning the NBA Finals, which start Tuesday night, is a lot about vindication for both teams.
A championship win would also be sweet justice for several high-profile players on either side:
Jason Terry: Losing would be most painful -- literally -- for Mavericks shooting guard Jason Terry.
Terry had the Larry O'Brien championship trophy tattooed on his right bicep before the season began because he was confident the Mavs would clinch the title, he told CNN affiliate WFAA.
If the Mavs lose, Terry said he will have it removed.
Dirk Nowitzki: A finals victory could take the Mavericks power forward off the infamous "greatest NBA superstars to not have an NBA championship" list.
Nowitzki has been a perennial all-star and has averaged a whooping 23 points per game in his career.
But a championship ring has eluded him. And time may be running out: Nowitzki, 32, is in his 13th season.
He was part of the team when the Mavs last duked it out with the Heat in the 2006 NBA Finals. Nowitzki's team lost.
"You never know in this league if you ever get another chance, and we're able to get to this stage again. And it feels good and so now we just got to go for it and do all the things that got us here," Nowitzki told CNN affiliate KDAF.
LeBron James: The finals for LeBron James may be about acting on a promise he made before the season.
When he was introduced as a new addition to the Heat last summer, he told a cheering crowd that he did not want to just win one championship. He told the crowd he expected multiples.
"Not two. Not three. Not four..." James told the cheering crowd as he took the count all the way up to seven.
Some criticized him for that statement, and for his decision to abandon the Cleveland Cavaliers for Miami.
James knows all too well the chance these Finals present for him.
"I have played in the Finals before and did not win it," James said recently. "I have been to the Eastern Conference Finals against Orlando and lost. We have had years in Cleveland where we were the best team in the league and did not get back to that point. Now I am back here. And I am ready to change the outcome."
FOLLOW THIS TOPIC