Justice Dept. has 'serious questions' for NCAA on college bowl process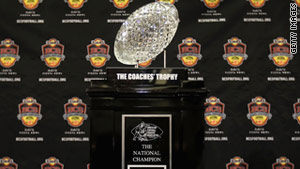 The Bowl Championship Series determines which college football teams play for the national title and trophy.
STORY HIGHLIGHTS
The Bowl Championship Series system makes it hard for some college teams to qualify
Millions of dollars in revenue are at stake in the football bowl selection process
Assistant Attorney General Varney seeks an explanation
(CNN) -- In a letter to the NCAA disclosed Wednesday, the Justice Department said it has received several requests for an antitrust investigation into the current Bowl Championship Series system, and it wants information to help it decide what to do.
That controversial system makes it very difficult for teams in some athletic conferences to qualify for major bowl games, potentially costing millions of dollars in revenue to those not chosen.
"Serious questions continue to arise suggesting that the current BCS system may not be conducted consistent with the competition principles expressed in federal antitrust laws," Assistant Attorney General Christine Varney told NCAA President Mark Emmert.
The decision to release the letter came hours after Sen. Orrin Hatch, R-Utah, a major opponent of the current system, demanded further consideration of the issue in a face-to-face appearance with Attorney General Eric Holder at a Senate Judiciary Committee hearing.
Holder responded by disclosing the Justice Department had sent a letter to the NCAA on the issue Tuesday.
In her letter, Varney asked Emmert to explain why college football does not have a playoff when so many other college sports do. She also asked what steps, if any, the NCAA has taken to create a playoff, and whether the NCAA has determined that there are aspects of the BCS system that do not serve interests of fans, colleges, universities, and players.
Officials acknowledge the NCAA is not legally required to respond, although lawyers following the case expect the association to do so.
Antitrust lawyers have been watching the debate grow for more than two years, to see whether the Justice Department will jump into the case.
One antitrust expert who declares himself neutral in the case says he doubts Justice will launch a probe because it has a full plate of more pressing issues.
"There is a problem, but not an antitrust problem," said Gordon Schnell of the New York firm Constantine Cannon. A court could never require a football playoff, but they could break up the current BCS system, he said.
Currently, the BCS system limits automatic bids to the winners of the Big Ten, Big East, Big 12, Atlantic Coast Conference, Pac 10 and the Southeast Conference, thereby leaving out other conferences, including almost all schools in the Rocky Mountain Region. Only two remaining at-large spots are available to all other colleges and universities.
CNN's Terry Frieden contributed to this report
FOLLOW THIS TOPIC