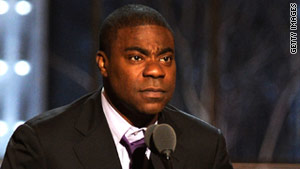 Tracy Morgan tells GLAAD, "I never want to use my comedy to hurt anyone."
STORY HIGHLIGHTS
Tracy Morgan talked to GLAAD staffers by phone Monday
Morgan agreed to help GLAAD in its anti-bullying campaign, the group says
He will fly to Nashville next week to personally apologize to offended audience members
(CNN) -- Actor Tracy Morgan agreed to return to Nashville next week to apologize to people who heard his anti-gay rant during a recent stand-up comedy show, a pro-gay rights group said Monday.
Morgan released a written apology last Friday, but he followed up Monday morning with a phone call to the president and staff of the Gay & Lesbian Alliance Against Defamation (GLAAD.)
By the end of the call, Morgan had agreed to go back to Nashville with GLAAD staffers to deliver a face-to-face apology to people who were in the Ryman Auditorium and to work with the Tennessee Equality Project, GLAAD said.
"By not only apologizing, but sending a message of support for gay and transgender people, Tracy will help many realize that no one should be treated differently or subjected to violence," GLAAD President Jarrett Barrios said.
Morgan is a star of the hit NBC sitcom "30 Rock" and a "Saturday Night Live" veteran.
Details of Morgan's anti-gay remarks, delivered during a June 3 show, emerged last week when an audience member posted them on a Facebook blog, which was picked up by Jezebel magazine.

Morgan's comments 'stupid', 'not funny'

Former SNL castmate defends Tracy Morgan
The blog, titled "Why I No Longer 'Like' Tracy Morgan," said the comic said gays should "not be whining about something as insignificant as bullying."
"He mentioned that gay was something kids learn from the media and programming, and that bullied kids should just bust some ass and beat those other little f**kers that bully them, not whine about it," Kevin Rogers wrote.
Morgan said that if his own son told him he was gay, he would "pull out a knife and stab" him, Rogers wrote.
"The sad thing is that none of this rant was a joke," Rogers wrote. "His entire demeanor changed during that portion of the night. He was truly filled with some hate towards us."
GLAAD released a portion of the transcript of their call with Morgan Monday.
"I know how bad bullying can hurt," Morgan told GLAAD. "I was bullied when I was a kid. I'm sorry for what I said. I didn't mean it. I never want to use my comedy to hurt anyone."
Morgan said his family "knew what it was like to feel different."
"My brother was disabled and I lost my father to AIDS in 1987," he said. "My Dad wasn't gay, but I also learned about homophobia then because of how people treated people who were sick with that."
"Parents should support and love their kids no matter what," Morgan said. "Gay people deserve the same right to be happy in this country as everyone else. Our laws should support that. I hope that my fans -- gay, straight, whatever -- forgive and I hope my family forgives me for this."
Morgan will also deliver his new message in New York before his Nashville trip, GLAAD said. He will meet with gay, lesbian and transsexual teens "who were shunned or left homeless by their parents, as well as parents who lost their children to anti-LGBT hate crimes," GLAAD said.
He will also agreed to record a public service announcement for GLAAD's upcoming "Amplify Your Voice" campaign, the group said.
CNN's Rachel Wells contributed to this report.
FOLLOW THIS TOPIC