Zsa Zsa Gabor hospitalized with pneumonia, spokesman says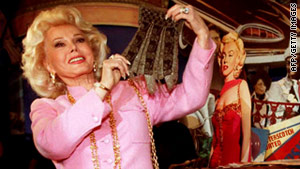 Actress Zsa Zsa Gabor has suffered a number of health issues recently.
STORY HIGHLIGHTS
"They're trying to save her life right now," her spokesman says
"She's having trouble breathing," spokesman John Blanchette said
The 94-year-old actress was taken to UCLA Medical Center Wednesday
Los Angeles (CNN) -- Zsa Zsa Gabor was taken to a hospital for treatment of pneumonia Wednesday afternoon, her spokesman said.
"She's having trouble breathing," John Blanchette said. "They're trying to save her life right now, getting the fluids off her lungs."
The decision to take the 94-year-old actress to Ronald Reagan UCLA Medical Center was made after her doctor examined her at her Bel Air, California, home, Blanchette said.
Gabor has suffered major health problems in the last year, including hip replacement surgery and a leg amputation. She has been unable to walk since a 2002 car accident.
The Hungarian-born actress, the second of the three celebrated Gabor sisters, is famous for her many marriages and strong personality.
Her more prominent films include John Huston's Toulouse-Lautrec biopic, "Moulin Rouge," in 1952, "The Story of Three Loves" in 1953, "The Girl in the Kremlin" in 1957, and Orson Welles' 1958 cult classic, "Touch of Evil."
FOLLOW THIS TOPIC


Most popular stories right now

Featured Deal |