Charlie Sheen creates charity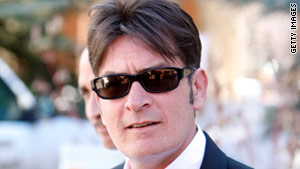 Charlie Sheen wraps up his stage tour next week with a show in Seattle.
STORY HIGHLIGHTS
The "Brian Stow Fund" will get money from Sheen merchandise sales
Charlie Sheen's stage tour ends next week
Los Angeles (CNN) -- Charlie Sheen launched a charity this week, and his first project is to raise money for a baseball fan critically injured in an attack after a Los Angeles Dodgers game.
The actor's Sheen's Corner foundation will donate profits from merchandise sales at his stage show in San Francisco on Saturday night to the "Brian Stow Fund," Sheen representative Larry Solters said Thursday.
Stow, a 42-year-old San Francisco Giants fan, has been in a medically induced coma since he was brutally beaten in the Dodger Stadium parking lot last month. Police have made no arrests.
Sheen takes his road show to San Francisco's Nob Hill Masonic Auditorium on Saturday. His one-month national tour ends next week in Seattle.
FOLLOW THIS TOPIC


Most popular stories right now

Featured Deal |