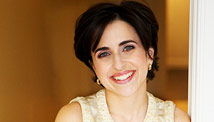 STORY HIGHLIGHTS
Prince William honored his late mother by giving Kate her 18-carat sapphire ring

For the first time since 1963, the bride-to-be won't be arriving in horse-drawn carriage

There will be two cakes at the wedding: A traditional fruit cake, and a "Groom's Cake"
Darcy Miller is the Editorial Director of Martha Stewart Weddings. She has been covering the wedding industry for the past 16 years, and lives in New York City with her husband and three daughters.
The Proposal
Even the most "common" of couples receive familial pressure to get married. Enter the royal family and years of public speculation that Kate and Prince William might marry, and it's enough to make the most resolute bachelor buckle. But Prince William proposed in his own time -- and in his own way. Unlike his parents, who were engaged at Buckingham Palace, he popped the question at a quiet lodge in Kenya. And, perhaps most poignant, he honored his late mother by giving Kate her priceless 18-carat sapphire engagement ring.
We have yet to see how Kate might incorporate her own family heirloom into the day, but I imagine she'll be subtler than Princess Diana, who wore an ornate Spencer family tiara down the aisle. The Middletons are of more modest means: Perhaps Kate will attach a grandmother's brooch to her bouquet, carry a handkerchief from her paternal grandfather, who recently passed away, or wear a gift from her sister.
The Guest List
While the couple's traditional invitations displayed the Queen's monogram and crown emblem, Kate and William have also made the guest list their own. The wedding will be broadcast to billions, and 1,900 invitations were delivered. Of those, more than 1,000 were reportedly sent to William and Kate's family and friends, ensuring that the day will be a celebration with those closest to the couple first and foremost. Six hundred of those guests will attend the lunch thrown by the queen, and a more intimate 300 will stay on for the dinner Prince Charles is hosting at the palace. Given the schedule of the day, Kate will most likely change gowns and shoes for each event, following a growing trend in the bridal industry. And given the guest list -- from the talents of Elton John to Kanye West -- the evening's entertainment has myriad possibilities for impromptu performances.
The Wedding Party
William and Kate opted to keep their wedding party intimate by asking their only siblings to serve as best man and maid of honor -- an American tradition that distinguishes their day from classic British nuptials. Though they celebrated their bachelor and bachelorette parties privately with close friends, having just their siblings at the altar speaks to the importance of family in their lives.
The Dress
Hands down, Kate's gown has been the best-kept secret of the wedding. Even the designer's name is shrouded in secrecy -- will it be Sarah Burton from Alexander McQueen? A British favorite like Alice Temperley? Up-and-comer Sophie Cranston? Or has Kate ultimately designed it herself and hired a royal dressmaker? In keeping with royal tradition, the dress will likely have sleeves, a modest neckline, and a long train, but the rest is anyone's guess. I think we'll see one of Kate's signature looks: A sleek, streamlined style with a nipped in waist. And given that sapphire blue seems to be the color of the wedding, wouldn't it be great if she incorporates the bold color in the form of a sash or fabulous pair of flats for that four-minute walk down the aisle?
As for the rest of her look, rumor has it that she'll be wearing her hair down. However, most women tend to be more traditional on their wedding day, so I wouldn't be surprised if Kate wears it half up and half down in a polished style, and skips the full up-do. She also reportedly wants to have flowers in her hair. She may wear them down the aisle as a nod to her "commoner" status, as Fergie did, and switch to a tiara for her recessional as a princess.
The Cake
The royal couple has commissioned two cakes for the wedding: a traditional British fruit cake, and a "Groom's Cake" made from 37 pounds of chocolate and 1,700 McVitie's Tea Cookies, inspired by William's favorite boyhood treat. While traditional grooms' cakes serve just 40 people, William has ensured that there will be enough for all 600 guests -- and I imagine that many of the single women in attendance will test out the legend of placing the groom's cake under their pillows in the hopes of dreaming of their future princes.
Dessert wouldn't be complete without a modern twist, and Kate reportedly requested two: a topper of fresh flowers (English roses or Sweet William, perhaps?) and Snog organic frozen yogurt served a la carte.
The Registry
In lieu of a traditional gift registry, the couple has created the Royal Wedding Charity Fund, which will raise money for 26 organizations around the world. Just like Diana, William has always been actively involved in giving back, and I love to see the royal couple utilizing the scope and spectacle of the wedding to draw attention to a handful of charities that are very personal to them.
The Transportation
For the first time since Princess Alexandra's wedding in 1963, the bride-to-be won't be arriving in horse-drawn carriage. Kate, staying true to her low-key roots, is arriving by car. She and William will depart the ceremony, however, in the same gilded horse-drawn Landau that carried Charles and Diana from their wedding. Like everything about this wedding, this mixes tradition with what feels right for this modern couple.
FOLLOW THIS TOPIC