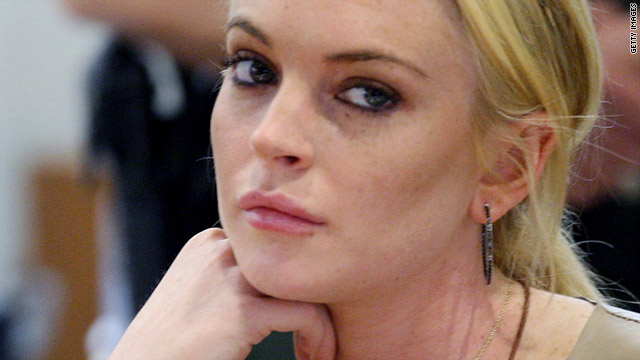 STORY HIGHLIGHTS
NEW: Book pursuit and video sale are reasons for Lohan not to plead guilty, a lawyer says
Christopher Spencer: "No book deal pending"
Lohan is charged with stealing a $2,500 necklace from Kamofie & Company
The actress must decide by March 23 if she will accept jail time in a plea deal
Los Angeles (CNN) -- A representative of the jewelry store that accused Lindsay Lohan of stealing a necklace talked to a book agent about a possible book deal, the store's spokesman said.
However, "we have no book deal pending," said Christopher Spencer, who began representing Kamofie & Company soon after Lohan was charged with theft in the case.
Spencer said he has "talked to a thousand people" on behalf of the jewelry store, including an agent who wanted to push the book idea with publishers.
Lohan must decide by March 23 if she will accept a plea deal, which the judge said would include jail time, or demand a trial on the felony grand theft charge.

Lindsay Lohan does not enter plea deal

Lohan heads back to court

Lindsay walks judicial red carpet
Los Angeles police began the theft investigation in January after the store owner reported that the actress left the premises wearing a $2,500 necklace for which she had not paid.
Criminal defense lawyer Steve Sadow, who successfully defended Howard K. Stern in the Anna Nicole Smith case, said he sees similarities in the Lohan case.
"We had prosecution witnesses who sold their bogus 'story' in the same fashion, only to be shown at trial to be unworthy of belief," Sadow said.
A possible book deal "is one more in a ever-growing list of substantial and significant reasons why Ms. Lohan's attorneys should be preparing her case for trial, not a guilty plea," Sadow said.
Store owner Sofia Kaman, who also sold rights to the security camera video of Lohan in the store, would likely be a key witness in any trial.
"The pursuit of a book deal, coupled with the sale of the surveillance video, clearly demonstrates that the owner is interested in money and publicity, and has trumped up the allegations against Ms. Lohan to further his own interests, not to seek justice," Sadow said.
Sadow, whose celebrity clients include the rapper T.I., said Lohan needed a lawyer who would "speak out forcefully on her behalf to expose this 'grand theft' case for what it is -- a thinly veiled effort to put her in jail for a crime she did not commit."
While there is no book deal yet, Spencer said if one were published, "It would be done honorably and with accuracy."
Spencer said the business doesn't "wish (Lohan) any bad will."
"We would like to see her get her life together," he said.
FOLLOW THIS TOPIC