Zsa Zsa Gabor rushed to hospital with no blood flow in leg, rep says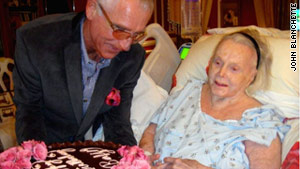 Zsa Zsa Gabor, seen here on her 92nd birthday, was taken to the hospital due to lack of blood flow to her leg.
STORY HIGHLIGHTS
Gabor is rushed to a hospital because of no blood flow in her remaining leg
The 94-year-old actress had part of her right leg amputated in February
(CNN) -- Actress Zsa Zsa Gabor was rushed by ambulance to a Los Angeles hospital Wednesday after suffering a shutdown of blood flow to her left leg, according to her publicist.
Gabor's press representative, John Blanchette, told CNN that Gabor has been sent to UCLA Medical Center. Blanchette said he had no further information about her condition.
It is the second time, Gabor, 94, has taken an emergency trip to hospital since February 1, when she was transported by ambulance because she was spitting blood. Gabor, the previous month, had part of her right leg amputated because of an infection.