STORY HIGHLIGHTS
Wednesday's hearing is to consider Lohan's probation violation charge
The actress would welcome a no-jail plea deal, her lawyer says
The LAPD charged Lohan with stealing a necklace from a jewelry story
Lohan entered a "not guilty" plea on February 9
Tune in to HLN on Wednesday for a special live edition of "Showbiz Tonight" at 11:30 a.m. for coverage of Lindsay Lohan's latest court appearance.
Los Angeles (CNN) -- Lindsay Lohan makes her eighth court appearance in nine months Wednesday, an event not unlike the red carpet arrivals she has missed because of her derailed acting career.
Likely questions reporters will ask include "Will Lindsay go to jail?" and "What is she wearing?"
Los Angeles County Superior Court Judge Keith Schwartz set the Wednesday hearing to decide if he will revoke Lohan's probation on a 2007 drunk driving conviction because she was charged this month with stealing a necklace from a Venice, California, jewelry store.
Lohan defense lawyer Shawn Chapman Holley indicated in an e-mail to CNN that she does not expect the full evidentiary hearing on the probation revocation to take place Wednesday.
"It normally doesn't happen this early in the case," Los Angeles criminal defense lawyer Richard Pintal said.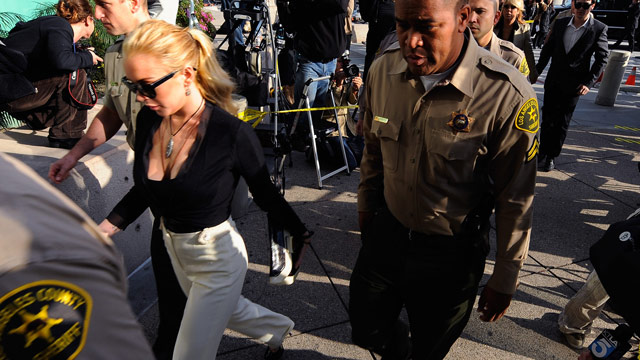 Lindsay Lohan arrives at court

Michael Lohan blames himself

Michael Lohan: Able to relate to Lindsay

Judge to Lohan: Case involves jail time
Lohan is free on bond on the probation violation and the felony grand theft charge while her lawyer and the prosecutor discuss a plea deal, or until a full hearing.
If Wednesday's hearing follows a pattern familiar to lawyers who appear before Judge Schwartz, most of the discussion could be behind closed doors in his chambers. Schwartz, unlike many other judges, does not wait for the defense and prosecutor to negotiate a plea agreement, Pintal said.
"Judge Schwartz is more hands-on and gets more involved in case settlements," he said.
The hearing with Schwartz earlier this month began with a half-hour meeting in his chambers and ended with the judge warning Lohan that she could be put back in jail if she violates the law.
"Please don't push your luck, I am telling you," the judge said. "Things will be different."
Holley asked Schwartz during the last hearing to begin "early disposition" of the case, a process that encourages a settlement without a hearing or trial.
"Ms. Lohan maintains her innocence, and now that I've seen the police reports, I believe the case is entirely defensible," Holley said after the initial hearing. "Having said that, we will entertain a discussion concerning a plea if it means no jail so that she can move forward with her recovery and her career."
The penalty for a felony grand theft conviction ranges from 16 months to three years in a California state prison, depending on the value of the property stolen and the criminal record of the defendant.
Shoplifting offenses are charged as petty theft if the property taken is valued at less than $950. The store owner says the "one-of-a-kind" necklace is worth $2,500, police said.
The judge could reduce the charge to a misdemeanor, which would carry a prison sentence of no more than one year.
Lohan's appearance for her February 9 hearing raised some eyebrows. She wore a tight-fitting white knit dress and diamond jewelry that would have been appropriate for a movie premiere.
Reporters have carefully examined her wardrobe and makeup since a hearing last year in which the actress displayed an expletive written in tiny letters on her fingernails.
The 24-year-old actress allegedly walked out of the jewelry store with the necklace on January 22, a statement from the district attorney's office said. "The owner reported the theft to the Los Angeles Police Department, which investigated the allegation and presented evidence to the DA's office last week."
The necklace was handed over to police just before they were to execute a search warrant to look for the jewelry in Lohan's Venice apartment, police said.
Lohan is on supervised probation for a drunken driving conviction. The judge overseeing that case told her in October that he would send her to jail for 180 days if she violated her probation rules before her next court appearance, set for February 25. That court date is now off, with Schwartz taking over Lohan's legal cases.
She left the Betty Ford clinic a month ago, after three months in a drug rehabilitation program. The rehab stint persuaded the judge not to send Lohan to jail for failing a drug test.
FOLLOW THIS TOPIC