STORY HIGHLIGHTS
"This will be my last year on this show," he says on "Live with Regis & Kelly"
The show is in its 23rd season in national syndication
Philbin, 79, has had health issues in recent years
"There's only one Reg," says former co-host Kathie Lee Gifford
Larry King returns! He's on HLN tonight at 10 ET and talks to Joy Behar about his friend Regis Philbin's plans to retire . "The Joy Behar Show," Tuesday night at 10 ET.
New York (CNN) -- After more than 40 years in television, Regis Philbin is retiring from the small screen.
Philbin, 79, made the announcement Tuesday at the start of the long-running "Live with Regis & Kelly."
"This will be my last year on this show ... but there is a time, there is a time that everything needs to come to an end for certain people on camera, especially certain old people," Philbin said.
The show, now in its 23rd season in national syndication, began as a local morning show in New York in 1983.
Kathie Lee Gifford joined Philbin in 1985 on the show and it debuted three years later nationally as "Live with Regis & Kathie Lee."
Gifford left the show in 2000 and Philbin was joined by current co-host Kelly Ripa in 2001.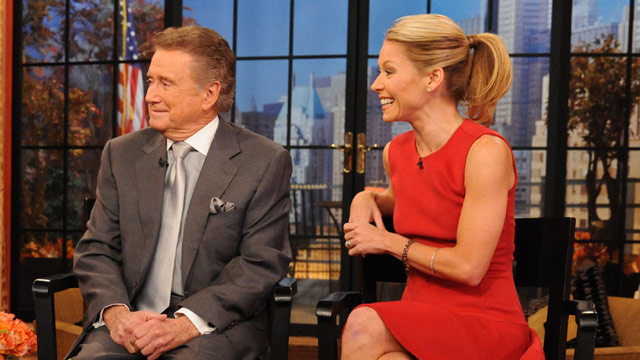 Regis Philbin leaving his show

Regis Philbin sings to Larry King

2009: Joy sits down with Regis
A choked-up Ripa said Tuesday after Philbin's announcement, "I think I can only speak for America and all of us here when I say that it has been a pleasure and a privilege and a dream come true, and I wish I could do something to make you change your mind."
No indication was given as to who may co-host with Ripa following Philbin's departure at the end of the year.
"It will never be the same, there's only one Reg," said Gifford, who now hosts the fourth hour of NBC's "Today" following her 15-year gig on "Live."
Philbin has been plagued in recent years by health issues, including undergoing triple-bypass surgery in 2007 and a hip replacement in 2009.
In 2001, he was awarded Daytime Emmys for Outstanding Game Show Host for "Who Wants to be a Millionaire" and Outstanding Talk Show Host for "Live."
Philbin got his start in show business as a page for "The Tonight Show," before hosting his own self-titled show out of San Diego from 1961-1965.
He served as Joey Bishop's sidekick on "The Joey Bishop Show" and took "A.M. Los Angeles" from low ratings to No. 1 in its local market -- perhaps a preview to his success on daytime TV with "Live."
Philbin was inducted into the National Association of Broadcasters Hall of Fame in 2006 and was given the Daytime Emmy Lifetime Achievement Award in 2008.
"He's an amazing guy," Gifford said Tuesday of her former co-host. "He is every man to so many people and nobody tells a story like Reg."
"He's going to be 80 this coming August and I think he just figures it's time," she added.
Philbin and his wife, Joy, have been married for 40 years.
FOLLOW THIS TOPIC