'Celebrity Apprentice' would survive without Trump, NBC chief says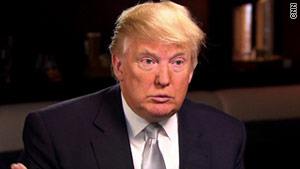 "Celebrity Apprentice" without The Donald? NBC's entertainment chief says yes.
STORY HIGHLIGHTS
NBC renews "Celebrity Apprentice" despite Donald Trump's possible White House bid
If he runs, somebody else will sit "at the head of the boardroom table," NBC's Bob Greenblatt says
Trump says he'll make his intentions known at the end of the current season
(CNN) -- "Celebrity Apprentice" will stay on the NBC prime-time schedule even if Donald Trump hits the presidential campaign trail, the network's entertainment chairman said Sunday.
The show's "big success" is "due in part" to Trump, Bob Greenblatt said, but he predicts it can go on without him.
"If he decides to run for president and is unavailable to do the show, we will bring the show back and there will be somebody else sitting at the head of the boardroom table," NBC's Bob Greenblatt said. "Who that is, we're not even going to really entertain because I'm still hoping we will have Donald in the seat."
Trump, who has flirted with a 2012 presidential bid, is expected to make his intentions known on the final episode of the reality show's current season.
NBC has enjoyed a ratings bump from the Trump presidential buzz, Greenblatt said.

Donald Trump criticizes President Obama
"We couldn't be happier," he said. "There may be headaches down the road but at the moment we're feeling really good about it."
While he wants Trump to be available to host "Celebrity Apprentice," Greenblatt said, "It is the right and privilege for every American-born citizen in this country to run for the highest office in the land.
"Nothing would make me happier to see somebody reach that dream," he said.
The show will fill the 8-10 p.m. ET slot on NBC's Sunday night schedule for the 2011-12 season, he said.
CNN's Henry Hanks contributed to this report.
FOLLOW THIS TOPIC


Most popular stories right now

Featured Deal |