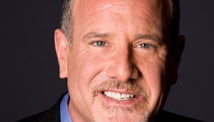 STORY HIGHLIGHTS
Publicist Howard Bragman talks about getting clients on the Oprah show
His client Chaz Bono is one of Oprah's last guests
"A part of me will be glad to see the show run it's course," says
Every new client hopes he has a magic way of getting Oprah to love them
Editor's note: Howard Bragman has been a publicist for more than 30 years and founded the Fifteen Minutes public relations agency in 2005. He is Showbiz Tonight's resident "Spin Doctor"
Los Angeles, CA -- I'm on a jet winging from Los Angeles to Chicago.
Tomorrow my client, Chaz Bono, will be taping an episode of The Oprah Winfrey Show, or TOWS, as the executives at Harpo, Oprah's production company call it in e-mails. That's to distinguish it from OWN, The Oprah Winfrey Network that was launched this year.
Did you meet Oprah? Did TOWS change your life?
It's my third trip to TOWS in a year. I know the routine well. A car picks me up at my hotel and takes me to the legendary studio complex just southwest of the loop near downtown Chicago.
Before you even enter the imposing building, security guards are collecting your ID, checking it against their lists and making sure anyone who gets inside the building "belongs."
Once inside, there's another locked door at the end of a small hallway that gets you into the inner sanctum. Once that door is unlocked you are escorted to the "green room" area.
Green rooms, for the uninitiated, are where guests wait and prepare before they go on the air.
The security and intimidation of the guards and the outer corridor is in surprising contrast to the warm and welcoming green room area. You enter at the top of a T with one green room on either side and a hallway down the middle that takes you to the entrance to the studio.
The hallways are lined with literally hundreds of framed 8x10 photos of celebrity guests from the past 25 years. Even a jaded old publicist like me can't help but be impressed by the collection of world leaders, superstars and legends who have come to Chicago to pay homage to the most important woman in the history of television.
Like most PR people, I have very mixed feelings about the end of TOWS. While I have had more success booking clients on the show than most, particularly recently, a part of me will be glad to see the show run its course.
Let me elaborate.
I don't remember being in many new business meetings where the prospective client didn't say at some point in the meeting, "By the way, Oprah would love me, my product or my cause. Do you think you can get me on?"
I tell them I can never promise results, but what I can promise is that I know how to pitch the right producers there in the best way possible to give them every chance for success, that I have had more success than most and that even if we get a "no," there are many other great shows to book them on.
That's not what they want to hear. What they would rather me say is that I'm going to spend the weekend at her Santa Barbara estate sipping Chablis with Oprah, Steadman and Gayle on the veranda trading insider gossip about the Obamas. And at the appropriate moment I will organically plug my client's movie, cause or product and Oprah will say, "Oh Howard, we must put her on the show, include the products among my favorite things or highlight their cause."
The fact that I have never been invited there has been a true impediment for it happening this way. As is the fact that "The Oprah Winfrey Show" is anything but capricious. Bigger people than me have been told "no."
"The Oprah Winfrey Show" is gone, not soon to be replaced. I know that demographics, dwindling television audiences and circumstance are unlikely to provide a perfect storm that creates a once-in-a-generation phenomenon that is "The Oprah Winfrey Show."
I'm going to try to get a short nap before we land. Launching a book and a documentary for a client on the same day is a stressful and time-consuming process. And we have a very early call time.
Yet tomorrow morning, when I escort my last client to the show, I will certainly get my second wind, forget the pain of new business meetings past and focus on the honor I have of being just a small part of television history.
"For the latest coverage on Oprah Winfrey's finale, watch Showbiz Tonight at 11PM EST and 11PM PST on HLN."