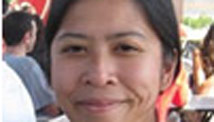 STORY HIGHLIGHTS
ABC's "All My Children" and "One Life to Live" are being canceled
The shows will end in September 2011 and January 2012, respectively
ABC will replace the shows with new programs, "The Chew" and "The Revolution"
Celena Cipriaso was once a writer for ABC's "All My Children." She is now a freelance writer based in New York City.
New York (CNN) -- Most people will view the end of "All My Children" and "One Life to Live" simply as television evolution, the passing of a genre that has already lost its audience.
But for soap viewers, it is much more.
Many of us started watching these shows when we were children. Ask any fan. They can tell how and when they began watching. They'll tell you the character and storyline that pulled them in. From those stories, you can glean what was happening in their lives at that moment.
I was 4 years old. My Filipina grandmother, who barely spoke English, loved the flair of Erica Kane. Like any regular kid, I wanted to watch Nickelodeon, but every day at 1 o'clock my grandmother had to change the channel to ABC.
It didn't take long for me to get hooked. Erica Kane fascinated me. The woman could resolve every fight with a simple flip of her hair and a haughty declaration of her identity.
When she uttered the words "I am Erica Kane" to anyone who generally ticked her off, like magic, that opposing force -- be it a female rival, angered lover, or business opponent -- cowered in fear. As a little kid that got shoved around on the playground, this woman was my hero.
Characters like Erica Kane and Viki Buchanan became a part of our daily routine, old friends we checked in with every day at the same designated time. These characters impacted our lives.
Inspired by Ms. Kane's gumption with men, I started telling boys at 12 years old, "I like you. We should date."
When I considered what I wanted to do when I grew up, I thought, "It'd be great to write for a character like Erica Kane." When I finally got to write dialogue for that legendary character, it was a childhood dream come true.

Ripa heartbroken over 'All My Children'
If you grow up with a soap opera, you also can grow away from it. Over the last 26 years, I've temporarily stopped watching both shows for any number of obligations or reasons: college, work, lack of a DVR to record the show. But I always came back. Many viewers did not.
Reality television and the internet have changed the way we view our lives. Our attention spans are shorter. Our suspension of disbelief is more limited. Soaps are a big commitment. It takes time and effort to know the history, the characters, and the intricate storylines.
Before I started working at "All My Children," I knew many characters and stories, but with a show that's been on for decades, there were a million more stories and characters to learn. Imagine what it's like for a person just tuning in now.
While popular entertainment has evolved into weekly doses of "Real Housewives" or "Dancing with the Stars," soap operas, for the most part, remained the same.
There have been various attempts to reel in viewers, both new and old. "All My Children" used special effects for a sweeping tornado story. "One Life to Live" tried to center the stories on beloved veterans. Both shows introduced younger characters. Unfortunately, new viewers weren't enticed enough to tune in, and former viewers weren't compelled enough to find DVR space.
The main issue is daytime television's structure of storytelling has never changed. When someone misses a season of "Mad Men," they have a nice long break before the next season to catch up with package DVD sets.
Unlike prime time, which has a break in airing new episodes every year, soap operas keep up a schedule of five new episodes a week year-round. People often tell me that the main reason they stopped watching is they "don't have the time." That's a tough sentiment to hear.
I've seen firsthand how everyone -- from the producers to the writers to the production team -- works hard to maintain that everlasting structure. But because of what soaps represent -- a daily look into the lives of fictional characters we've known for years, ongoing stories that helped to define our lives for decades -- the genre can't and should never change.
There have been times in my life when I thought I would give up soaps. I've been too busy. I've grown disgruntled with a storyline I didn't like. But whenever I turned the television off, I knew that "All My Children" and "One Life to Live" would be there, as they have always been, on the same channel, at the same time.
There's no reassurance like that now.
For the first time in more than 40 years, after the last episodes of "All My Children" and "One Life to Live" air and we turn that television off, there will be no going back.
FOLLOW THIS TOPIC