D.C. 'Housewives' canceled while 'Jersey Shore' multiplies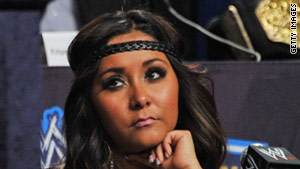 Get ready to see more of Snooki. The "Jersey Shore" star is getting a second reality show on MTV.
STORY HIGHLIGHTS
Bravo cancels "The Real Housewives of D.C." but keeps franchise in other cities
Snooki, JWoww and Pauly D will appear in two new MTV reality shows
The spin-offs will debut next year
(CNN) -- Bravo TV has given the reality show "The Real Housewives of D.C" the ax, but another wildly popular reality show -- "Jersey Shore" -- is getting two new incarnations.
Viewers will soon be seeing even more of Snooki, JWoww and Pauley D, after MTV announced Thursday that is developing two new reality shows centered around the characters.
One as-yet untitled show will chronicle the lives of Nicole "Snooki" Polizzi and Jenni "JWoww" Farley when they are away from Seaside Heights and the rest of the castmates.
"The locale may be different, but the friendship is sure to remain the same," the network said.
The second show, also untitled, will follow Paul Delvecchio, better known as Pauly D, and his life on the road as a DJ.
Both new shows are set to debut next year.
"Jersey Shore" premiered in 2009 and ratings soared, making it MTV's number one series of all time, the network said.

'Jersey Shore's' trip to Italy delayed
The season three finale last month brought in 7.6 million viewers, according to the website, TV By The Numbers. It beat out everything for that night except "American Idol."
Season four of "Jersey Shore" is expected to air sometime next year.
While the popularity of "Jersey Shore" continues, Bravo announced Thursday that "The Real Housewives of D.C." will not be back for a second season.
"We had an amazing season and we told stories that were unique to any other franchise," the network said.
Among its castmembers was Michaele Salahi, who made news in November 2009 when she and her husband attended President Barack Obama's first state dinner without an invitation.
The franchise also has shows set in Atlanta; Beverly Hills, California; Miami; New Jersey; New York City; and Orange County, California.
CNN's Leslie Tripp and Jennifer Gerardo contributed to this report.
FOLLOW THIS TOPIC


Most popular stories right now

Featured Deal |