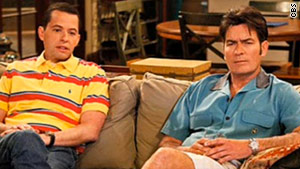 Warner Bros. Television said it will pay the show's crew for the four episodes initially set to begin production this week.
STORY HIGHLIGHTS
Payments will amount to about $2 million for the 200 core crew members
CBS halted production on the show last week
Star Charlie Sheen has said he will sue over the action
Los Angeles (CNN) -- Despite stopping production on the sitcom "Two and a Half Men," Warner Bros. Television said Tuesday it will pay the show's crew for the four episodes initially set to begin production this week.
Warner Bros. spokesman Paul McGuire confirmed the payments will be made.
According to TMZ, the payments will amount to about $2 million for the 200 core crew members.
CBS halted production of the show, starring Charlie Sheen, after Sheen's call to a radio show last week.
On Monday, Sheen in interviews threatened to sue CBS over the action. He also told NBC he wanted $3 million per episode instead of the $2 million he was previously making, but later backed off that assertion, telling CNN's Piers Morgan that his only hard-and-fast demand was that he and the crew get paid for another eight weeks of work.
Sheen said he could "sort of understand why" show executives felt they had to intervene after a series of high-profile incidents he has been involved in, but reiterated to CNN that he felt his private life was his own business. He has also lashed out at the show's co-creator, Chuck Lorre.

Could Sheen be replaced on 'Men'?

Sheen tells his side of the story

Charlie Sheen: I'm not ashamed

Weinstein: Sheen playing losing game
CBS and Warner Bros. Television said in a joint statement last week that "Based on the totality of Charlie Sheen's statements, conduct and condition, CBS and Warner Bros. Television have decided to discontinue production of 'Two and a Half Men' for the remainder of the season."
Warner Bros. Television is owned by Time Warner Inc., the parent company of CNN.
CBS previously placed the sitcom on "production hiatus" after the actor began rehab treatments. The show had been scheduled to resume taping on four more episodes this week. It's not clear if "Two and Half Men" will return for a ninth season.
Meanwhile, Sheen has reportedly demanded an apology from the Anti-Defamation League for comments the group's director made last week.
Sheen on Monday denied any anti-Semitic intent behind his earlier comments on Lorre, in which he said Lorre's real name was Chaim Levine. "I've never had that in my past," he said. "You can look as deep and as far as you want."
But ADL National Director Abraham H. Foxman said in a statement last week, "By invoking television producer Chuck Lorre's Jewish name in the context of an angry tirade against him, Charlie Sheen left the impression that another reason for his dislike of Mr. Lorre is his Jewishness. This fact has no relevance to Mr. Sheen's complaint or disagreement, and his words are at best bizarre, and at worst, borderline anti-Semitism."
TMZ reported Tuesday that Sheen's attorney sent the ADL a letter demanding a retraction because Sheen's only intent was "to address the man rather than his television persona."
ADL spokesman Todd Gutnick told CNN that "since Charlie Sheen has made this a legal issue with the Anti-Defamation League, we will refrain from making any further comment at this time."
And a source close to Sheen's ex-wife, Denise Richards, sought Tuesday to emphasize the couple's two daughters, Sam and Lola, are with Richards, not with Sheen. The source asked not to be named because of the sensitivity of the issue.
On Monday during an interview at his home with TMZ, Sheen introduced the reporter to his two girlfriends, whom he called "goddesses."
"Charlie's so-called 'goddesses' have never met the girls and they will not see them," said the source. "Any impression that may be out there that the girls are running around Charlie's house is inaccurate."
FOLLOW THIS TOPIC