STORY HIGHLIGHTS
Emmylou Harris' latest album, "Hard Bargain," came out Tuesday
The album was made in one month, with three musicians, including Harris
She wrote about relationships with Gram Parsons, Kate McGarrigle and her dog, Bella
Austin, Texas (CNN) -- One heat-soaked afternoon last month, hipsters and cowboys shirked a music festival schedule loaded with sparkle and distraction and instead shuffled into a dim convention center ballroom.
They were waiting for a legend: Emmylou Harris.
During a career that has spanned four decades, Harris has played honky-tonks and arenas. Here, like everywhere, audiences will wait hours to hear her soft voice, whether she's digging up old originals or reinterpreting others' tunes.
Harris is 64 now -- nothing new to stage or show business -- but surprised and grateful, still, for those who made her music last. She built her career on genre-bending music made with country stars, rock producers and indie darlings. And more than once, she's had to find her own way after saying goodbye to some of her closest friends and collaborators.
On stage at the South by Southwest music festival, she played a couple of new songs that she'd written about those gone-away musicians, "a tip of the hat to those kinds of friendships."
From behind a curled black cowboy hat and rosy glasses, she told the crowd that she's always liked to take charge of a song that's written by someone else and ready for her to record. But for "Hard Bargain," her album that released Tuesday, she had to put the words down herself.
Long gone are young love and foolish heartbreak; her music now is the autobiography of the songstress with six decades of wisdom.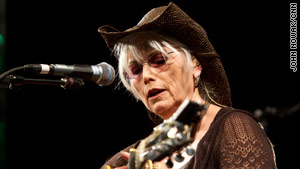 Harris performed "The Road," about Gram Parsons, and "Darlin' Kate," about Kate McGarrigle, at SXSW in March.
"Once you know you can write a song, you know you have to try," she said. "I guess you get to a certain age and I guess you do look back a little bit."
Harris wrote 11 of the songs on "Hard Bargain," including the historic narrative "My Name is Emmett Till" and the stormy recent memories of "New Orleans." But she also wrote the personal stories of the lives that changed hers.
Check out more SXSW coverage on the What's Next blog
There's "The Road," the most literal tale Harris has sung about her early work with rocker Gram Parsons. Back then, she was a young folk singer, deeply in love with her friend and musical mentor. He was 26 when he died in 1973, but still, Harris opens her album with the words, "I can still remember every song you played."
The song goes on to say that she "took what you left me, put it to some use."
Parsons' musical vision, in which rock valued classic country, is "the only reason I'm here and that anybody is interested in what I say or do," Harris said during a quiet backyard junket across the highway from the crush of SXSW.
"We probably all have friends like that," she said. "If you had to pick a person, a moment, meeting Gram -- working with him, singing with him -- that propelled me."
Without him, she had to reset her course, make her own band and find her own way on the road.
"I don't know if I really knew my voice. I was kept left hanging," she said. "Eventually, you come into your own."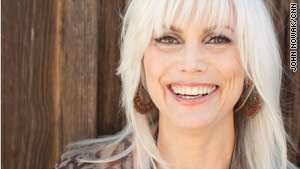 Harris turned 64 in April and is touring for her new album, "Hard Bargain."
There were other friends and inspirations along the way. Among the longest relationships was her work with folk musicians and sisters Kate and Anna McGarrigle. The women shared a label in the 1970s, and they worked together on 1989's "Bluebird" and again on the Grammy-winning 1995 album, "Wrecking Ball."
On "Darlin' Kate," Harris sings a remembrance to her friend and collaborator, who died at home in Montreal in January 2010 after years of battling cancer. For Kate's "perfect words" and voice, Harris wrote, "We fell in love, we had no choice."
"I don't have a sister. I love basking in [the McGarrigles'] sisterness," Harris said. "I was lucky to be able to spend time with them."
But then there's another side of Harris' musical life in "Big Black Dog," a track with the beat and bounce of a children's tune.
Harris runs a small dog rescue, Bonaparte's Retreat, out of her backyard in Nashville, Tennessee. The dog that inspired the song came from a shelter where Harris looked over the roster of dogs to be put down and asked, "Who's next?"
It was a black lab with a "little too much gray around the muzzle," Harris coos in the song.
Bella now makes a living as Harris' road dog, one with the right amount of goofball to break the monotony, one that knowingly demands a walk at the moment Harris probably needs one, too.
"I can't imagine getting on the road without a dog," Harris said. "They're so full of joy. You can't ignore them."
I can't imagine getting on the road without a dog. They're so full of joy. You can't ignore them
--Emmylou Harris, on Bella, her road dog
Harris said she doesn't see her career slowing down. Writing never gets easier, but she can sing or strum for hours in the studio. "Hard Bargain" was recorded in a month with three musicians.
"You just sit up and play songs you love," she said. "And I'm a good road dog."
She vividly remembers when singing was a side job and touring was a dream. Back then, she lived in the safety net of her parents' home, raised her daughter and went to gigs alone in a white Ford Pinto.
When she tours now, it's easier. There's a band, a schedule, a bus, sometimes a hotel with laundry and room service.
She's had mentors to guide her, friends to inspire her, and these days, always a couple of dogs to keep her company.
"You look back at your life, and mine looks like some kind of script that no one would believe," she shrugs. "You end up with the story you have."
FOLLOW THIS TOPIC