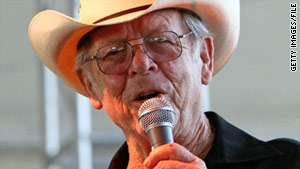 Charlie Louvin is shown performing at the Stagecoach, California, Country Music Festival in May 2008.
STORY HIGHLIGHTS
Charlie Louvin, half of the Louvin brothers, dies of pancreatic cancer
Louvin and his brother Ira were known for close harmonies and a wide-ranging repertoire
Artists like Alison Krauss say they were influenced by the brothers
(CNN) -- Country music pioneer Charlie Louvin, whose duets with brother Ira swung from murder ballads to earnest warnings about Satan and the atomic bomb, died Wednesday after a battle with cancer, his manager said. He was 83.
Louvin was born Charles Elzer Loudermilk in the hills of northern Alabama and began performing with his brother while in his early teens. They had a No. 1 country hit in 1955 with "I Don't Believe You've Met My Baby," and several other of their songs hit the top 10 during the same period.
Their characteristic close harmonies came from the four-tone Sacred Harp singing of their mother's church, and that religious influence was reflected in their music, said author Ben Whitmer, who was working with Louvin on his autobiography when he died.
"Charlie described himself as the idea man," Whitmer said. "Lyrically, he would give Ira the ideas, and Ira would flesh them out."
Charlie Louvin was diagnosed with pancreatic cancer in mid-2010, and doctors soon determined his condition was inoperable -- but he continued performing as late as December, his manager, Brett Steel, told CNN.
The singer was treated for dehydration in early January, "and when he came back out, he just never rebounded," Steel said. He died at his home in Wartrace, Tennessee, south of Nashville.
"When he started to decline, he went quickly," Steel said.
The brothers had played together for more than 14 years, interrupted briefly by Charlie Louvin's military service during the Korean War, before they hit the Nashville big time, Whitmer said. Johnny Cash cited them as an inspiration, and one of their opening acts included Elvis Presley. They split up in 1963, driven apart by Ira's heavy drinking and abusive behavior.
"He was real rough on Charlie," Whitmer said. "Charlie a lot of times would calm him down, and it came out bad for him." They split up because Charlie Louvin, who was three years younger than his brother, "just couldn't handle it any more."
Before his death in a 1965 car accident, Ira survived being shot multiple times by his third of four wives during a fight in which he was trying to strangle her with a telephone cord. His wife told police that if he survived, "I'll shoot him again," Whitmer said.
In contrast to his brother's turbulent life, Charlie Louvin was married to the same woman for 61 years. His wife, Betty, and three sons survive him.
The Louvin Brothers' sound was steeped with the gospel and bluegrass of Appalachian South, but also reflected the fears of their era. "Are you ready for the Great Atomic Power?" they asked listeners, warning them to give their hearts to Jesus before the Bomb falls, "leaving horrible destruction, blotting out the works of man."
In "Knoxville Girl," a traditional Appalachian ballad, a jealous young lover takes his girlfriend for a walk in the woods -- then wordlessly begins beating her to death with a stick, ignoring her pleas for mercy, before returning home to await arrest.
And for the cover of the 1959 album "Satan is Real," the brothers stood in a quarry before an effigy of the devil, surrounded by smoke and fire from what Charlie later said were burning tires. The collection is packed full of tales of the perils of drink and the joy of redemption, and its cover artwork is frequently cited by online list-makers as one of the best -- or worst -- album covers ever.
Ira Louvin was "disgruntled" when the album won an award for its photography, since it was his idea, Whitmer said. But as odd as it looks to modern viewers, he said, the brothers were dead serious about the message.
"They really considered this to be a statement -- Satan is real, and you're going to make a choice one way or another," Whitmer said.
Charlie Louvin continued recording after his brother's death, releasing his last album in November. The brothers' work has been covered or cited as an influence by artists like Alison Krauss, who held a benefit concert for Louvin in October.
Kris Kristofferson has said Charlie Louvin gave him his first big break by recording his song "I'm Always on the Outside Looking In" -- a tune Kristofferson wrote while working as a studio janitor. Louvin once said when Kristofferson told that story, "My head got so big I couldn't get my hats on."
A tribute album that included tracks by Dolly Parton, James Taylor and Merle Haggard won a Grammy for best country album in 2003. Ex-Byrds and Flying Burrito Brothers member Gram Parsons covered the brothers' "Cash on the Barrelhead" in 1973. Parsons' singing partner Emmylou Harris drew early notice as a solo performer with her version of "If I Could Only Win Your Love," and both Wilco forerunner Uncle Tupelo and rockabilly revivalists Southern Culture on the Skids recorded versions of "The Great Atomic Power" in the 1990s.
The Louvin Brothers joined the Grand Ole Opry in 1955 and were inducted into the Country Music Hall of Fame in 2001.
FOLLOW THIS TOPIC