STORY HIGHLIGHTS
The world's first sail-in cinema premiers on Britain's Isle of Wight
To celebrate Mainsail has put together a list of 10 great seafaring films to watch
The list includes classics such as "Jaws" and the more lighthearted "Finding Nemo"
(CNN) -- It's time to pack your popcorn along with your life jacket, as the world's first sail-in cinema premiers on Britain's Isle of Wight, Friday.
As part of celebrations for the Cowes Week sailing regatta, and for one night only, a giant 10 meter screen has been erected to show the great seafaring film "Master and Commander: The Far Side of the World."
Boats will moor in front of the esplanade in the small town of Cowes and sailors will tune into local radio to hear Russell Crowe play the burly yet charismatic Captain Jack Aubrey.
Mainsail has put together a list of 10 great marine-themed movies, just in case the sail-in becomes the newest cinematic craze. And if it doesn't -- well, they're still great films.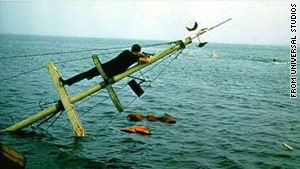 "Jaws"
(Steven Spielberg, 1975)
Da- nuh ... da-nuh ... you know the rest. With these two musical notes, fear was struck in the hearts of millions when Jaws was released to huge box-office success in the summer of 1975. The plot revolves around police chief Martin Brody (Roy Schneider) and his search for a huge man-eating great white shark causing death and mayhem in the small community of Amity Island.

"Pirates of the Caribbean: The Curse of the Black Pearl"
(Gore Verbinski, 2003)
Who can resist Johnny Depp in a pirate costume? Especially when he's playing the rum-swilling, free-spirited, slightly odd and slightly mad Captain Jack Sparrow. Sparrow, his mannerisms based on The Rolling Stones guitarist Keith Richards, teams up with a rather wet-behind-the-ears blacksmith called Will Turner (Orlando Bloom) in order to save Turner's girl, Elizabeth Swan (Keira Knightley), as well as salvaging Sparrow's one true love -- his ship "The Black Pearl."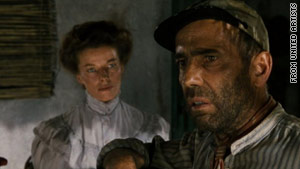 "The African Queen"
(John Huston, 1951)
Get Humphrey Bogart and Katherine Hepburn together and there are bound to be fireworks. Set in Africa during WWI, Bogart plays the gin-swilling riverboat captain Charlie Allnut, who is convinced by Hepburn's Rose Sayer, an uptight Methodist missionary, to attack an enemy warship with his boat "The African Queen." Adapted from the 1935 novel of the same name by C.S. Forester, the action takes place on rivers rather than at sea, but it's a classic movie and won Bogey his only Oscar.

"Deep Water"
(Louise Osmond and Jerry Rothwell, 2006)
A documentary looking at the fateful voyage of amateur yachtsman Donald Crowhurst in his attempt to win the 1969 Sunday Times Golden Globe Race -- a solo, non-stop, circumnavigation of the globe. Despite a slow start Crowhurst radios back ever increasing record-breaking distances and is seen as the certain winner. In reality he is weeks away from his stated position, facing bankruptcy and disgrace when the truth is discovered.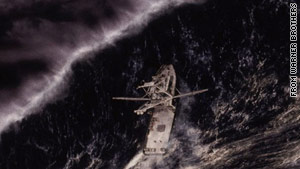 "The Perfect Storm"
(Wolfgang Petersen, 2000)
"The Perfect Storm" follows the perilous journey of the sword-fishing boat "Andrea Gail" and its crew members, caught in a "killer storm" in the North Atlantic in October 1991. Starring George Clooney and Mark Wahlberg, the film is loosely based on the non-fiction book of the same name -- although the novel received criticism for factual errors after its publication. Stunning special effects and high-tension drama make this a gripping watch.


"Moby Dick"
(John Huston, 1956)
The film adaptation of Herman Melville's epic novel of the same name. The story is narrated by the sole survivor of a lost whaling ship, Ishmael, and re-tells the tale of the infamous and self-destructive Captain Ahab, played by Gregory Peck, and his obsession with the great white whale Moby Dick.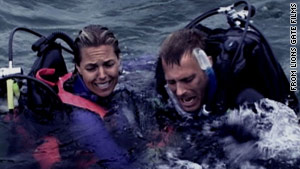 "Open Water"
(Chris Kentis, 2003)
You surface from a scuba-diving trip in Australia's Great Barrier Reef only to find the tour boat you came on has left and you're stranded in shark-infested waters. That's the plot of "Open Water," a horror film loosely based on the true story of an American couple accidentally left behind on diving trip in 1998 and never seen again.
"The Bounty"
(Roger Donaldson, 1984)

Based on the true story of the mutiny on board HMS Bounty in 1789. The cruelty of Captain Bligh (Anthony Hopkins) and his desire to reach his destination at any cost sees him cast adrift in a tiny longboat along with his loyal followers. While mutineer Fletcher Christian (Mel Gibson) attempts to escape retribution and hide his men from the Royal Navy, Bligh desperately tries to reach land before he and his men perish.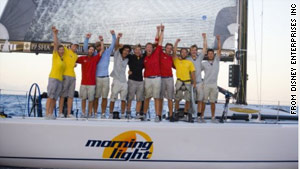 "Morning Light"
(Mark Monroe, 2008)
A documentary following the lives of 15 young sailors as they train for the 2007 Transpacific Yacht Race from Los Angeles to Honolulu. After six months of intensive training and pitted against experienced professionals, the crew of the "Morning Light," aged between 18 and 23, are ready to race 2,225 miles across the unpredictable Pacific Ocean. But how will they fare?
"Finding Nemo"
(Andrew Stanton and Lee Unkrich, 2003)
One for the kids ... and let's face it, the adults too. An over-protective clownfish called Marlin (the voice of Albert Brooks) accompanied by a regal tang called Dory (Ellen DeGeneres) finds friendship and adventure whilst trying to find his son Nemo (Alexander Gould), who's been abducted by a scuba-diver. With "surfer dude" sea turtles, vegetarian sharks and some pretty crazy seagulls, what's not to love about this film?
What are your favorite marine movies? Let us know by posting a comment below.
FOLLOW THIS TOPIC