Actress Zsa Zsa Gabor rushed to hospital again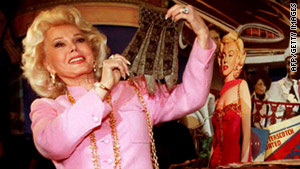 Actress Zsa Zsa Gabor has suffered a number of health issues recently.
STORY HIGHLIGHTS
Gabor's feeding tube is bleeding, her spokesman says
She undergoes an operation to clean it up
The Hungarian-born actress has suffered major health problems in the past year
Los Angeles (CNN) -- Zsa Zsa Gabor was undergoing treatment at a Los Angeles hospital Wednesday following a problem with her feeding tube, the latest in a series of ailments in the past year.
Gabor was taken to the hospital Tuesday afternoon because the feeding tube inserted into her stomach was "bleeding ... like a fountain," her spokesman said.
"They have to operate to clean it up," said spokesman John Blanchette.
Her husband "was worried and hoped she wasn't dying in front of his eyes," he said. "That's how scared he was."
Blanchette said she had surgery Tuesday evening and predicted she will be in the hospital for the next few days.
Gabor has suffered major health problems in the past year, including hip replacement surgery and a leg amputation. She has been unable to walk since a 2002 car accident.
This month, she was hospitalized for pneumonia.
The Hungarian-born actress, the second of the three celebrated Gabor sisters, is famous for her many marriages and strong personality.
Her more prominent films include John Huston's Toulouse-Lautrec biopic "Moulin Rouge" in 1952, "The Story of Three Loves" in 1953, "The Girl in the Kremlin" in 1957 and Orson Welles' 1958 cult classic, "Touch of Evil."
FOLLOW THIS TOPIC


Most popular stories right now

Featured Deal |