Critic Roger Ebert to show his facial prosthesis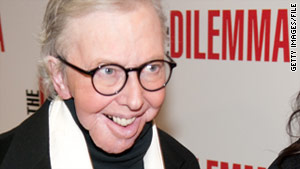 The creators of his prosthesis "did a pretty wonderful damn job," Roger Ebert says.
STORY HIGHLIGHTS
Longtime film critic lost part of jaw to cancer
Two-year transformation features facial prosthesis
A new PBS show debuts this weekend
(CNN) -- Longtime film critic Roger Ebert, who lost much of his jaw to thyroid cancer, will show off his new face -- thanks to a prosthesis -- when his PBS show debuts this weekend.
The creators of the prosthesis "did a pretty wonderful damn job," Ebert wrote in his online blog, which provided a few photos. "I like my new prosthesis and know from observation their work was painstaking and done with love and care."
The process of crafting the silicone prosthesis and matching it to his face and features took about two years, Ebert said. The effort was led by Dr. David J. Reisberg.
Since the cancer, Chicago-based Ebert, 68, has been unable to speak or eat conventionally. He has used various text-to-speech technologies to provide a voice.

2010: Roger Ebert gets new voice
According to "Entertainment Tonight," the Chicago Sun-Times critic is producing and will appear in brief segments in his new show "Roger Ebert Presents At the Movies," which launches on PBS stations nationwide.
"I will wear the prosthesis on the new television show," Ebert wrote in a Wednesday evening post entitled "Leading with my chin."
"That's not to fool anyone, because my appearance is widely known," said Ebert, who appeared with the late Gene Siskel on a movie review show for more than 20 years. "It will be used in a medium shot of me working in my office, and will be a pleasant reminder of the person I was for 64 years."
Ebert wrote he initially assumed he would wear the prosthesis all the time when he leaves the house. But his thoughts have changed, in part because people know what he looks like beneath the feature.
"And something else has happened since that day in the hospital: I accept the way I look. Lord knows I paid the dues."
FOLLOW THIS TOPIC