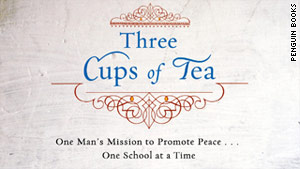 Greg Mortenson has been accused of fabricating key portions of his book "Three Cups of Tea."
STORY HIGHLIGHTS
Montana's attorney general says "concerns have been raised" the CAI's finances
Best-selling author Greg Mortenson is executive director of the Central Asia Institute
The organization grew out his book "Three Cups of Tea"
"My office will not jump to any conclusions," Attorney General Bullock says
(CNN) -- Montana Attorney General Steve Bullock said Tuesday his office is looking into the charity run by best-selling "Three Cups of Tea" co-author Greg Mortenson, following reports that key stories in the book are false.
"In recent days, concerns have been raised about the management and financial affairs of the Central Asia Institute. I've been in contact with attorneys for the Institute and they have pledged their full cooperation in addressing our concerns," the attorney general said in a statement.
Greg Mortenson shot to worldwide fame with the book "Three Cups of Tea: One Man's Mission to Fight Terrorism and Build Nations ... One School at a Time," which describes his getting lost in an effort to climb K2, the world's second-highest peak, being rescued by Pakistanis in the village of Korphe and vowing to return there to build a school for local girls.
The riveting story spawned the Montana-based charitable organization known as CAI, which works to improve girls' education in Pakistan and Afghanistan.
In recent days, however, both Mortenson and the charity have found themselves on the defensive against accusations of mismanagement and exaggeration, if not outright fabrication, of key episodes in Mortenson's book.

Is 'Three Cups of Tea' fact or fiction?
His publisher, Viking, said Monday it plans to "carefully review the materials with the author" following questions first raised about the book in a CBS "60 Minutes" report that aired Sunday night.
Mortenson threatened with lawsuit for defamation
Jon Krakauer, best-selling author of "Into Thin Air," was featured on the CBS report, saying Mortenson's account is "a beautiful story, and it's a lie."
Krakauer is a climber and former donor to Mortenson's charity. He says he was a longtime Mortenson backer, donating $75,000 to his cause, but withdrew his support over concerns the charity was being mismanaged.
The organization recorded income of $14 million in 2009, the vast majority of which was raised from private individuals, many of them who were no doubt inspired by Mortenson's books.
However, in 2009, less than half of that money actually went to building schools in Afghanistan and Pakistan. Instead, $1.7 million went to promote Mortenson's books, according to the institute's board of directors.
Montana's attorney general stressed in his statement his authority to oversee nonprofit corporations on behalf of the public. The Central Asia Institute is based in Bozeman, Montana.
"While looking into this issue, my office will not jump to any conclusions -- but we have a responsibility to make sure charitable assets are used for their intended purposes," said Bullock.
"Three Cups of Tea," co-written with David Oliver Relin, has become a huge international publishing phenomenon since it was published five years ago, spawning a sequel, two children's editions and translations in 19 countries.
CNN's Anna Rhett Miller contributed to this report.
FOLLOW THIS TOPIC