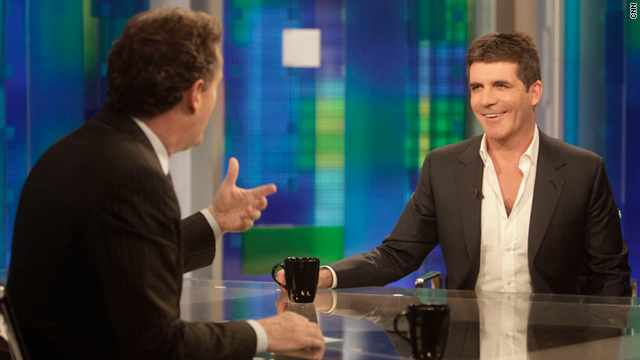 STORY HIGHLIGHTS
Simon Cowell says "American Idol" is better than last year


Cowell: I always think of "Idol" really as me, Paula (Abdul) and Randy (Jackson)


Cowell on "X Factor": "Lady Gaga defines exactly what we're looking for"


He wants "X Factor" to be extreme, chaotic, controversial
Watch the full interview with Simon Cowell tonight. "Piers Morgan Tonight" airs weeknights on CNN/US at 9 p.m. ET and on CNN International at 0200 GMT (Live simulcast), 1200 GMT and 2000 GMT / HKT 2000
(CNN) -- When CNN's Piers Morgan asked Simon Cowell what he thought about this season's "American Idol," Cowell said, "I personally think it is a better show than last year."
Cowell is tonight's guest on "Piers Morgan Tonight."
"They've got their energy back," said Cowell. "They're confident, they're competitive."
Cowell agreed that new judges Steven Tyler and Jennifer Lopez have great chemistry. "Steven's got his own personality," he said. "Jennifer's a star. Randy (Jackson's) suddenly sort of turned into a bit more like me, and I think he always wanted to do that."
When Morgan asked why Cowell walked away from the show that made him a global superstar, Cowell said, "After awhile you start feeling like a passenger. Your energy comes down."

Cowell: 'Idol' season better than last

Simon Cowell regrets Paula leaving

Simon Cowell on losing his father
Cowell said he did get emotional as his days with "Idol" wound down, recalling memories of the moment "Kelly Clarkson emerged into a star" and when "Carrie Underwood walked into the audition room."
"I always think of 'Idol' really as me, Paula (Abdul) and Randy," Cowell said. "When other people were brought in and Paula wasn't there it was to me like being on a different show."
Cowell is set to launch an American version of the hit British show "The X Factor" in the fall. Unlike "American Idol," there is no age limit on auditioning for "The X Factor." A live audience is also being brought in for the audition process.
"We called it 'The X-Factor,'" said Cowell, "because I thought 'Good Singer Factor' was a terrible name for a show." Cowell said he wouldn't have done the show had he not believed he could find a star through the process.
"I shouldn't know what it's going to be like," said Cowell. "The audience shouldn't know. You just film it and you hope it's going to be as crazy as possible."
"This is a $5 million audition," said Cowell, referring to the monetary prize the winner(s) will receive in addition to a record deal. "You know, you've got to look the part. You've got to stand out from the crowd. You've got to sing something different to what we've heard before."
Cowell also pointed out that unlike on "Idol," people can audition for "X Factor" in groups. "I think there's a massive, massive gap in the market right now for a bunch of five guys, maybe four girls -- the next Destiny's Child."
"I think somebody like Lady Gaga defines exactly what we're looking for," said Cowell, who pointed out that Lady Gaga is both talented and interesting. "She's worked it all out for herself. You never get the feeling somebody is controlling her."
"I like the fact that she's different," said Cowell. "She's not the best looking person in the world. She's not the best singer, but she is a total, utter star. And that is an example of what "The X-Factor" is. I'm not looking for a good-looking singer only."
The 51-year-old record mogul promises audiences they'll see things they have never seen on TV. "I like things to be really, really extreme," he said. "I like it to be slightly chaotic, and I like it to be controversial."
Morgan brought up recent criticism of Cowell by Alan McGee, founder of the band Oasis. McGee complained that Cowell's shows make it hard for truly talented bands like Oasis to get noticed. Cowell called McGee's remarks "absolute rubbish."
Elton John expressed similar criticism, saying it is hard for anything outside the mainstream to become a hit today.
"This is somebody who charges, what? A million dollars a private gig?" asked Cowell, "Two million dollars? I always want to say to them, 'I tell you what, you just made a million dollars off your last private gig. Go and give it to a bunch of young musicians you care about, put them in the studio. Go and nurture them. Go and spend some time looking after them. Then I'll buy your argument."
Morgan asked if the real genius of Simon Cowell was his ability to guess what the public is going to like.
"No," said Cowell. "I think what it is is that I know what I like."
"Every show I've ever produced, essentially, it's the show I'd want to watch myself," said Cowell. "I know when something is well made. I know when something is interesting. And I get bored really, really quickly. So when I make these shows. I'm trying to make something which nobody has ever seen before hopefully, that it's unpredictable."
Watch Piers Morgan Live weeknights 9 p.m. ET. For the latest from Piers Morgan click here.
FOLLOW THIS TOPIC