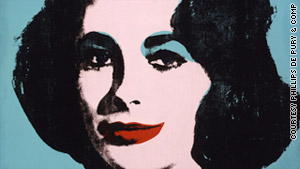 An Andy Warhol painting of Elizabeth Taylor is expected to fetch $20 million to $30 million.
STORY HIGHLIGHTS
Silkscreen "Liz #5," offered by financier, is generating interest among collectors
It's among pieces by Warhol that celebrate the American actress
The work was consigned before Taylor's March 23 death, a person familiar with the sale said
Though she hated to be called "Liz," Taylor liked Warhol's paintings, an artist says
New York (CNN) -- The recent death of actress Elizabeth Taylor is expected to bring much interest to the sale of artist Andy Warhol's "Liz #5" when it hits the auction block on May 12.
The work, which is one of a number of pieces by Warhol that celebrate the American actress, is being offered by art collector and hedge fund financier Steve Cohen and is expected to fetch $20 million to $30 million.
Cohen, who also owns Warhol's "Turquoise Marilyn Monroe" and "Coke Bottle," consigned "Liz #5" in early March, before Taylor's death on March 23, according a person familiar with the sale.
The sale, which is being conducted by Phillips de Pury & Co. in Manhattan, is already garnering a lot of interest among collectors.
Michael McGinnis, who heads the Contemporary Department at Phillips de Pury & Co., says he's expecting a big turnout.
Will the sale break any records? While it's unlikely that "Liz #5" (1963) will break the record for a Warhol -- his "Green car crash-Green burning car I" (1963) sold for more than $71 million -- the results may come closer to the sale price of more than $23 million for "Liz" (1963) when it was auctioned at Christie's auction house in 2007.
"The buzz has been pretty good" McGinnis said. "A lot of serious people have inquired about the piece. Though the timing is unusual due to her dying, that'll definitely help, and though it's pure coincidence, it brings more light and a relooking at Liz as a subject."
"In terms of its impeccable provenance and the quality of the silkscreen, this has perfect qualities," McGinnis said of the piece.
Before its acquisition in 2007 for an undisclosed price, "Liz #5" belonged to famed art dealer and collector Ileana Sonnabend, who was an early admirer of Warhol.
In the early 1960s, Warhol, who was enamored by the glamorized and beautiful images of Hollywood stars, began his streak of works featuring iconic products and celebrities, including Elvis Presley, Marilyn Monroe and, of course, Taylor.
In 1963, Taylor was already a giant in Hollywood, with movies like "Cat on a Hot Tin Roof" (1958) and "Butterfield 8" (1960), for which she won an Oscar, propelling her to the height of fame. The movie "Cleopatra" (1963) catapulted Taylor further as her off-screen romances monopolized Hollywood gossip magazines.
"Liz #5" is a silkscreen picture of ink and acrylic on linen. Measuring 40 by 40 inches, it reveals Taylor's face as she was already a presence in American culture. She appears on a turquoise background, her skin a glowing pink, her unmistakable eyes painted violet and her lips lathered in red.
The colored "Liz" series includes 13 pieces.
In his 2007 book "Andy Warhol Portraits," art gallery owner and artist Tony Shafrazi pays homage to the artist whom he first met in 1965. He was a friend until Warhol's death in 1987.
"He was interested in movie stars and their sense of beauty," Shafrazi said.
As simple a process as it may appear, he says that in 1963, the silkscreen image process that Warhol used was very rare and new.
For Shafrazi, Warhol's work reflected the assembly-line format that the American experience was projecting onto the world at the time. And even though the U.S. mass-produced items, Warhol's work meant to show that each item is independent of the other, even though there is sameness.
Shafrazi recalled that when he met Taylor years ago, the actress, who once recounted to journalist Barbara Walters that she hated to be called "Liz," told him that she was fond of Warhol's paintings.
FOLLOW THIS TOPIC