Another Broadway Spider-Man cast member injured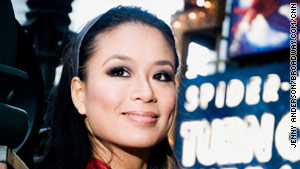 T.V. Carpio will be out for two weeks, according to a spokesman for the troubled Broadway musical.
STORY HIGHLIGHTS
T.V. Carpio, who is female lead in Broadway Spider-Man musical, is injured
Understudy America Olivo will replace Carpio for two weeks
The show, which is in previews, is scheduled to open in early summer
(CNN) -- The injury-prone Broadway musical "Spider-Man: Turn Off the Dark" has temporarily lost another cast member after the show's lead actress was hurt performing an onstage battle scene, according to a spokesman.
T.V. Carpio, who plays Arachne, will be out for two weeks, according to Rick Miramontez, a spokesman for the show. Miramontez said Carpio was injured March 16 while performing the scene with another actor. The spokesman did not say specifically how the cast member was injured.
Understudy America Olivo will perform the role during Carpio's absence, Miramontez said.
Carpio's injury follows a series of other accidents and setbacks that have bedeviled the show.
In December, actor Christopher Tierney became the third performer to suffer an injury while wearing the red mask of the Marvel Comics superhero. The accident was serious enough to prompt producers to announce new safety measures.
Earlier this year, an actress suffered a concussion offstage during the first preview night.
The show, which is still in previews, was supposed to open earlier this month. However, the musical's debut was put off for the sixth time after the producers replaced their director. The producers said the delay would give the show's creators time to work on various revisions, including improving the musical arrangements and sound quality.
The $65 million stage version of the Spider-Man story is now scheduled to open in early summer.
FOLLOW THIS TOPIC


Most popular stories right now

Featured Deal |