STORY HIGHLIGHTS
NEW: Sheen tells CNN's Piers Morgan: "I feel more alive, I feel more focused"
NEW: He says he doesn't consider himself an addict, just someone who enjoys life
Sheen's publicist resigns following TMZ.com interview
Sheen says he's been barred from Warner Bros. Television lot
(CNN) -- Capping a day of bombastic assertions and harsh accusations on the airwaves and internet, embattled actor Charlie Sheen lashed out Monday at addiction specialists and sitcom executives while proclaiming himself clean and focused thanks to an "epiphanous awakening."
"I feel more alive, I feel more focused, I feel more energetic," Sheen told CNN's Piers Morgan. "I'm on a quest to claim absolute victory on every front."
Appearing in a loose-fitting T-shirt and open-collared shirt, the actor gave his first interview since his long-time publicist Stan Rosenfield resigned earlier Monday because he said he was "unable to work effectively as (Sheen's) publicist."
While still offering playful and sometimes biting remarks, Sheen appeared relatively more subdued than he had in earlier interviews with a host of media outlets. While admitting he might have been too brash at times and done some things he now regrets, he also stressed that he hadn't counted the days since he last did drugs and didn't consider himself an addict -- just someone who lives life to the fullest.
"My motto is to enjoy every moment," he said. "I don't think I would trade any of it because I'm still alive, which is pretty cool."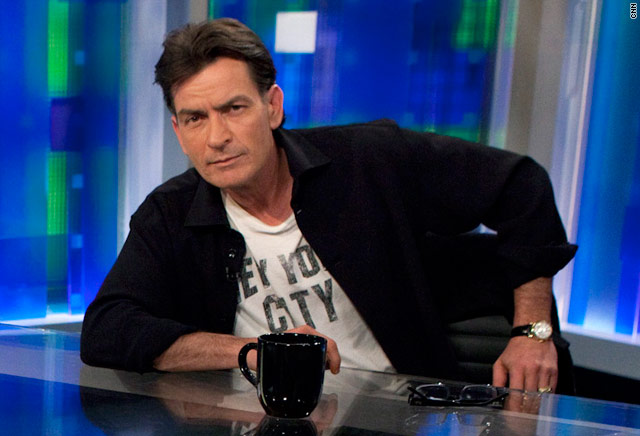 Gallery: Celebrity interview flubs

Sheen says he's cured his addictions

Charlie Sheen: I'm not ashamed

Dr. Drew: 'Sheen is clearly manic'
Sheen said he would go back and finish the season of "Two and a Half Men," which CBS halted last week after Sheen's call to a radio show. He backed off from an assertion, made earlier Monday, that he wanted $3 million per episode rather than the $2 million he had been making -- saying his only hard-and-fast demand was that he and the crew get paid for another eight weeks of work.
He said CBS "had a chance to get rid (of him) a couple of times" -- admitting that he got bored at times with his job -- but instead gave him a raise. Sheen said he could "sort of understand why" show executives felt they had to intervene after a series of high-profile incidents, while reiterating that he felt his private life was his own business and lashing out at show's co-creator, Chuck Lorre, after accusing him of failing to live up to his promises.
"I'm on a mission right now: It's an operation to right some terrible wrongs," he said. "That's what fuels me, the truth."
CBS and Warner Bros. Television said in a joint statement last week that "Based on the totality of Charlie Sheen's statements, conduct and condition, CBS and Warner Bros. Television have decided to discontinue production of 'Two and a Half Men' for the remainder of the season." Lorre himself hasn't spoken publicly in recent days on the situation.
Warner Bros. Television is owned by Time Warner Inc., the parent company of CNN.
CBS previously placed the sitcom on "production hiatus" after the actor began rehab treatments. The show had been scheduled to resume taping on four more episodes this week. It's not clear if "Two and Half Men" will return for a ninth season.
Sheen told ABC he plans to sue CBS "tons" for halting the show.
"Everybody thinks I should be, like, begging for my job back," he told NBC. "And I'm just going to forewarn them that it's everybody else that's going to be begging me for their job back."
"Come Wednesday morning, they're going to rename it Charlie Bros., not Warner Bros.," he said.
"Now they're saying I'm crazy," he told TMZ.com. "I'm passionate and I speak the truth, but I'm crazy."

Charlie Sheen on his regrets

Charle Sheen on John Stamos

Sheen: I don't hit women

Sheen spouts off in new ABC interview
"I'm grandiose," he said. "I have a grandiose life and I'm embracing it. ... It doesn't fit into their model and their model sucks."
He told CNN that he missed a few rehearsals and occasionally showed up "a little bit sideways," but was always present for tapings and said he always relished performing.
"When I step between the lines, that's the time I get to be free," he said.
Sheen insisted in all four interviews that he is clean -- and ABC revealed the results of a drug test showing that he tested negative for the presence of 10 drugs. He said he passed three drug tests.
The actor told NBC's "Today Show" that he has "tiger blood and Adonis DNA."
"I'm tired of pretending like I'm not special," Sheen said in that interview. "I'm tired of pretending like I'm not bitching a total freaking rock star from Mars. And people can't figure me out. They can't process me. I don't expect them to. You can't process me with a normal brain."
During his CNN interview, Sheen had special venom for psychologists, addiction specialists and proponents of treatment programs including Alcoholics Anonymous, or AA -- calling them "losers," who "have been lying to me for two decades." He said that he "healed quickly," and on his own terms.
"That's ridiculous to have a prognosis about someone who you haven't been in the same room as," said Sheen, singling out Dr. Drew Pinsky, a regular on MTV and other programs who is about to start his own show on CNN sister network HLN. "You should be ashamed of yourself."
Last week, Pinsky told HLN that Sheen "is clearly manic."
Pinsky said Sheen is exhibiting traits of advanced addiction, which he said has a grave prognosis without proper treatment.
Except for one long-ago incident, which Sheen dismissed as an accident -- and despite accounts in recent years claiming he'd hit his then-wife and a porn actress -- Sheen insisted that he has never hit a woman.
He also beat down remarks from his father and fellow actor Martin Sheen, labeling Charlie an "addict" who needs help.
"Relax. He's so dramatic," said Charlie Sheen, adding that he believes his father is out of the country and hasn't called.
He would not talk about recent high-profile incidents during which he allegedly was using drugs and alcohol and became violent, saying only that the people who are talking about the incidents "weren't there" and calling their accounts "the gibberish of fools."
"I can't do that right here, because that means I have to expose people," he told ABC when asked about the incidents. He denied being violent, but said he does have a violent side "when it's needed to protect my family, absolutely. And it's not like anything you'll ever see."
He confirmed, however, that Warner Bros. had sent a memo to security personnel at its studios, instructing that he not be allowed inside.
He said as far as he knows, there are no drugs in his home, but said he will throw them away if he finds them.
Told his fans are worried about him, Sheen told NBC he is fine, saying, "I've always had a plan. I've executed it perfectly."
He denied any anti-Semitic intent behind his earlier comments on Lorre, in which he said Lorre's real name was Chaim Levine -- remarks denounced by the Anti-Defamation League. "I've never had that in my past," he said. "You can look as deep and as far as you want."
Asked whether he is angry, he said he is "passionate. I think my passion is misinterpreted as anger."
The network is "trying to take all my money and leave me with no means to support my family." He said he will fight them "with zeal, and with focus and violent hatred."
Sheen told NBC that CBS owes him a "big" apology -- "publicly. While licking my feet."
He said he has offers for work and has received support from friends including Sean Penn, Mel Gibson, Sylvester Stallone and Colin Farrell. During the TMZ interview, he introduced the reporter to his two girlfriends, whom he called "goddesses."
But Sheen admitted that he hadn't gotten any support, publicly or privately, from his "Two and a Half Men" co-stars or crew.
The actor was "very, very intoxicated, also apparently in a lot of pain" when he was taken to a hospital on the morning of January 27, according to a 911 call from a doctor who had just talked to Sheen.
Porn actress Kacey Jordan has told media outlets that a two-day party preceded Sheen's collapse.
Paramedics went to Sheen's Los Angeles home and then took him by ambulance to a hospital, where he spent several hours. While his representative blamed a hernia for Sheen's pain, he later announced the actor was undergoing rehab at home. In his interview with TMZ on Monday, Sheen also blamed a hernia problem for the hospitalization.
Watch Piers Morgan Live weeknights 9 p.m. ET. For the latest from Piers Morgan click here.