STORY HIGHLIGHTS
Cain's surge in polls makes him the evening's biggest target
Perry doesn't repeat stumbles in previous debates
Romney appears to view Perry as his chief rival
Paul has lackluster showing for second straight debate
Programming note: GOP presidential candidates next face off at 8 p.m. ET Tuesday, October 18, in the CNN Western Republican Presidential Debate in Las Vegas, Nevada.
Hanover, New Hampshire (CNN) -- Republican presidential rivals debated economic issues on Tuesday night and Herman Cain, the latest of the 2012 candidates to surge to the top of polls, found the bulls-eye painted on him.
Cain's "9-9-9" plan to restructure the tax code was the target Tuesday with rivals saying the plan was unrealistic and had little chance of being adopted. Cain's economic credentials were also questioned.
Here are five lessons from the debate:
Welcome to the big show, Mr. Cain
Former Godfather's Pizza executive Herman Cain found out what it's like to be the Republican frontrunner, as his catchy "9-9-9" plan came under attack from all sides on Tuesday night.
Republican rivals try to deep-six Cain's "9-9-9" plan in debate
Cain has vaulted almost to the top of recent national polls, fueled largely by enthusiasm for the "9-9-9" tax plan. The proposal would do away with almost all national taxes and set corporate, sales and income taxes at a flat 9%.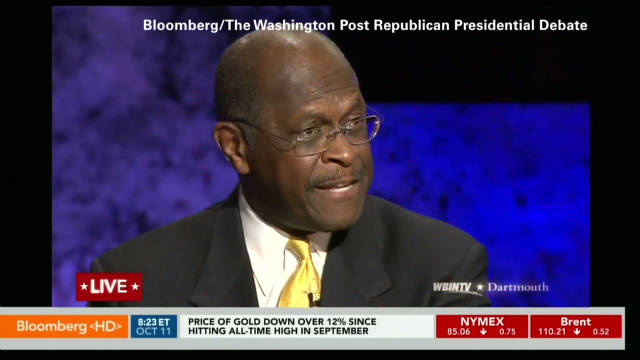 GOP debate: Who has what it takes?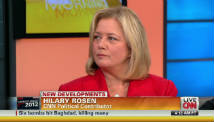 GOP debate focuses on the economy
Cain's opponents set about painting him as being too inexperienced in politics to understand that his plan wasn't feasible.
Former Pennsylvania Sen. Rick Santorum said flatly the policy would never pass Congress. Former Massachusetts Gov. Mitt Romney called the plan "inadequate." Minnesota Rep. Michele Bachmann claimed that Cain's plan would give legislators in Washington "a pipeline" to raise taxes in the future.
"When you take the 9-9-9 plan and turn it upside down, I think the devil's in the details," she said.
Cain, however, clearly saw success in continuing to tout his plan, and mentioned it in almost every answer.
Yes, Perry is still alive
With the spotlight largely trained on the two GOP frontrunners, Romney and Cain, Texas Gov. Rick Perry avoided the kind of major stumbles that did serious damage to his campaign last month.
He wasn't the strongest debater on the stage -- far from it.
At several points in the debate, Perry made reference to the economic plan he will begin to unveil on Friday, but he provided few specifics other than a call to boost domestic energy production.
He also spoke in the same halting style that makes Republican insiders wonder if he could deliver in a nationally televised general election debate against President Barack Obama.
But with several candidates attacking Cain and highlighting flaws in his "9-9-9" economic plan, Perry could stand to benefit among conservatives if Cain's balloon starts to deflate.
After the debate, Perry adviser David Carney said the cash-flush campaign may begin to run television advertisements "soon," which could also prop up the former frontrunner.
"Stay tuned," Carney said.
Romney still views Perry as his chief rival
It was a telling moment.
When the candidates were allowed to question their opponents directly, Romney played nice.
While other candidates went on the attack, Romney politely asked Minnesota Rep. Michele Bachmann to expound on her economic plan, giving her some extra time to make her case to voters.
The reason: Romney, running on the moderate side of the GOP primary, is hoping to prop up as many conservative candidates as possible, hoping that they siphon votes from Perry on the right.
Perry may be slumping in the polls, but he is still sitting on an enormous war chest and is known as a voracious campaigner who never gives up. He is not going to go away quietly.
After the debate, Romney adviser Eric Fehrnstrom had kind words for nearly every candidate around the debate table --- except for Perry.
"The real thing here is Rick Perry was a nonfactor in the debate," Fehrnstrom said. "And the reason he was a nonfactor was because he has no jobs plan. It must be very embarrassing to be a candidate for the highest office in this country at a time when this economy was in shambles, and not have a plan that you can talk about. I think that's why he was speechless for most of the debate."
Where was Ron Paul?
Though he's famous for his full-throated disapproval of the nation's financial system, Texas Rep. Ron Paul was largely a nonfactor for the second straight debate.
Paul is credited with setting off a wave of skepticism about the government's role in the economy, and inspiring legions of loyal conservative activists.
But his fiery indignation didn't register in Hanover, where he wasn't a central part of the debate until late in the game.
Paul did prompt some laughter in the audience when asked to find a high point in the history of the Federal Reserve. He also scored points when he questioned why Cain cited Alan Greenspan as the kind of person he would appoint to chair the Federal Reserve.
Paul called Greenspan, an unpopular figure among tea party activists, a "disaster."
But otherwise his explanations verged on professorial and he seemed to struggle to connect in the interactive format, which fostered discussion among the candidates.
Huntsman's jokes: Actually kind of funny
Former Utah Gov. Jon Huntsman has ventured to crack jokes at previous debates, but his attempts at humor have fallen noticeably flat (remember that Kurt Cobain reference?).
But this time around, he managed to nail several punch lines.
Huntsman had the audience laughing at several points -- often when he pointed out contrasts between himself and his GOP opponents.
On Herman Cain's 9-9-9 plan?
"I thought it was the price of a pizza when I first heard about it," he said.
On Rick Santorum's assertion that Pennsylvania is the natural gas capital of the country?
"I would, first and foremost, disagree with Rick on one measure," Huntsman said. "Washington, D.C. is the gas capital of the country."
Huntsman did make one remark that fell flat, when he alluded to the Mormonism flap that has dominated headlines since Friday. Both Huntsman and Romney are Mormons.
"Since this discussion is all about economics," Huntsman said before posing a question to Romney. "I promise this won't be about religion."