STORY HIGHLIGHTS
Republican Darrell Issa has represented California's 29th congressional district since 2001
He is now the chairman of the House Oversight and Government Reform Committee
Issa is one of the richest members of Congress and voice behind the Viper car security system
Washington (CNN) -- Since becoming chairman of the powerful House Oversight and Government Reform Committee, Rep. Darrell Issa has made waves throughout Washington, at one point calling President Barack Obama's administration "one of the most corrupt."
Issa has made it clear since taking over the helm on the committee that he wants explanations from the Obama administration -- from the BP oil spill to issues regarding the Labor Relations Board to the Association of Community Organizations for Reform Now (ACORN).
The California Republican makes no qualms about his role in getting to the bottom of things, including his latest mission: the much-criticized "Fast and Furious" federal gun-running investigation.
On Wednesday, he issued subpoenas for communications from several top Justice Department officials -- including Attorney General Eric Holder -- relating to "Fast and Furious."
Read more about 'Fast and Furious' investigation
In addition to the that probe, Issa's committee has had more than a dozen subpoenas issued so far from the ACORN case to to seeing which lawmakers might have gotten sweetheart deals from Countrywide Financial's VIP loans program.
While Democrats bemoan his aggressive pursuit of the administration, Issa takes pride in it.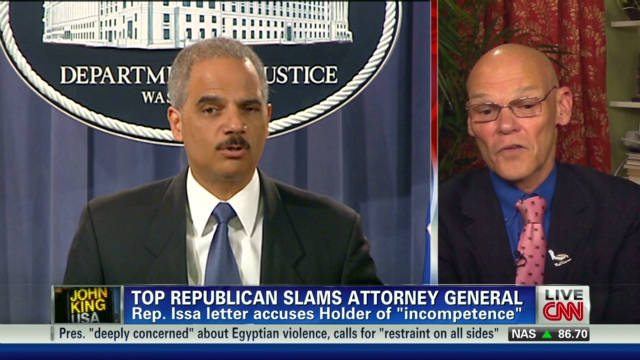 Attorney General Holder accused of lying
"You can call me a pain," Issa told the New York Times last year. "I'll accept that as a compliment."
He has especially been a pain for Holder. In January 2011, Issa told "Fox News Sunday" that the Department of Justice has failed to investigate properly the leak of thousands of classified documents on the WikiLeaks website. The failure to go after WikiLeaks founder Julian Assange was especially troubling to him.
"I think he needs to realize that, if the president says, 'I can't deal with this guy as a terrorist,' then (Holder) has to be able to deal with him as a criminal. Otherwise, the world is laughing at the paper tiger we've become," Issa said.
Holder is hurting the administration, Issa added, and either needs to "stop hurting the administration or leave."
Democrats, though, are not amused by what they call Issa's hyper-partisan tone.
"I couldn't help but think about the fact he has called this president the most corrupt in history," Rep. Elijah Cummings, D-Maryland, said on CNN's "State of the Union" in January -- referring to Issa's comments on Rush Limbaugh's radio show.
"Keep in mind, Issa will have subpoena power to subpoena almost anybody he wants to," said Cummings, the ranking Democrat on Issa's committee. "And that's a problem when you come to these conclusions before you even bring people in. ... I think that we're just going to have to be careful with this power."
Issa later told CNN that when he looks at waste, fraud and abuse in the bureaucracy and in the government, "this is like steroids to pump up the muscles of waste."
Issa, though, isn't without his own controversy.
Last month, the American Family Voices -- a liberal group -- filed a complaint with the House Office of Congressional Ethics calling for an investigation into whether the Republican's business interests conflicted with his job. His office pushed back against the complaint, saying it was without merit.
And then in March, Kurt Bardella, Issa's deputy communications director, was fired after it was revealed he improperly shared e-mails with New York Times reporter Mark Leibovich, who is penning an inside-baseball book about the political culture of Washington.
A statement released by the House Committee on Oversight and Government Reform at the time detailed Bardella's release, saying "though limited, these actions were highly inappropriate, a basic breach of trust with the reporters it was his job to assist, and inconsistent with established communications office policies. As a consequence, his employment has been terminated."
Bardella was later rehired by Issa.
Issa is one of the richest members of Congress, due to his successful business, Direct Electronics, which sells car alarms -- including the wildly popular Viper System -- that deep voice telling would-be thieves "to please step away from the car"? That's Issa.
The congressman has represented California's 49th congressional district, which covers San Diego and the surrounding areas, since 2001. Issa and his wife Kathy live in Vista, and have one son.
Before taking on his new role after the 2010 midterm elections, Issa served on the House Permanent Select Committee on Intelligence, the Foreign Affairs Committee, the Energy and Commerce Committee, and the Small Business Committee.
In 2003, the congressman was "the architect behind the successful popular uprising to recall former Democratic California Governor Gray Davis," according to his official bio.
Issa, born in Cleveland, graduated from Sienna Heights University. After graduating, he was commissioned as an Army officer and later became a captain before he left active duty in 1980. He soon dove into the private sector, moving to Vista and starting his business in 1985.
His fortune would later help him fund an unsuccessful U.S. Senate run in 1998.
CNN's Rebecca Stewart and the CNN Wire staff contributed to this report.
FOLLOW THIS TOPIC