STORY HIGHLIGHTS
New Hampshire debate to be first of election cycle to focus solely on economy
Rick Perry and Jon Huntsman have a lot at stake in New Hampshire
Herman Cain is surging, while Mitt Romney is holding steady as front-runner
"One of these people may very likely be the next president," GOP strategist says
Follow Paul Steinhauser on Twitter: @PsteinhauserCNN.
Washington (CNN) -- What a difference 19 days make.
The last Republican presidential debate was held nearly three weeks ago in Orlando. Since then, Texas Gov. Rick Perry lost his front-runner status in the national polls in the race for the GOP nomination, thanks in part to a poor performance at that debate; to constant attacks from rival campaigns over his stance on illegal immigration, border security and Social Security; and to his lackluster showing at a straw poll in Florida two weeks ago.
Since the debate, former Massachusetts Gov. Mitt Romney recaptured the top spot in national polls, and former Godfather's Pizza CEO and radio talk-show host Herman Cain has surged into the No. 2 position in several surveys.
All three men will be in the spotlight Tuesday night as the major Republican White House hopefuls share the stage again at a debate in Hanover, New Hampshire.
The Bloomberg/Washington Post debate, in partnership with WBIN-TV in New Hampshire and Dartmouth College, is being touted as the first debate of the 2012 election cycle to focus solely on the economy. The gathering is being moderated by Bloomberg's Charlie Rose, Washington Post political correspondent Karen Tumulty and Bloomberg TV White House correspondent Julianna Goldman.
The candidates taking part in the debate are Rep. Michele Bachmann of Minnesota, Cain, former House Speaker Newt Gingrich, former Utah Gov. Jon Huntsman, Rep. Ron Paul of Texas, Perry, Romney and former Sen. Rick Santorum of Pennsylvania.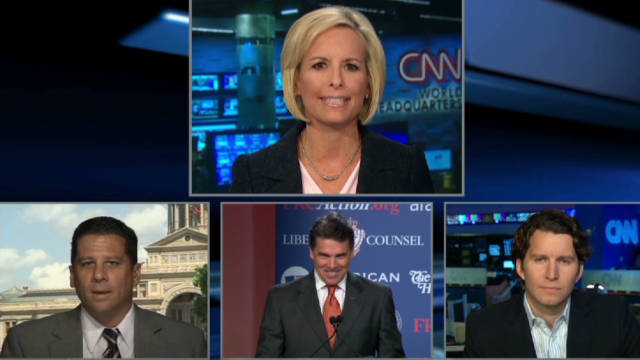 Perry falling as Christie backs Romney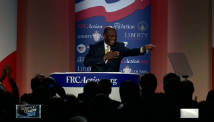 Cain's economic pitch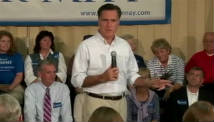 Romney: Obama's 'Where's Waldo' economy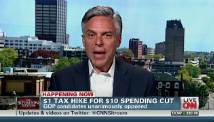 Huntsman: Americans want action
The debate is the first since former Alaska Gov. Sarah Palin and New Jersey Gov. Chris Christie both declared they would not make bids for the nomination.
"Now that the field is settled, the race has changed. One of these people may very likely be the next president. Voters are going to expect a more serious tone from the candidates in this debate," says GOP strategist and CNN contributor Alex Castellanos.
Expect Romney to face attacks from his rivals, thanks to his position once again atop the national polls and his front-runner status in New Hampshire surveys.
But his faith may also come up after comments Friday at a major conference of social conservatives from a prominent pastor who called the Mormon faith a "cult." The pastor, the Rev. Robert Jeffress of the First Baptist Church of Dallas, introduced Perry at the conference.
Pastor: "I'm not 'Rick Perry's 'Jeremiah Wright' "
"The Mormon issue is hurting Perry more than it is hurting Romney. When your house is burning down, you don't care about where your fireman goes to church. And the economy is melting down right now, and Romney's campaign has been entirely focused on growth and jobs. That will insulate Romney from a lot of Perry's attacks," adds Castellanos, a top media adviser to the 2004 Bush-Cheney re-election campaign and to Romney's 2008 bid who says he's not taking sides this cycle.
Cain could see more scrutiny due to his surge in the most recent national polling and New Hampshire surveys. But the debate could also give him another forum to shine.
"Herman Cain has a terrific opportunity in this debate: He's climbing in the polls, but his opponents still don't take him seriously. Another good debate performances from Cain, and he could work his (way) into tier one," Castellanos says.
Pat Griffin, a Republican strategist and fellow at the New Hampshire Institute of Politics, says, "Interesting enough, Cain's on the move here in New Hampshire.
"People tested in focus groups say they like Herman Cain because he's not a politician, because he's a businessman who's created jobs," adds Griffin, who was a political and media consultant to former Presidents George H.W. Bush and George W. Bush.
Perry needs a strong performance to make up for his uneven one at the last debate and to change the new dynamics in the battle for the nomination.
A breakout performance is also vital for Huntsman, who appears to be betting all his chips on a strong showing in New Hampshire's first-in-the-nation primary.
"This debate is important to Jon Huntsman. He has moved his campaign to New Hampshire. He needs to walk out of Dartmouth in the consideration set. He is tailor-made for New Hampshire. If he can't grow in New Hampshire, he is not going to grow anywhere else," Castellanos says.
But Huntsman is in the single digits in the two most recent New Hampshire polls.
"I'm not sure Jon Huntsman is showing the juice here," says Griffin, who adds that electability matters for New Hampshire Republican primary voters desperate to defeat President Barack Obama in 2012.
Huntsman: Perry should break from controversial pastor
Griffin says, "Voters are telling us we have to beat Obama, and that helps Romney."
Huntsman needs to convince "people in New Hampshire that he can win a national election."
But Griffin says Huntsman "does have a shot to being the alternate to Romney."
While there is a lot at stake, any major stumbles by the candidates at Tuesday's debate may not be fatal. There's a CNN-Western Republican Leadership Conference debate a week later in Las Vegas.