STORY HIGHLIGHTS
NEW: Perry's rivals aggressively go after the Texas governor
NEW: Bachmann talks about Perry and a controversial vaccine; Santorum questions Perry on immigration
Romney says Perry wrote in his book that Social Security is unconstitutional
Perry calls Romney's Massachusetts health care reform "an absolute bust"
Orlando (CNN) -- The perils of being the Republican frontrunner came into sharp focus for Texas Gov. Rick Perry on Thursday at a debate in Florida, with his rivals aggressively seeking to poke holes in his record and dislodge him from the top of the polls.
Perry repeatedly found himself on his heels as his foes pressed him on issues including Social Security, immigration, border security and his 2007 executive order mandating that middle-school girls be vaccinated against the sexually transmitted HPV virus that can cause cervical cancer.
Minnesota Rep. Michele Bachmann said Perry supported the vaccine as a political favor to a pharmaceutical company, Merck, that donated to his campaigns.
Truth Squad: Did Bachmann's HPV vaccination claim ring true?
Pennsylvania Sen. Rick Santorum, meanwhile, took aim at a 2001 law signed by Perry that gave higher education tuition breaks to the children of illegal immigrants.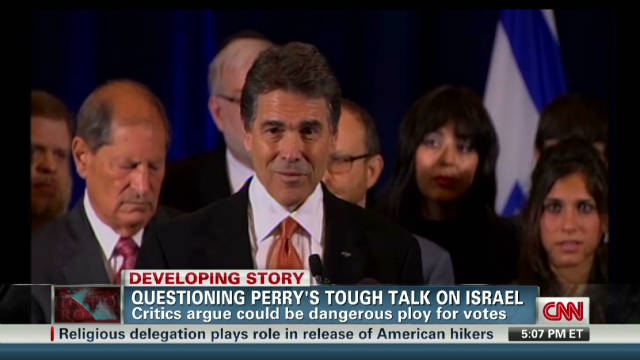 Perry's tough talk on Israel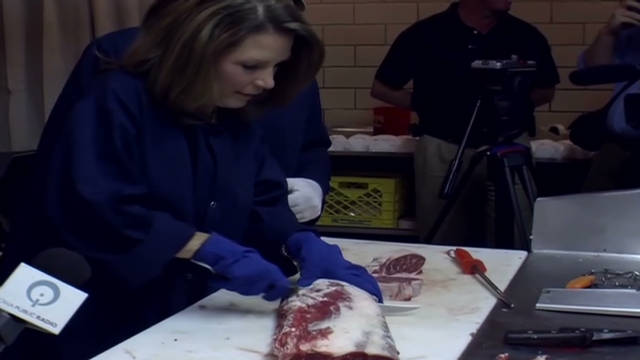 Bachmann cuts meat on factory tour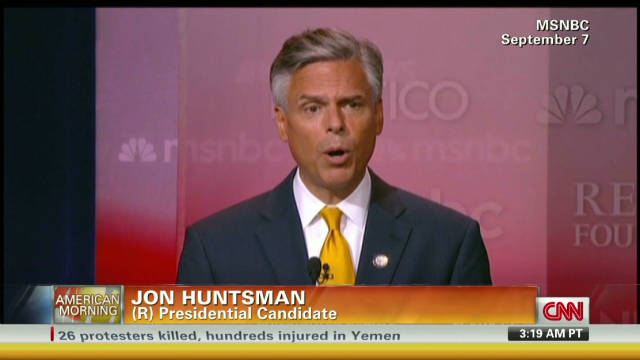 GOP candidates' take on evolution
He accused Perry of giving "preferential treatment" to illegal immigrants.
Truth Squad: Do illegal immigrants get tuition discount?
Perry, who has spent a more than a decade supervising Mexico's longest border with the United States, hit back hard and questioned whether Santorum had even been to the border before.
Former Massachusetts Gov. Mitt Romney took the most forceful tack, repeatedly questioning Perry's commitment to protecting Social Security in a state with nearly 4 million citizens who depend on the entitlement program.
Perry rebuffed Romney's accusation that he wants to eliminate Social Security at the federal level and let the entitlement program be managed by the states.
"It's not the first time that Mitt has been wrong on some issues so far," Perry said. "The bottom line is, we never said we would move that back to the states."
Perry swore a "solemn oath" to protect the program and said states, as a cost-saving measure, should allow Social Security recipients to opt out of the program if they choose.
Romney claimed that his chief rival for the nomination is running away from a passage in his book "Fed Up!" that suggested Social Security is unconstitutional.
"It's different than what the governor put in his book just six months ago," Romney said, claiming that Perry is backing away from his record. "So you better find that Rick Perry and get him to stop saying that."
Perry responded by calling Romney's 2006 health care reform legislation a blueprint for President Barack Obama's 2009 reform law.
Reprising what became a line of familiar attack against Romney during his failed 2008 White House bid, Perry cast Romney as a flip-flopper and said he has changed his positions on the Second Amendment and abortion rights.
"I think Americans just don't know sometimes which Mitt Romney they are dealing with," Perry said.
Romney, Perry, Bachmann and Santorum were joined onstage at the debate by former Utah Gov. Jon Huntsman, Texas Rep. Ron Paul, former New Mexico Gov. Gary Johnson, former House Speaker Newt Gingrich and businessman Herman Cain.
The debate was sponsored by the Republican Party of Florida, Fox News and Google.
And as the Palestinian Authority plans to bid for statehood this week with the United Nations, the GOP candidates sought to prove who was the better friend of Israel.
"The right course for us is not to try and negotiate for Israel," Romney said, referring to Obama's thus-far dealings with the state. "The right course is to stand behind our friends."
Cain also criticized Obama's foreign policy, saying the president has yet to offer a clear position on where the country stands with Israel.
Truth Squad: Did Obama criticize Israel in U.N. address?
Cain said if he were president, the Palestinians "might have second thoughts about trying to pull such a move without negotiating with Israel."
With the event occurring two days after the repeal of "Don't Ask, Don't Tell," took effect, social issues also took center stage at the debate.
Santorum, who frequently touts his social conservative values, spoke out against the new rule.
"What we're doing is playing social experimentation with our military right now," Santorum said, arguing that DADT be re-instituted. "Sex was not an issue. It should not be an issue. Keep it to yourself."
Meanwhile, Bachmann was questioned over using a story about a girl who experienced severe side effects from the HPV vaccine mandated by Perry.
The congresswoman drew fire for pushing the story, which has since received wide skepticism.
But Thursday, she said she never made the claim, herself, but was simply repeating another person's story, instead.
But Thursday, she repeated that she was just passing along what she was told by the mother, not making the claim, herself.
The debate shifted focus to jobs towards the end of the debate, with the candidates blasting Obama and arguing how they'd fix the struggling economy.
Truth Squad: Did Obama destroy the economy?
But it was former New Mexico Gov. Gary Johnson who got one of the biggest cheers of the night when he joked about Obama's "shovel ready" jobs pitch from 2009.
"My next-door neighbor's two dogs have created more shovel-ready jobs than this current administration," Johnson said.
The debate was peppered with other light moments, including a round of questions asking the candidates whom they would choose for a running mate-a question that received a few frank responses.
Both Santorum and Cain said they would pick Gingrich, while Perry said a merger of Cain and Gingrich would be an "interesting" combination.
Huntsman said, in jest, that Romney and Perry might "bludgeon each other" by next year, so he chose Cain as they were both wearing yellow ties.
The GOP White House candidates clashed last Monday at a CNN/Tea Party Republican debate at the Florida State Fairgrounds outside Tampa. At the showdown in Tampa, Perry, who launched his campaign last month and who has surged to the top of national polls, and Romney, who was running out front but has been nudged aside to second in the surveys, clashed over Social Security and how to reform the popular government program for seniors.
Since then, their war of words has raged on. At a town hall Wednesday in Florida, Romney said Perry's proposals would "not work in any way, shape or form." The Perry campaign responded that Romney was once again "sounding like a Democrat, distorting the truth and trying to scare senior citizens."
In an interview with USA Today Wednesday, Romney questioned whether Perry could be elected or if he had the experience to govern -- pointing out his own experience at "turning things around that were in trouble" -- in business, the 1996 Olympics or in his term as governor of Massachusetts.
If Americans want "someone to go along with what's already in place, I'm sure that Gov. Perry is fine. If Americans think America needs a turnaround to make our economy globally competitive again and to create jobs, then I think I'm the better choice," Romney told the newspaper.
After Romney released questions he said the Texas governor should answer about Social Security, the Perry camp responded with a statement saying, "Rick Perry and other conservatives are courageous enough to be honest about federal spending and entitlements, whether Mr. Romney and the liberals like it or not."
Thursday's debate, and the appearance of the candidates earlier in the day at a Faith and Freedom Coalition gathering, kicks off three days of cattle calls in Orlando at the Orange County Convention Center. All of the candidates are scheduled to speak at the first-ever Florida-based Conservative Political Action Conference on Friday and nearly 3,500 registered Florida GOP delegates will take part in a much-watched "Presidency 5" straw poll on Saturday.
Since the Florida recount in the 2000 presidential election, the state is well-known as being an extremely important battleground state in the general election and it is expected to continue to play that role in November 2012.
But the Sunshine State will also play a much more prominent role in the battle for the GOP nomination: Florida is expected to vote early in the primary and caucus season and should be a crucial state in choosing the Republican nominee.
"Gold Coast seniors, I-4 Republicans, Miami Latinos, Florida has it all. It is a test of depth, breadth and strength for the eventual GOP nominee," GOP strategist and CNN contributor Alex Castellanos said.
"Last election, Florida knocked out Mitt Romney; this time, it might be where the long march to the nomination really begins," said Castellanos, who was a top media adviser to the 2004 Bush-Cheney re-election campaign and to Romney's 2008 bid, but is not taking sides this cycle.
"After the early primaries and caucuses, the candidates and their organizations will be tired and their financial resources will be thin. The weak candidates will be gone. Only the big boys will get to play in Florida. It is the Super Bowl of the early primaries."
CNN's Ashley Killough contributed to this report
FOLLOW THIS TOPIC