STORY HIGHLIGHTS
Darrell's diner has served food to patrons in Monticello, Iowa, since 1947
The World Problem Solvers gather every morning at the Tables of Wisdom
The tables have now broken down largely along political lines
Owner Darrell Reyner keeps quiet: "If I get opinionated, it costs me customers"
Monticello, Iowa (CNN) -- Virgil Hunt strolls through the front door of the diner and makes his way to the Table of Wisdom.
Hunt is an 83-year-old sage, though his peers at the table describe him differently.
"Here comes a bona fide hard-nosed, stiff-neck, thumb-sucking, bed-wetting Republican," says Mel Manternach, 78, as Hunt approaches.
"You're the Democrat," Hunt snaps back.
"You're the cry-baby Republican!" Manternach insists.
"You're the cry-baby, bed-wetting, thumb-sucking Democrat!" Hunt retorts.
Manternach gets the last word ... for now: "Sit down and shut up, Virgie."
Tall tales, opinions and politics get dished out at Darrell's: A Family Tradition, along with coffee, eggs and hash browns. With presidential hopefuls canvassing Iowa ahead of the 2012 caucuses, the discussion in this heartland diner is only intensifying.
"Welcome to Tummy Heaven," the sign outside declares. Nearby, a weird-looking concrete orangutan greets patrons. Step inside. Bring your convictions, or you'll be eaten alive.
I mentioned the Table of Wisdom. Actually, there are two, broken down largely along political lines. Republicans mostly sit at one; Democrats at the other.
It's America in a microcosm: Mingle with the like-minded.
What better place to gauge the national mood?
Those presidential wannabes might want to pull up a red vinyl chair and scoot up to one of the Formica Tables of Wisdom.
"We spend too much time arguing about who is going to be president," says Andy Anderson, cutting through diner partisanship at the largely Democratic Table of Wisdom. "We elect an individual as president, then we try to figure out all the things that's wrong with him. And that's for both parties, Republicans and Democrats."
The 85-year-old World War II veteran knows a thing or two about life lessons. He was blown out of the water in the Battle of Iwo Jima. "I don't think we have pride in our country like we should."
We elect an individual as president, then we try to figure out all the things that's wrong with him.
--Andy Anderson
On any given morning, there are about 1,000 collective years gathered around the two tables. The men defy hoity-toity nutritional advice: They've eaten diner food nearly every day for the last seven decades.
Hard work and clean living, they say, keep them alive.
The first group arrives at 5 a.m. when owner Darrell Reyner opens the doors.
Reyner's grandparents founded the diner in 1947. The first Table of Wisdom soon followed. "I was born in 1956, and it's been here for as long as I can remember," says Reyner, who hopes his three sons will carry on the family legacy.
The original Table of Wisdom has pretty much stood in the same spot ever since: the center of the restaurant, conveniently near the buffet. The newer table, in a side area, spun off around 1990 to accommodate the growing number of "World Problem Solvers," as Reyner calls the bunch.
But over time, the faithful have tended to gravitate to one table or the other, depending on their beliefs. To be clear, anyone can sit anywhere they want, and some patrons put friendship ahead of party loyalty.
And the World Problem Solvers at both tables say there's no real animosity toward the other -- no matter how misguided they think the other side's beliefs are. That's not to say tempers don't flare, like the time the Republican Hunt dumped a glass of water on a Democratic foe and stormed out.
The owner keeps his political views quiet. "If I get opinionated, it costs me customers. I don't put political signs out front," he says. "If I stated I was Democrat or Republican, some would stop coming."
Two politicians running for national office -- whose names will remain anonymous -- made stops in recent years. "They chumped me on the bill," Reyner notes. "They act like they should eat for free."
It's that type of elite Washington attitude that riles up Gerald Muller, a first-generation Table of Wisdom member and heart-thumping Republican.
"I don't think politicians have a deep concern about the American public," he says. "In my lifetime, I've seen more of that. My theory is all these decisions are made because of wealth and money. Greed."
Muller is a man's man. At 80, he still rides his motorcycle through Monticello's quaint downtown -- without a helmet. A farmer, he also serves as a councilman-at-large.
Wilfred Kleitsch, 84, joins the table.
"He's the same age as dirt," Darrell Reyner says, standing near the GOP table.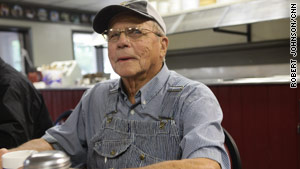 Wilfred Kleitsch says simply: "You work for CNN? I listen to Fox all the time."
"Good morning, sir," Kleitsch responds.
"He's so old, he remembers when they added water to dirt to make it mud," Reyner elaborates.
Informed that a reporter and photographer from CNN are in the house, Kleitsch's lips pucker and his grip on his coffee mug tightens.
"You work for CNN?" he says. "I listen to Fox all the time."
"But you still allow me to sit at the Table of Wisdom?" I ask.
"We channel all undesirable things," Muller chimes in.
Kleitsch smiles. "If you wanna know what party I'm bound to, I'm a Democrat," he says.
"So you must think highly of President Obama and his policies?" I ask.
"Absolutely not," replies Kleitsch.
He says he's a Republican through and through -- he just hasn't found the time over the last few decades to officially change his allegiance.
About this time, Mel Manternach walks over. The table grumbles at the presence of the proud Democrat. He points to Kleitsch: "He's so slow he doesn't know how to switch his registration."
"Can you get these guys off Fox so they can learn something?" Manternach says.
I invite Manternach to pull up a chair. He points to the other room, to the Table of Wisdom where his Democratic friends gather. "That's where I sit."
"That's what's wrong with the country right now," I respond, "you can't sit together and talk."
Everyone laughs.
Two at the largely GOP table confide they voted for Obama. "We happened to vote for Obama by mistake, I guess," says 86-year-old Bud Petersen.
I eat my eggs-over-easy and hash browns with the GOP crowd. We chat more, lap up coffee. It's now time for me to go to the other Table of Wisdom.
"Be careful," Muller says.
"When you come back," another hollers, "we'll run you through decontamination."
Manternach and his Democratic friends arrive every day at 7:30 a.m. The political discourse starts at 7:35. Virgil Hunt likes mixing it up at the table to provide GOP enlightenment. "I'm outnumbered 7-to-1 today," he says, as he joins the table.
"Did you see where Obama's two black buses he bought with taxpayers' money for his campaign tour through here were made in Canada? Ha-ha-ha-ha," says Hunt, referring to the president's recent Midwest bus tour.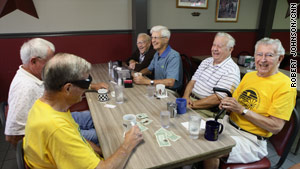 A second Table of Wisdom sprung up around 1990 and is dominated by Democrats.
Silence.
I ask Hunt: Is it fair to say the country's economic malaise began on 9/11?
"No, I don't think so," he says. "It's the way Obama's got our economy in a hole -- that's what the malaise is about."
"So you're saying the malaise started just two years ago?" says Lou Holly, 75.
"Yes," Hunt replies, "two years ago."
"Who drove us in the ditch?" asks Ray Kleinow, 81.
"Are you still hung up on President Bush?" Hunt replies.
I wonder aloud if fists are going to fly. "Don't worry," one World Problem Solver says. "This is every day. You're safe."
The conversation soon returns to the table's favorite topic: beating up on the Bush administration.
"There was some divisive politics going on way back," says Ken Weber, 80. "But it seems to me that Karl Rove and President Bush made wedge politics a standard for doing business."
"And Cheney!" Manternach says.
"Oh yeah, Cheney," says Weber. "They would deliberately pick items to drive a wedge between people, the hot-button items."
"I really think there's a lot of flag-waving without patriotism," Manternach adds. "We've got corporate America that waves the flag but goes to China with our jobs. Well, that's not patriotism, but they wave the flag and they stand up and glorify themselves as great patriots. And it's just a farce."
At those words, Hunt holds his stomach as if overcome by illness: "I'm gonna go throw up."
Hunt and Manternach soon square off again.
"Would you concede," Manternach says, "that your group maybe ought to relinquish the opposition to taxing the super rich?"
"We should cut the foolish spending," says Hunt.
"Should they cut your Social Security?" Manternach asks.
"No," Hunt says, "not mine."
There's more laughter.
From these tables, I learn there's a big difference between these debates and the rhetoric we hear from party leaders on the campaign trail and in Washington. The folks at Darrell's still have a cordial understanding of one another, a willingness to work together even if they don't like the others' political views. Maybe the leaders in Washington should take note.
"The honest-to-goodness truth is a lot of those politicians preach those tough policies, but they don't believe it," Manternach says as I prepare to leave.
My gut tells me he's not the type to end the conversation on a touchy-feely note.
"Like I don't think deep down," he continues, "Republicans believe we shouldn't tax the rich."
For some reason, I knew he couldn't resist one last zinger. The Tables of Wisdom would have it no other way.
CNN's Robert Johnson contributed to this report.
FOLLOW THIS TOPIC