STORY HIGHLIGHTS
NEW: The bipartisan group of senators calls for a comprehensive approach
NEW:House Speaker Boehner opposes higher taxes in a deficit reduction plan
The special deficit panel holds private talks after two initial public hearings
The committee has a November 23 deadline to agree on deficit reduction steps
Washington (CNN) -- A group of 36 senators from both parties came together Thursday to pledge support for a comprehensive deficit reduction plan, urging the special congressional committee working on the issue to "go big."
The senators, who represent more than a third of the chamber, urged the committee to surpass its mandate to cut $1.5 trillion. The senators made clear that they endorse reforming the tax code and popular entitlement programs such as Medicare, the government-run health plan for senior citizens, as well as cutting spending to shrink federal deficits and national debt.
However, the senators acknowledged that some differences remain between Democrats and Republicans on specifics, such as whether reforming the tax system should include higher taxes on anyone.
Earlier, House Speaker John Boehner declared his opposition to any tax increases in a deficit deal.
"Tax increases, I think, are off the table," Boehner said in a speech to the Economic Club of Washington. The only things the so-called "supercommittee" created under the August debt-ceiling agreement should tackle are spending cuts and entitlement reform, he said.
The 12-member panel gathered in private Thursday morning for discussions that the co-chairs, Republican Rep. Jeb Hensarling of Texas and Democratic Sen. Patty Murray of Washington, said demonstrated a full understanding of the challenge ahead.
"I am convinced that everybody knows that there is a moment in history that can be seized, a moment in history that must be seized," Hensarling told reporters after the 90-minute meeting. "The American people are watching."
Hensarling repeated past warnings of tough times ahead, saying: "We know it will not be fun. We know it will not be easy. It will not be popular with any current political constituency. But it is critical to our republic and critical to the next generation, and we are all anxious to get about our work."
Murray called the gathering "an excellent opportunity ... to meet and begin to know each other."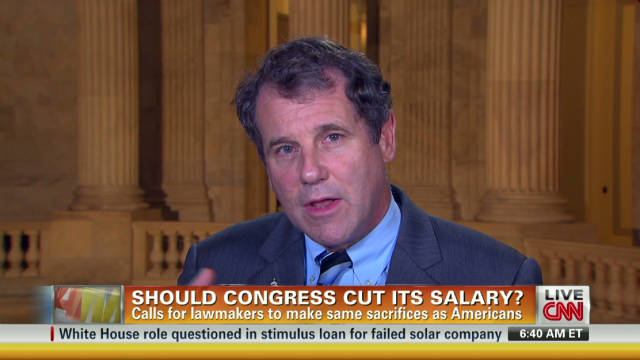 Should Congress take a salary cut?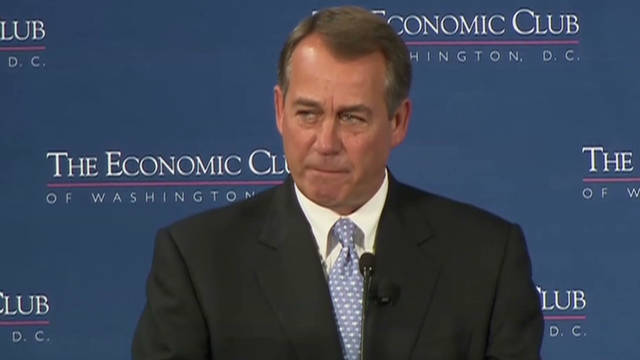 Boehner: 'Job creators on strike'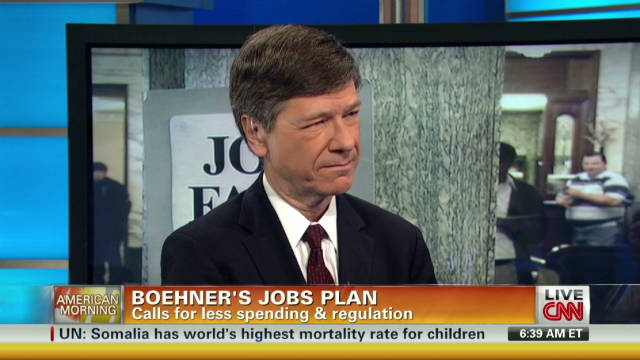 Could Boehner's jobs plan work?
"I think what we all came with is that this is a committee -- bicameral, from all walks of life, from every side of the country -- that understands the importance and the weight of the decisions that we need to make," she said. "And we stand ready to get to work to show the country that we can work."
It needs to work fast.
The committee, evenly divided between Democrats and Republicans in the House and Senate, has until November 23 to draft a $1.5 trillion deficit reduction plan that can win congressional approval by December 23. Otherwise, more than $1 trillion in across-the-board spending cuts will go into effect, on top of $900 billion in cuts already mandated under the debt ceiling deal.
Under the legislation that created the committee, a simple majority on the panel, seven of 12 members, is needed to approve whatever package it comes up with, meaning that it will take a lone member of either party to push something through by voting with the other side.
The committee's proposal, which cannot be amended, would then need a simple majority in each chamber of Congress to make it to President Barack Obama's desk.
Panel members with Hensarling and Murray are all Washington veterans: Democratic Sens. John Kerry of Massachusetts and Max Baucus of Montana, and Reps. Chris Van Hollen of Maryland, Jim Clyburn of South Carolina and Xavier Becerra of California, and Republican Sens. Jon Kyl of Arizona, Pat Toomey of Pennsylvania and Rob Portman of Ohio, and Reps. Dave Camp and Fred Upton, both of Michigan.
Calls for the committee to work out a comprehensive deficit reduction deal have increased this week.
The 36 senators expressing that view Thursday included conservative Republicans such as Saxby Chambliss of Georgia and Mike Johanns of Nebraska, liberals such as Dick Durbin of Illinois and moderates like independent Joe Lieberman of Connecticut, who caucuses with the Democrats.
"If 36 of us in the Senate, across party lines, stick together, the leadership has to react," Lieberman said. "Maybe they'll look back and say that today was the beginning of the Washington Spring, as opposed to other springs occurring elsewhere."
Democratic Sen. Kent Conrad of North Dakota, the Budget Committee chairman who will not seek re-election next year, expressed what he called "a message from a large group of senators to the special committee: We're with you, be bold, be brave, go big."
A day earlier, a group of fiscally conservative House Democrats sent the deficit panel a letter also encouraging its members to "go big."
The letter from the 25-member Blue Dog Coalition urged the committee to work for an agreement that far exceeds its $1.5 trillion target set in the debt-ceiling deal.
"I think we all need to pray for a miracle -- that one or more of them is willing to consider the argument on the other side and do the right thing," Rep. Jim Cooper, D-Tennessee, told a news conference.
Another Blue Dog, Rep. Mike Ross of Arkansas, said it is time for legislators to focus on the problem at hand instead of worrying about next year's election.
"Our concern and the reason for our letter is because of the political makeup of the folks on the committee, we're concerned that they're going to take their orders from their national party leaders and not really sit down and call a time out on the 2012 elections like we're asking them to do," Ross said.
In addition, a group of more than 60 fiscal experts, former Treasury secretaries and former legislators also sent a letter to the committee that urged members to "go big" and develop a "large-scale debt reduction package sufficient to stabilize the debt as a share of the economy."
Some of the panel members have echoed that sentiment, and on Tuesday, so did Boehner and House Minority Whip Steny Hoyer.
"I've always believed that we should tackle as much of our debt problem as is possible," said Boehner, R-Ohio, who failed twice to negotiate a larger deficit deal with the president earlier this year. "... I've always believed it would be easier to get the votes if in fact we got a big deal."
Hoyer, D-Maryland, called for the deficit committee to more than double its targeted deficit reduction, which he said "will require courage."
Months of rancorous negotiations on deficit reduction have failed to resolve a fundamental dispute between Republicans and Democrats involving the size of government and whether to raise tax revenue while cutting spending.
The brinkmanship of the negotiations, with uncertainty over whether the government might default if no deal was reached, was one reason that ratings agency Standard & Poor's downgraded the U.S. credit rating from AAA to AA-plus in August.
The same partisan divisions still exist, though the White House and some lawmakers say they hope pressure for a deal exerted by an increasingly frustrated and angry public will create a climate for compromise.
With economic recovery slowed, unemployment high and a re-election campaign starting, President Barack Obama is trying to spur growth now while getting Congress to pass a long-term plan to reduce budget deficits and the national debt.
The president wants the committee to expand its $1.5 trillion target to also pay for his freshly unveiled $447 billion jobs plan. Obama continues to seek a "grand bargain" on deficit reduction that would take a comprehensive approach by reforming the tax code and entitlement programs to raise revenue, cut costs and lower spending.
On Tuesday, CBO Director Doug Elmendorf told the committee that achieving "a short-term economic boost and longer-term fiscal sustainability" would require a combination of policies that would change taxes and spending to widen the deficit now and narrow it later this decade.
Republicans, however, are pushing for a strategy that shrinks the size of government through spending cuts, deregulation, entitlement reforms and tax cuts. In particular, increasing the deficit in any manner is opposed by tea party conservatives, who have exerted their influence on Republican politics for the past two years.
Kyl already has warned he might quit the committee if considers further cuts in military spending beyond the $400 billion called for in the debt-ceiling deal.
CNN's Deirdre Walsh and CNNMoney's Jeanne Sahadi and Jennifer Liberto contributed to this report.