Repeal of 'don't ask, don't tell' is on track for Tuesday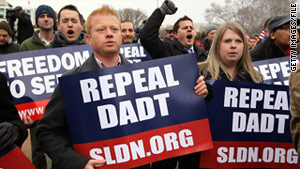 Activists hold a rally to protest "don't ask, don't tell" on Capitol Hill in December.
STORY HIGHLIGHTS
Pentagon announces date rule on openly gay service members will end
2 Republican lawmakers have asked for a delay, seek more on policy changes
Defense Department says Congress already has been informed
Washington (CNN) -- The Pentagon announced the repeal of the long-controversial ban on homosexuals serving openly in the military will happen Tuesday.
But the repeal comes as two of the most powerful Republicans on the House Armed Service Committee call for a delay on the process of ending "don't ask, don't tell."
Rep. Buck McKeon, the chairman of the Armed Services Committee, and Rep. Joe Wilson, chairman of the committee's personnel subcommittee, wrote Defense Secretary Leon Panetta this week, asking him to "take immediate action to delay the implementation of repeal."
A defense official who handles questions about "don't ask, don't tell" said the Department of Defense would not respond to a congressional letter through the media. But a representative sent a statement that read, in part, "The repeal of 'don't ask, don't tell' will occur, in accordance with the law and after a rigorous certification process, on September 20."
McKeon and Wilson said Congress has not been adequately informed of the policy changes that will accompany the repeal.
The Pentagon statement said, "Senior Department of Defense officials have advised Congress of changes to regulations and policies associated with repeal. We take that obligation seriously. Senior department officials, including the general counsel, have met with House Armed Services Committee staff and shared with them all of the proposed revisions to the regulations and new policies to be promulgated."
No plans for any Pentagon ceremonies or events regarding the repeal have been announced.