STORY HIGHLIGHTS
Solyndra Inc. filed for bankruptcy late last month
The company received $535 million in federal loan guarantees
A House committee looks at why warning signs were ignored
Washington (CNN) -- Federal analysts looking at a proposed loan to a solar energy company in 2009 warned then of possible problems, as well as pressure from the White House to speed up a decision, according to a memorandum released Wednesday by a House committee.
The company, Solyndra Inc. of California, got loan guarantees of $535 million funded by the 2009 stimulus bill pushed by President Barack Obama, who touted the company in a visit last year.
It filed for bankruptcy late last month and closed its doors, putting more than 1,000 people out of work and leaving the government unlikely to get back the money it loaned.
Last week, agents from the Department of Energy and the FBI raided Solyndra's headquarters. Neither agency would comment on the nature of the raid, but the DOE inspector general typically investigates allegations of fraud or wrongdoing at the agency and businesses with which it does business.
In its memorandum, the House Energy and Commerce Committee asked how the Department of Energy and Office of Management and Budget "ignored red flags in their rush to spend stimulus dollars" by backing the loan guarantees for Solyndra.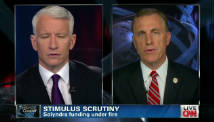 GOP lawmaker talks Solyndra loan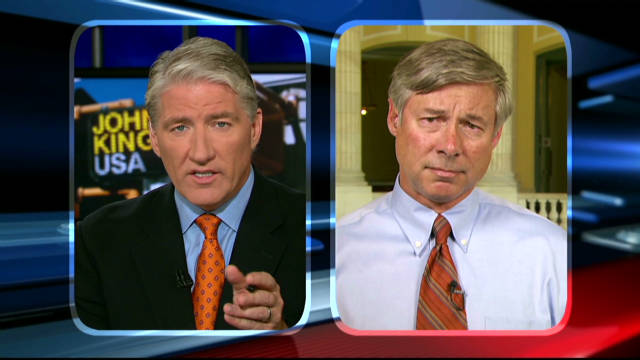 Did White House push for risky loan?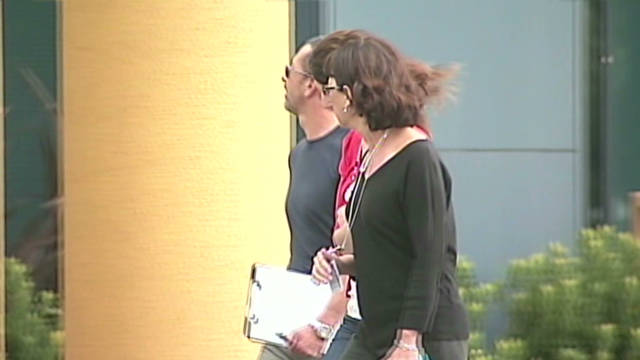 White House pressed on 'green jobs' loan
"The political pressure to approve the Solyndra deal appears to have caused DOE and OMB to miss or disregard numerous shortcomings regarding Solyndra's financial viability," the report said.
Democrats say the Solyndra loan represented a tiny fraction of the $40 billion in renewable and clean energy projects backed by the Department of Energy. In addition, no business investment is risk-free, especially in a volatile new technology market such as clean energy, argued White House spokesman Jay Carney.
However, the committee's memorandum asserted that the Obama administration had warnings from DOE and OMB staffers who raised questions about Solyndra's viability.
"E-mails and communications produced to the committee show that DOE and OMB staff repeatedly questioned whether the company had the financial resources to support the operations of the loan guarantee project, a 650,000-square-foot manufacturing facility for solar panels," the memorandum said.
In addition, the memorandum says, documents it received "raise troubling questions about whether OMB staff was rushed to complete its review of the Solyndra loan guarantee by September 4, 2009, in time for a groundbreaking event at Solyndra's facilities organized by the White House."
"In late August 2009, just prior to that event, OMB staff raised concerns regarding the loan guarantee and pressed DOE Loan Programs staff to produce additional information about the company," the memorandum said. "OMB ultimately recommended that the deal rating proposed by DOE be reduced by one notch to reflect what OMB perceived to be greater risk in the Solyndra loan guarantee. Communications exchanged during this time period clearly demonstrate that OMB felt pressure to complete its review ahead of the September 4 event."
Republican critics point out that one of Solyndra's main financial backers, billionaire George Kaiser, also is a big Democratic campaign donor.
Energy Department officials defend the decision to back Solyndra, noting that the company's loan application was nearly complete before Obama took office, and that the private sector gave the company billions in additional funding.
Plunging prices for solar panels, due in part to heavy subsidies to foreign competitors from governments including China and Germany, left Solyndra's more advanced design too expensive, they argue.
"No country has been as aggressive as China, which last year, alone, provided more than $30 billion in credit to the country's largest solar manufacturers through the government-controlled China Development Bank," Jonathan Silver, the DOE official in charge of the loan program, told the House committee Wednesday. "That's roughly 20 times larger than America's investment in the same time period."
Rep. Tim Murphy, R-Pennsylvania, who questioned Silver aggressively at the hearing, said later Wednesday that there were "lots of signs before the first checks were written it wasn't going to work."
Committee Chairman Fred Upton, R-Michigan, said the panel had to issue a subpoena to get the government to provide documents it requested and asked: "When they have the evidence to show that they're not going to succeed, then why push the button and go ahead?"
CNNMoney's Steve Hargreaves and CNN's Tom Cohen contributed to this report.
FOLLOW THIS TOPIC