STORY HIGHLIGHTS
Expect Mitt Romney and front-runner Rick Perry to continue taking jabs at each other
Debate crucial for Michele Bachmann, who also is likely to highlight differences with Perry
Breakout moment is essential for second-tier candidates and their fundraising efforts
Watch the CNN/Tea Party Republican Debate at 8 p.m. ET Monday on CNN TV and CNN.com

.
Tampa (CNN) -- Here are key storylines and strategies to watch for in Monday night's CNN/Tea Party Republican Debate.
1. Round two of the Perry-Romney slugfest? It started in Wednesday's debate at the Ronald Reagan Presidential Library in Simi Valley, California, when Texas Gov. Rick Perry, the new guy in the race and the front-runner in the national polls, and former Massachusetts Gov. Mitt Romney, the previous front-runner, sparred over jobs creation and Social Security.
Perry stood by earlier comments that Social Security is a "Ponzi scheme" and that it was a "monstrous lie" to tell young workers that it would be there when they retire. Romney responded, saying that "under no circumstances would I ever say by any measure it's a failure. It is working for millions of Americans, and I'll keep it working for millions of Americans."
Since then, both candidates have swung at each other through e-mail releases and on social media. In a radio interview, Romney went a step further than he did onstage, saying, "If we nominate someone who the Democrats can correctly characterize as being opposed to Social Security, we would be obliterated as a party."
And Romney's team was handing out fliers over the weekend in Florida that say Perry is "reckless and wrong on Social Security."
Perry's team fired back, noting that in Romney's policy book "No Apology," the former Massachusetts governor compared the management of Social Security to a felony.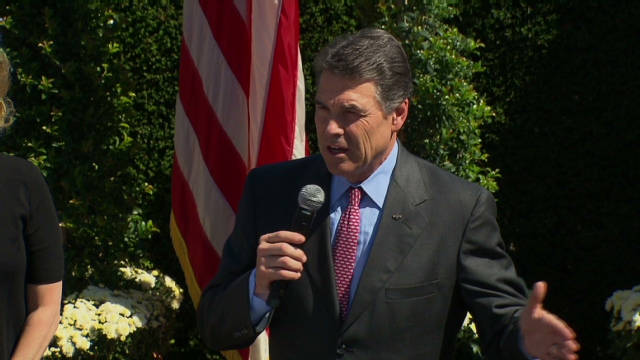 GOP gears up for tea party debate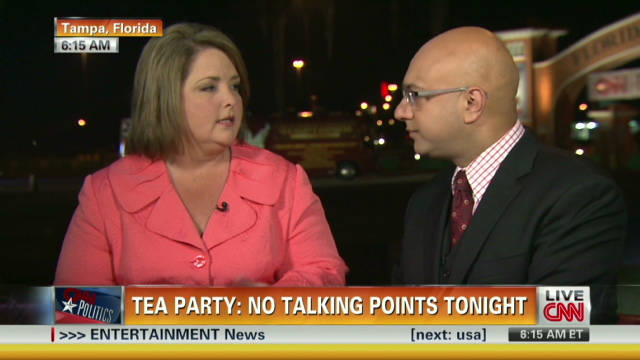 Tea Party Express: No talking points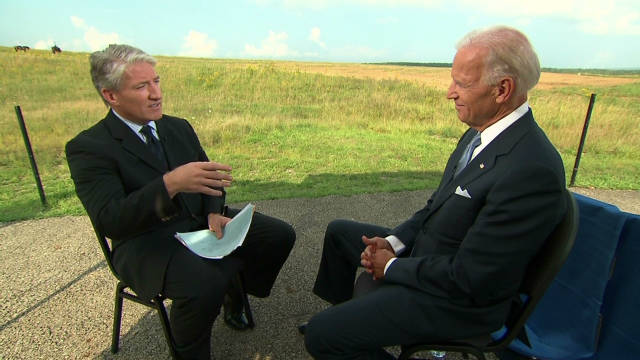 VP: Perry should find out who Ponzi was
And the Perry campaign highlighted comments Romney made in Lebanon 11 days after Perry jumped into the race. Romney said, "Republicans, like myself, are not going to cut Social Security or Medicare for people who are retired or near retirement. And for the people who say we are, they are demagoguing an issue very much that harms America."
As for Romney's assertion that Perry would possibly abolish the popular government program, the Texas governor said in a USA Today opinion piece Monday that "Americans must come together and agree to address the problems so today's beneficiaries and tomorrow's retirees really can count on Social Security for the long haul."
The two candidates again will be standing next to each other Monday night as they were last week.
2. Will Michele Bachmann target Perry?: This debate is crucial to Bachmann, who has dropped in national polling since Perry launched his campaign on the same day the congresswoman from Minnesota won a crucial GOP presidential straw poll in Iowa, which holds the first nominating contest next year. Bachmann had strong performances at debates in New Hampshire in June and Iowa in August, but she seemed somewhat invisible at last week's debate in California.
But Bachmann has interjected herself into the Social Security discussion over the past few days.
"America needs to keep its promise to senior citizens, I talk to them all the time. I love senior citizens, I care about them. My mom is 80 years old and my dad is 87," Bachmann said in an interview Friday on CNN's "John King, USA," adding that Social Security needs to be overhauled but "we have to keep our promises with senior citizens."
Bachmann campaign aides said their candidate will try to use the debate to highlight her differences with Perry on Social Security and other issues.
3. Can Jon Huntsman build momentum?: The ex-Utah governor and former U.S. ambassador to China is struggling in the polls, so his showing Monday night is especially important. Huntsman earned positive reviews for his performance at last week's debate when he tried to differentiate himself from the rest of the field by portraying the other candidates as too conservative to win the race for the White House.
4. A big night for Herman Cain?: The businessman, ex-Godfather's Pizza CEO and former radio talk-show host is also in the single digits in most national surveys, but this first-ever Republican tea party debate could provide the candidate with a breakout moment. Cain's extremely popular with tea party activists, and the debate could be his chance to boost his position.
5. Who else will come out swinging? The debate may not be crucial for Rep. Ron Paul of Texas, who's making his third bid for the White House. He has energetic and enthusiastic supporters and has little problem when it comes to raising campaign money, but for some of the other candidates, a strong performance Monday night could be key to driving their fundraising.
Paul did have some critical comments for fellow Texan Perry last week. Will that continue Monday night?
For some of the second-tier candidates, a breakout moment is vital for survival. They need to score some points to generate excitement and boost fundraising, so they can continue their hopes of winning the GOP nomination.
Former Sen. Rick Santorum of Pennsylvania was directing his line of fire at Paul last week. Will he continue such attacks?
And former House Speaker Newt Gingrich received some strong applause at last week's debate, thanks to his attacks on the "mainstream" media. Does he continue that strategy?
FOLLOW THIS TOPIC