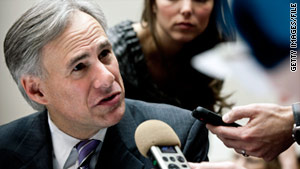 Texas Attorney General Greg Abbott says the commission can only investigate cases tested since September 2005.
STORY HIGHLIGHTS
Panel was ordered to look into possible flawed science used to convict man executed in 2004
An attorney general's opinion effectively halts the investigation, draft report says
The family of Cameron Todd Willingham still hopes to reverse the decision
Expert reviews have criticized the evidence against Willingham
Austin, Texas (CNN) -- An attorney general's opinion effectively halts a Texas state commission's investigation into allegations that flawed science led to a man's 2004 execution, according to a draft report released Friday.
The opinion prevents the Texas Forensic Science Commission "from proceeding with further investigation" into the case of Cameron Todd Willingham or issuing any conclusions about the conduct of arson investigators in the case, the draft states. But members put off final adoption of the report until October to review recommendations for state officials in future cases, and Willingham's advocates say they still hope to persuade the commission to move ahead.
"I look forward to directing the commission to information that demonstrates that they do indeed have jurisdiction," said Stephen Saloom of the Innocence Project, which brought Willingham's case before the commission.
But July's opinion by Texas Attorney General Greg Abbott states that the commission can investigate only cases that involve evidence tested in state-accredited crime labs since September 2005, when it was created. Nizam Peerwani, the Fort Worth medical examiner who is the commission's chairman, says that makes it impossible to proceed.
"This commission is not going to work against the attorney general's office," Peerwani told CNN.
Willingham was put to death for setting a fire that killed his three young daughters in 1991. But the case drew national attention in 2009, when a fire-science expert hired by the Forensic Science Commission challenged the finding of arson at the heart of Willingham's conviction.
A subsequent shakeup of the commission by Texas Gov. Rick Perry, now a Republican presidential candidate, led to accusations that the governor was trying to derail the investigation. Perry allowed Willingham's execution to go forward, and he has called Willingham a "monster" whose conviction withstood every appeal.
The Innocence Project has argued for a finding of negligence against state fire marshals, arguing that they had a duty to warn the courts that advances in the science of arson investigation had rendered obsolete much of the evidence presented at Willingham's trial. The draft report states that the attorney general's opinion leaves the commission unable to issue such a finding.
"We're not saying there were no problems in this case," Peerwani said. But he said the commission is "very pleased" that the state fire marshal's office has expressed a willingness to review its standards as a result of the investigation.
"We think this is a very significant advance," he said.
Willingham's cousin, Patricia Cox, said she remains optimistic that the commission will revisit its findings before a final report is approved. Cox told the commission Thursday that it "can't uninvestigate a case they've already investigated."
"Certainly, I think Todd's case deserves some special consideration," Cox said. "I think they would be remiss if they brought it to this point and talked about future cases and the improvement of arson investigation, and yet failed to address the past cases."
"I was encouraged by the recommendations that they think seem to be going forth about the improvements in arson investigation. If nothing else, we are gratified that we had a part in changing the arson investigation standards in the state of Texas."
But Willingham's stepmother, Eugenia Willingham, said she was less hopeful.
"I think that's regrettable after all this time, and I hope I'm wrong," she said.