STORY HIGHLIGHTS
President Obama outlined a $447 billion jobs plan Thursday to a divided Congress
Afterward, some Republicans signaled they were open to some of his ideas
Others claimed Obama was "lecturing" and balked at the plan's steep price tag
One Republican says the "public is fed up with Washington -- understandably"
Washington (CNN) -- As it considers President Barack Obama's $447 billion jobs plan, many members of a divided Congress appeared Friday to be in a compromising mood, seemingly eager to placate voters sick of infighting and inaction when it comes to jump-starting the economy.
Top House Republicans -- who have butted heads with Obama and his fellow Democrats on most every major policy effort since taking over the chamber early this year -- went into the speech reserving judgment, and struck a collaborative tone after listening to the president's laundry list of proposals.
House Majority Leader Eric Cantor, who served as one of Obama's chief foils during this summer's debt debate, was among those signaling an intent to cooperate.
"I heard plenty in the president's speech last night where I think that there is a lot of room for commonality, and we can get something done quickly," Cantor told CNN on Friday.
This sentiment wasn't entirely echoed in the Senate, where many Republicans made clear their opposition to the plan and the manner in which the president delivered his speech.
"He gave a rally speech," said one senior Senate Republican aide. "I think the senators were hoping the president would try a different route and one that might actually promote job growth. Their view is we got more of the same."
But the pivot by House Republicans -- who, unlike most Senate Republicans, face re-election races in 2012 -- may stem from blunt messages they heard from constituents over the summer recess, as well as paltry public support according to recent polls.
"The American public is fed up with Washington -- understandably," said Rep. Mike Simpson, R-Idaho.
But the veteran Republican also pointed out the reality that voters helped shape the political dynamic by voting in a divided government.
"It's not that we are opposing the president on any given thing, or the Democrats on any given thing because they're Democrats," said Simpson. "It's because we have a different philosophy of how to get the economy going and what needs to be done than they do."
House Minority Leader Nancy Pelosi said Democrats' reaction to Obama was "overwhelmingly favorable," singling out part of House Speaker John Boehner's statement saying that proposals "merit consideration" as evidence that there was room to work with Republicans.
Many congressional Democrats, who likewise are up for re-election, had urged the White House to take more decisive and bold action on the economy. Rep. Raul Grijalva of Arizona was among those who expressed pleasure that Obama took a more aggressive posture and pledged to promote his case around the country.
"I like the fact that he defended the role of government in people's lives. And I loved that he's engaged in the fight," he said.
Grijalva, one of a host of liberal Democrats who were pushing for a large-scale, stimulus-style plan, called the president's speech a "good first step."
"It needs to be strengthened," he added.
Working out such alterations is sometimes the most contentious part of the lawmaking process.
And while Obama repeatedly directed Congress to "pass this bill" during his Thursday night address, there is no formal legislative proposal yet. Any initial openness to the president's speech is tempered by the fact that many Republicans said they want to see the plan, in writing, before committing to any particular piece of it.
One major potential roadblock is the proposal's hefty price tag, especially in a Congress that still skeptical about additional government spending at a time of record deficits. Obama has tasked the bipartisan "super committee" on deficit reduction, which is already charged with coming up with $1.5 trillion in cuts, to figure out how to offset costs incurred by his plan.
Freshman Rep. Allen West, R-Florida, a tea party ally, quipped that Obama's decision to delegate the details on the paying for it was "kind of like Wimpy from Popeye -- I will gladly pay you Tuesday for a hamburger today."
One centerpiece of the president's proposal -- to extend a payroll tax cut that extends at the end of the year for employees and add a cut for employers -- is already causing a split among Republicans.
Cantor said that he supports the approach. "Although we would like to see much more certainty and permanency in the proposal, because what the president is talking about is temporary help, it is something that we certainly would support," he said. "(It gives) employers -- small business people -- some tax relief, so they can begin to hire again."
But fellow Republican Rep. Pete Sessions ripped the proposal as a "horrible idea." The Texan told reporters Friday, "We should not do it, because it quickly guts Social Security and the underpinning of being able to pay for Social Security."
There was also some dissent, in Republican circles, on the president's push to rebuild roads, railways and airports. Some in the party said it is an approach, depending on how it is paid for, that they could support.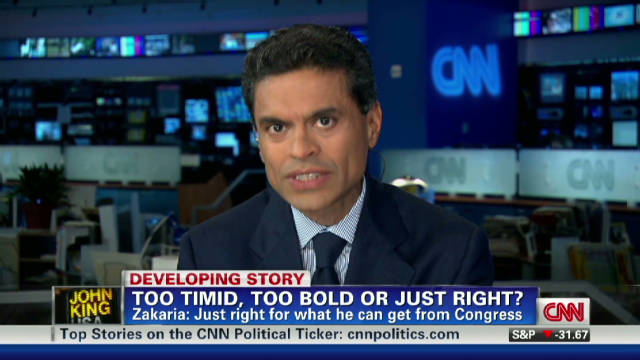 Obama hits the road to sell jobs plan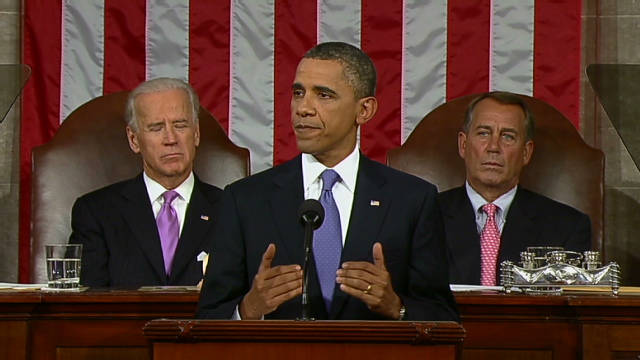 Obama pitches jobs to Congress
But some conservatives dismissed it as a rehash of a proposal Obama already pushed in 2009, with West calling it a "Mini-Me stimulus."
Sen. Rob Portman, an Ohio Republican who is also on the deficit committee, said Obama is "doubling-down on his failed stimulus" and "abdicating responsibility" by not presenting a way to pay for his proposals.
There's also pushback from Republicans on the proposal to use federal money to help rebuild schools, a responsibility they believe lies with state and local governments.
"All of the sudden the federal government takes over building schools? I don't know if that's a challenge we want to take on," said Simpson, the Idaho Republican.
Whether such distinct proposals are packaged into a single bill, or several smaller ones, is another matter of contention.
On Friday, Boehner and other House Republican leaders sent the president a letter saying they don't see the proposal as a single, unified package.
"As we are certain your advisers have told you, not all your ideas should be packaged in a single legislative vehicle," the letter stated.
As Senate Democrats consider their strategy for moving a bill through the Senate, their concern is that House Republicans will not pass the president's plan in full. One top Democratic Senate aide said that the only way they think the entire Obama proposal could pass the GOP-controlled House is if it is incorporated into the work of the deficit reduction committee.
But Pelosi told reporters she hoped portions of Obama's plan could get passed before the bipartisan super committee is required to release its recommendations in late November, saying it was important to act sooner rather than later.
Other Democrats, in the Senate, meanwhile believe it makes more sense to pass a series of bills that have a better chance of becoming law and that highlight to voters that Democrats are focused heavily on creating jobs.
Despite the unclear path for the plan, Pelosi predicted Friday the bulk of it would ultimately pass.
"We will have legislation passed that addresses many of the proposals that the president put forth, hopefully all of them," the California Democrat said.
Senate Majority Leader Harry Reid of Nevada, who will need to win over at least seven Republicans to get the 60 votes needed to pass the president's plan in the Senate, said Friday the chamber will "begin debate on this proposal as soon as possible.
"I urge reasonable Republicans to resist the voices of those who would oppose this legislation -- and root for our economy to fail -- for political reasons," the Nevada Democrat said.
One of the Republicans Reid will need to attract is Sen. Scott Brown of Massachusetts, a key moderate, who said Thursday he will consider voting for the plan.
"I've always kept an open mind on every piece of legislation," Brown said. "I'll read the bill, and I'll understand it. Then if it's good for Massachusetts, creates jobs, is good for the country, handles the debt and deficit the way he said he was, then I look forward to working with him."
But other Republicans in the chamber didn't appear so open to the president's speech.
Sen. Orrin Hatch, R-Utah, said the plan "owes more to political positioning than sound economics and tax policy." And Sen. John Thune, R-South Dakota, opined that Obama was "lecturing" Congress when he insisted they pass his legislation right away.
"I think this was the kickoff to his campaign," Thune told reporters after the speech. "Very political, very campaign-oriented speech designed to project beyond the chamber."
Freshman Rep. Raul Labrador, R-Idaho, said he wanted to work with the president on some of the items. But he said the "political speech" made him concerned the two sides couldn't come together.
"If his attitude is going to be all or nothing, than we're not going to be able to work together," Labrador said. "But if he's willing to take those few things that we can both agree on than we could actually have a breakthrough, and it would be good for him, and for his re-election," Labrador said.
CNN's Kate Bolduan contributed to this report
FOLLOW THIS TOPIC