STORY HIGHLIGHTS
NEW: House GOP leaders send a letter to president promising consideration of his plan
President Obama, during an appearance in Virginia, urges Congress to pass his jobs plan
Senate Majority Leader Harry Reid calls the plan a "litmus test" for GOP intentions
Obama wants the $447 billion plan paid for by a broader deficit-reduction deal
Washington (CNN) -- President Barack Obama hit the road Friday to rally public support for his new job creation plan, calling it critical to efforts to invigorate an ailing economy and avert a new downturn.
"This has been a terrible recession," the president told an enthusiastic crowd at the University of Richmond in Virginia. "You expect action, and you deserve it right now."
"The time for gridlock and games is over," Obama declared. "Now is not the time for people in Washington to be worrying about their jobs. It's time for them to be worrying about your jobs."
The president's remarks -- which took on the feel of a campaign stump speech at certain points -- came a day after he unveiled his proposal to a sharply divided Congress amid growing fears of a new economic downturn.
The president has promised to submit his $447 billion bill to Congress next week.
It is unclear whether the American Jobs Act -- consisting largely of targeted tax cuts, infrastructure spending and new job training assistance -- can win over skeptical congressional Republicans, particularly in light of Obama's falling approval ratings and the looming presidential campaign.
Addressing a joint session of Congress Thursday evening, Obama urged legislators to put national needs before partisan concerns.
"The people of this country work hard to meet their responsibilities. The question ... is whether we'll meet ours," Obama said. "The question is whether we can restore some of the fairness and security that has defined this nation since our beginning."
To help cover the cost of the plan, Obama has said he will push to increase the $1.5 trillion in deficit reduction being pursued by a special joint congressional committee.
The president announced Thursday that he will propose a deficit reduction plan September 19 and noted that it will include reforms to popular entitlement programs such as Medicare. Obama indicated he will propose sweeping changes to the tax system, including fewer loopholes, a lower corporate tax rate and higher taxes for the wealthiest Americans.
In doing so, Obama resurrected his push for a so-called "grand bargain" -- a comprehensive deficit reduction package that includes all the drivers of government spending and deficits, including those traditionally favored and protected by both parties.
Speaker John Boehner, R-Ohio, and other top House Republicans offered measured praise for Obama's plan Friday, sending a letter to the president saying his "ideas merit consideration by the Congress, and (GOP leaders) believe the American people expect them to be given such consideration."
"The House and our committees will immediately begin the process of reviewing and considering your proposals," the leadership promised. Republicans, however, "assume that your ideas were not presented as an all-or-nothing proposition, but rather in anticipation that the Congress may also have equally as effective proposals to offer for consideration."
House Majority Leader Eric Cantor, R-Virginia, told CNN during an interview Friday that he believes "there is a lot of room for commonality."
Obama acknowledged Cantor's remarks during his visit to the University of Richmond, which is in Cantor's district.
"To their credit, I was glad to hear some Republicans, including your congressman, say ... they see room for us to work together," Obama said. "I believe in our democracy. I believe that if you just stay at it long enough, eventually, after they've exhausted all the options, folks do the right thing."
Other conservatives, however, such as GOP Sen. Jon Kyl of Arizona were more critical.
"President Obama, perhaps not knowing what else to do, is simply calling for more of the same, as if giving us more of the failed policies of the last 2 1/2 years will somehow yield different results," Kyl said in a statement Thursday. "I believe (the president's) new 'stimulus' will further delay economic recovery and continue to inflict harm on so many Americans."
Senate Majority Leader Harry Reid, D-Nevada, said Obama's proposal will present a "litmus test" for Republicans.
"I hope they (Republicans) will show the American people that they are more interested in creating jobs than defeating President Obama," Reid said in a statement. "It is time to put jobs and the economy ahead of partisan politics."
Specifically, Obama's plan would extend and expand the current payroll tax cut -- a proposal estimated to cost $240 billion.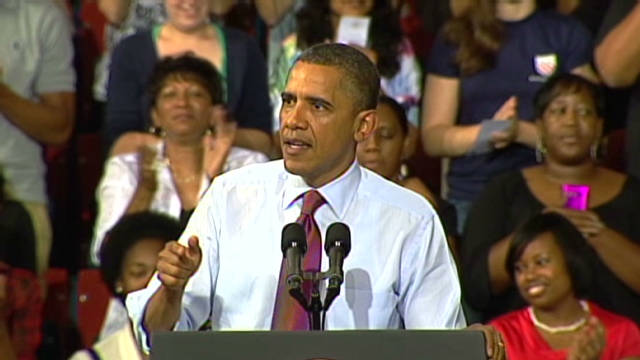 Obama: 'Pass this bill'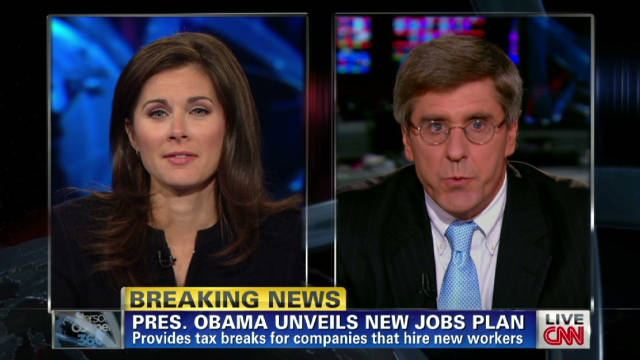 Will Obama's jobs speech help Wall Street?
The current cut, which has cost $112 billion so far, allows employees to pay 4.2% instead of 6.2% on their first $106,800 of wages into Social Security. Obama wants to continue the break -- now set to expire at the end of the year -- while reducing employee contributions further, to 3.1%.
At the same time, the president wants to cut the payroll tax businesses pay in half -- to 3.1% -- on the first $5 million in wages.
Obama's proposal also includes a new $49 billion extension of unemployment benefits, which were lengthened to the current 99-week maximum in 2009. Top Democrats argue that such money will immediately be pumped back into the economy in the form of new consumer spending.
Nearly 43% of America's unemployed have now been out of work for more than six months.
In addition, the plan proposes $60 billion for infrastructure development such as repairing roads and bridges, including the establishment of an infrastructure bank to help finance such projects.
Other provisions in the president's proposal include $25 billion to refurbish schools, $35 billion to avoid layoffs among teachers and first responders, and tax incentives for small businesses to hire the long-term unemployed.
Under the Obama plan, businesses could receive a tax credit of up to $4,000 for hiring workers who have been out of a job for more than six months.
Looking abroad, the president is continuing his push for congressional approval of stalled free trade deals with South Korea, Colombia and Panama. The measures, despite the congressional roadblock, have relatively broad bipartisan support.
Obama rolled out his plan against the backdrop of a 9.1% national unemployment rate, news of no new job growth in August and growing fears of another recession.
While asking Congress to put economic needs before political concerns, the president is using his plan to illustrate the ideological differences between his policies and those of the Republican right.
On Thursday night, Obama took direct aim at tea party conservatives calling for deep spending cuts to shrink the size of government, as opposed to what he characterized as a more comprehensive approach.
"This larger notion that the only thing we can do to restore prosperity is just dismantle government, refund everyone's money, let everyone write their own rules and tell everyone they're on their own -- that's not who we are," Obama said. "No single individual built America on their own. ... We built it together."
Senate Minority Leader Mitch McConnell, R-Kentucky, called Obama's address more of a political event than a policy statement.
"By all accounts, the president's so-called jobs plan is to try (his failed) policies again and then accuse anyone who doesn't support them this time around of being political and overly partisan, of not doing what's needed in this moment of crisis," McConnell said Thursday. "This isn't a jobs plan. It is a re-election plan."
CNN's Alan Silverleib, Charles Riley, Jessica Yellin, Brianna Keilar, Tom Cohen and Mariano Castillo contributed to this report.
FOLLOW THIS TOPIC