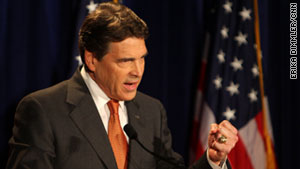 Rick Perry, shown making his presidential announcement in Charleston, South Carolina, will debate Wednesday.
STORY HIGHLIGHTS
After a quick ride to the top of the GOP field, the Texas governor now has to perform
He's sure to face scrutiny from rivals Mitt Romney and Ron Paul
And his comment about Federal Reserve chief, passages in his book will draw attention
But Perry has already shown he can take a punch and hit back hard
Los Angeles (CNN) -- It is fitting that Rick Perry will take the stage in his first presidential debate just a short drive from Hollywood.
After a quick and relatively easy ride to the top of the GOP field in less than a month, the Texas governor now has to perform. And for many conservatives, the Reagan Presidential Library is a solid scene-setter for a classic California western. Make that a wild west shootout for Perry, who will probably see attacks coming from all sides.
Look for Perry's main rival, Mitt Romney, to repeat his not-so-subtle caricature of Perry as a "career politician" who has spent much of his adult life working in government.
Watch out for fellow Texan Ron Paul, who likes to remind Republican voters that Perry was once a Democratic "cheerleader" for Al Gore's 1988 presidential campaign.
The moderators at tonight's debate, NBC News anchor Brian Williams and Politico editor John Harris, will have a chance to question the governor's recent comment labeling any actions by Federal Reserve Chairman Ben Bernanke to boost the economy amid a presidential race as "treasonous."
GOP race picks up pace with debates
Then there's Perry's controversial anti-Washington book, "Fed Up." Its passages referring to Social Security as a "Ponzi scheme" may be catnip to former Utah Gov. Jon Huntsman, who has tried in recent weeks to position himself as a moderate alternative in the race.
GOP strategist Karl Rove has already seized on the book as a potential liability. Rove called Perry's Social Security comments "toxic" in an interview Wednesday morning on ABC's "Good Morning America."
"They are toxic in a general election environment, and they are also toxic in a Republican primary. If you say Social Security is a failure and ought to be replaced by a state-level program, then people are going to say, 'What do you mean by that,' " Rove said.
And don't forget Michele Bachmann -- much of Perry's support in recent polls appears to have come at her expense.
What do you think of the candidates?
But Perry has already shown he can take a punch and hit back hard. His campaign quickly responded to Paul's attacks on Perry's Democratic lineage by noting the Texas congressman bailed from the Republican Party when Reagan was president.
Team Perry also raced to put out a statement reacting to Romney's jobs speech Tuesday: "As Governor of Massachusetts, Mitt Romney failed to create a pro-jobs environment and failed to institute many of the reforms he now claims to support."
Perry may also have to respond to criticism that he likes to play it safe.
Last week, GOP presidential contender Rick Santorum pointed out to CNN's Piers Morgan that Perry doesn't do many interviews.
In his race for re-election in 2010, Perry refused to debate his Democratic opponent, then-Houston Mayor Bill White.
Southern Methodist University political science professor Cal Jillson predicts Perry will benefit from the crowded stage he will share Wednesday night. There simply won't be enough time to direct all of the questions to the Texas governor.
"With eight or nine people on the stage and little time for follow-up questions, he will be able to stick to bumper-sticker themes," Jillson said.
That may be small comfort to Perry. He has another performance set for Monday when the curtain goes up on the CNN tea party debate in Tampa, Florida.
FOLLOW THIS TOPIC