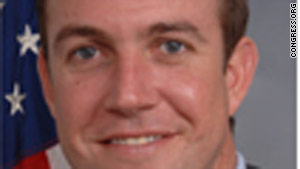 Rep. Duncan Hunter's bill is circulating among other members of Congress this week.
STORY HIGHLIGHTS
"Don't ask, don't tell" policy is set to end in U.S. military on September 20
Pentagon won't comment on Rep. Duncan Hunter's bill
Military would not have to approve of another's sexual conduct, measure states
Washington (CNN) -- The military is on a two-week glide path to ending "don't ask, don't tell," its present policy banning gay men and lesbians from serving openly in the armed forces.
But congressional critics may provide some low-level turbulence on the final approach to the September 20 policy change.
Congressman Duncan Hunter, R-California, is shopping around a bill to ensure that any member of the armed forces who may disagree with homosexuality won't be pressured by the military to act in any way to contradict personal beliefs.
The official language of the proposed amendment says it would require that "members of the Armed Forces are not pressured to approve of another person's sexual conduct if that sexual conduct is contrary to the personal principles of the members."
Hunter's staff is circulating the bill to other members of Congress this week.
Hunter's press secretary, Joe Kasper, says the bill would be an amendment to the repeal of the "don't ask, don't tell" policy and would protect members of the military.
"Congressman Hunter is floating around legislation to amend current law so that service members are not pressured to personally approve any behavior or action that is contrary to their own principles," Kasper told CNN by e-mail. "The military always falls in line, but that doesn't mean that the men and women who serve in its ranks should suddenly be forced to personally accept something that is contrary to their own principles."
The Pentagon is not commenting officially on Hunter's bill.
"We don't comment on proposed or pending legislation," Pentagon spokesman Col. Dave Lapan told CNN last week.
Throughout its lengthy publicity and training campaign about the repeal of "don't ask don't tell," the military has emphasized that its tradition of discipline and respect would ensure that new rules and procedures would minimize problems.
Top Pentagon officials, both civilian and military, have repeatedly insisted the new policy will have no negative impact on morale, cohesion and effectiveness of troops.
One of the most vocal advocates of the change in the Defense Department policy, Alex Nicholson, of gay military organization Servicemembers United, accused Hunter of "petty, silly and undignified" behavior.
"Congressman Hunter is making a mockery of the House Armed Services Committee, the United States Congress and himself with these ridiculous measures he keeps introducing about gays and lesbians in the military," Nicholson said. "He lost, and he needs to get over it. Discrimination is a value of the past, not of the present or of the future."
OutServe, an organization that bills itself as the association of actively serving lesbian, gay, bisexual and transgender military personnel, with 42 chapters worldwide, says its publication will soon be made available free for some Army and Air Force personnel.
"OutServe Magazine has received approval to be distributed on Air Force and Army bases, and will be releasing the magazine in limited Air Force and Army base exchanges beginning next edition. Specific locations are not being disclosed at this time, according to the OutServe website.
The Pentagon confirmed that OutServe had been provided a list of more than 30 locations where they could display the magazine. The magazine's September 20th edition is promising pictures and photos of nearly 100 OutServe members, according to the website.
FOLLOW THIS TOPIC