STORY HIGHLIGHTS
Tea party power Jim DeMint organized Palmetto Freedom Forum
Gov. Rick Perry forced to cancel to handle wildfires in state
Mitt Romney tells panel his health care law will be asset
Rep. Michele Bachmann claims states can't mandate purchase
Columbia, South Carolina (CNN) -- Five of the Republican Party's leading presidential contenders traveled to South Carolina on Labor Day to kiss the ring of tea party kingmaker Jim DeMint at a first-of-its-kind forum devoted to the Constitution and the role of government.
DeMint, a South Carolina senator who rose to national prominence during the 2010 midterm elections as a power broker of the tea party movement, joined with Iowa Rep. Steve King and a Princeton law professor at the Palmetto Freedom Forum in Columbia.
The conservative trio pressed the candidates on an array of issues ranging from health care to abortion to the role of organized labor.
The Republican front-runner, Texas Gov. Rick Perry, was in South Carolina on Monday at another event across the state but was forced to cancel his appearance at the forum and return home to deal with the growing threat of wildfires around Austin.
Perry did manage to steal a measure of the spotlight, however, by rolling out a major Palmetto State endorsement from Rep. Mick Mulvaney, the freshman GOP congressman who defeated John Spratt last November and is enormously popular among conservative activists in the state.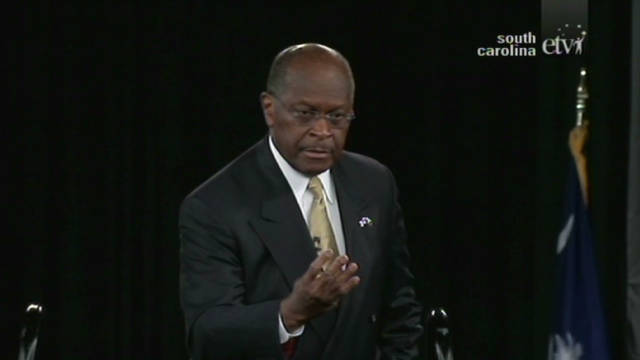 Cain offers his solutions to immigration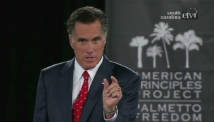 Mitt Romney criticizes 'Obamacare'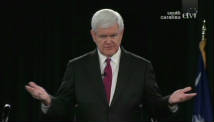 Gingrich: U.S. is in 'grave danger'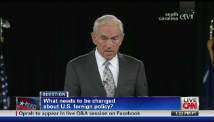 Ron Paul: Bring the troops home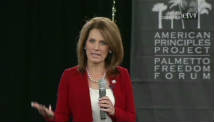 Bachmann ready to ax Dept. of Education
Mulvaney had previously said he would not endorse but changed course Monday and said he would co-chair a team of economic policy advisers for the Perry campaign.
Perry's closest rival in the national polls, former Massachusetts Gov. Mitt Romney, also stepped outside his comfort zone to appear at the event and face questions geared toward the type of conservative activists who bristle at the health care law Romney passed in the Bay State.
Romney stepped up his courtship of the tea party movement after Perry leapfrogged him in the polls, thanks in part to Perry's early appeal to both conservative activists and more business-minded Republican voters.
Over the weekend, Romney also addressed a tea party rally in New Hampshire.
Romney was asked about the health care law toward the close of the two-hour forum, and was given just one minute to deliver what is, at this point, his well-rehearsed answer.
Speaking directly to DeMint, a top supporter from his 2008 presidential bid who is still neutral in the 2012 race, Romney said the Massachusetts law would be one of his "biggest assets" in a general election fight against President Barack Obama.
"I'll say to him, why didn't you give me a call? I would have told you what to do right and what not to do," Romney said, defending the rights of states to make policy instead of the federal government.
He added, "It's bad law, it's bad medicine and on day one of my administration, I'll direct the secretary of health and human services to grant a waiver for Obamacare to all 50 states. It's got to be stopped and I know it better than most."
Minnesota Rep. Michele Bachmann took a different tack on the health care topic and levied a veiled shot at Romney, claiming that states have no right to mandate the purchase of any good or service.
Massachusetts residents face a penalty if they refuse to buy health insurance.
"I believe it is also unconstitutional for states to mandate as a condition of citizenship, that an individual would have to purchase a product or service even at the state government's behest," Bachmann said.
Pressed by conservative Princeton legal scholar Robert George to back up her assertion by naming a provision in the Constitution, she could not.
But with an otherwise calm and polished performance, Bachmann signaled she has no intention of going away quietly in the face of the newly ascendant Perry juggernaut, which is siphoning off her support in Iowa and South Carolina.
Texas Rep. Ron Paul pitched himself as the original constitutional conservative. He criticized Federal Reserve policy and said the U.S. military footprint overseas should be scaled back to help alleviate pressure on the federal budget.
Businessman Herman Cain said the White House is in desperate need of a political outsider who understands the private sector.
And former House Speaker Newt Gingrich won high marks from conservatives, weighing in on Twitter with a policy-fluent speech laced with references to American history and sharp attacks against the federal judiciary.
After the forum, Gingrich had kind words for his GOP rivals and said the tea partiers have been unfairly vilified by the media and Democrats.
He made reference to recent reports that Vice President Joe Biden called tea party activists "terrorists" in a closed-door meeting during the debt ceiling debate.
"It strikes me that despite every effort of the news media and every effort of the Democrats to isolate the tea party and treat them more hostilely than we treat terrorists who are trying to kill us," Gingrich said. "Here you have a Democratic Party where it's OK to call American citizens 'terrorists' but it's not OK to call terrorists 'terrorists'? There is something really bizarre about that."
The first-of-its-kind forum was devised earlier this summer by a small band of DeMint advisers who have expressed some unease with the GOP field and their commitment to the constitutional principles the senator holds dear.
In the past, DeMint spoke favorably of Indiana Rep. Mike Pence, Indiana Gov. Mitch Daniels and New Jersey Gov. Chris Christie, but all three of those Republicans declined to mount White House bids.
DeMint backed Romney during the 2008 race but has since questioned the health care law he passed as governor of Massachusetts.
Calling themselves the "keep your powder dry caucus," the group of GOP moneymen and political operatives loyal to DeMint originally invited eight candidates or potential candidates to take turns explaining their views on limited government, spending and taxes.
Organizers were forced to rearrange their plans at the last minute when Perry announced that he would skip the forum in order to return to Texas and manage the response to a swath of wildfires threatening the Austin suburbs.
Perry's campaign said he would attempt to answer questions remotely from Texas, but forum organizers said they would not allow him to do so and said they would "arrange a future date" to answer questions from the panelists.
DeMint said before the forum that Perry called him to apologize for missing the event and promised to "double his time commitment to South Carolina."
The South Carolina forum was sponsored by the conservative American Principles Project, which was founded by George.
FOLLOW THIS TOPIC