STORY HIGHLIGHTS
Republican presidential candidate Mitt Romney adds two tea party events to schedule
Recent polls show Romney falling behind Texas Gov. Rick Perry
Romney hopes his business background will play to his advantage
He has declined to level a direct attack on Perry
(CNN) -- Republican presidential candidate Mitt Romney took his economic message into the heart of Texas -- rival territory -- on Tuesday, telling a San Antonio audience that "career politicians got us into this mess and they simply don't know how to get us out."
It was another cautious foray into contrast politics for the former Massachusetts governor, who has pursued an above-the-fray approach during the months he has led the pack in the campaign.
The race is shifting, and some signs point to a recalibration in Romney's strategy as he surveys the changing political landscape.
A new CNN/ORC International poll shows that Romney has been rocked from his cushy perch at the top of the field. The August 24-25 poll of Republicans now puts Texas Gov. Rick Perry in the lead with 27% support nationwide. Romney received 14%.
On Tuesday, Romney's campaign announced that he would headline a tea party event in New Hampshire on Labor Day. Hours later, the campaign moved that event to Sunday in a different location and announced that he would attend a Labor Day forum in South Carolina hosted by tea party original Sen. Jim DeMint, an invitation Romney had previously turned down.
Perry is a favorite of the tea party, and those insurgent voters see Romney as a more establishment candidate.

New CNN poll: Perry jumps to lead

Arianna Huffington talks tea party

Wisconsin Gov. likes Perry-Romney ticket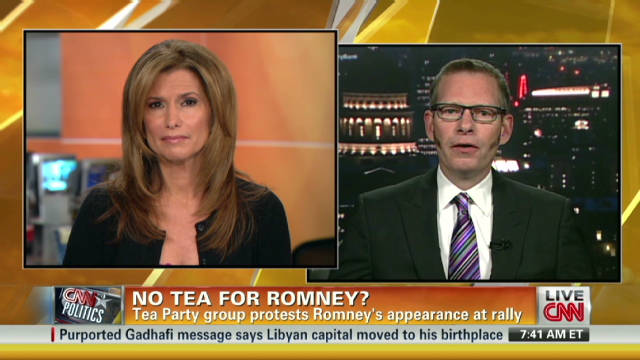 No Tea for Romney?
The Romney campaign denied he decided to attend the DeMint event because of Perry's strong poll numbers.
Perry has spent three decades in public office, a record Romney hopes will play to his advantage as he plays up his time spent in private business.
Romney spent much of the summer lying low as his competitors weighed in on the debt ceiling debate and made exhaustive campaign stops in the early primary states. He did pick up the pace in August, hosting town halls across his first must-win state of New Hampshire, but he has kept his focus squarely on President Barack Obama.
Despite continually being pushed by the press, Romney has declined to move past contrast politics and level a direct attack on Perry. However, he does offer hints about the areas where he will contrast his record with the three-term Texas governor's.
"I spent most of my life outside of politics, dealing with problems in the real economy," he told the Veterans of Foreign Wars convention in San Antonio. "Career politicians got us into this mess, and they simply don't know how to get us out."
Perry spent six years in the Texas House of Representatives, eight years as agriculture commissioner and one year as George W. Bush's lieutenant governor before Bush was elected president in 2000 and Perry assumed the governor's office. He has been re-elected twice and is the state's longest-serving chief executive.
Romney, who co-founded the private equity firm Bain Capital in 1984, joked with an audience in Keene, New Hampshire, last week that he "didn't inhale" during his four years leading Massachusetts. He said his record in the private sector would be the key to a Republican triumph next fall.
"I know how to do that," Romney said of creating jobs. "I know how to do it because I've done it. I haven't just watched other people do it. I've actually done it."
Former Republican National Committee Spokesman Doug Heye said Romney's above-the-fray strategy served him well during the summer, when most voters were not paying much attention to the race.
But "Perry's entrance into the race definitely changes the calculus," Heye said, adding that he expects candidates to start focusing on each other at a series of televised debates in September.
"We're getting towards the post-Labor Day period, where it really is campaign time, and we're getting to the time where just naturally contrasts are going to be made by candidates and campaigns more than in the past."
Romney's strategy moving forward will be defined by the upcoming debates, said Republican strategist and former House aide Ron Bonjean.
"It's going to be important for the Romney team to figure out how best to take the shine off of the Perry campaign. The problem, I think, is that Romney may not be able to do it himself," Bonjean said. "He'll probably have to engage with Perry in the debates in some way, but ... he doesn't come off very well when he attacks."
Bonjean said that instead, Romney may wait for the other Republican candidates to close in on Perry.
"(Michele) Bachmann has the most to lose right now in all this. She could work to attempt to take on Perry's credentials," he said. "But you have other people like (Jon) Huntsman and (Newt) Gingrich and (Rick) Santorum who want to be noticed, as well."
GOP consultant Ford O'Connell, who worked for Sen. John McCain in the 2008 campaign, said Romney may be able to continue his strategy of avoiding engagement for a while longer.
"Romney is taking a more passive approach and is looking for Perry to self-destruct on the stump," O'Connell said. "If Perry is able to clear the field without committing political suicide, Romney would be forced to take a more active approach and engage Perry in a one-on-one contest. Such a situation would not play into Romney's strengths."
The Romney team may also deploy surrogates and use some of the more than $12 million the campaign has in the bank to spend on advertising to point out Perry's perceived weaknesses for the GOP base. The criticism would probably focus on Perry's many years in public office and his support in 2001 for allowing undocumented immigrants to attend college or universities in Texas at in-state tuition rates, he said.
The key to Romney's success -- both to the tea party and to a wider Republican electorate -- is to convince Americans of his prowess on their most pressing concern: the economy and jobs.
"It's really going to boil down to who best can turn around the economy, so Romney's going to have to tout his own credentials there," Bonjean said.
FOLLOW THIS TOPIC