Obama's uncle arrested in Massachusetts
STORY HIGHLIGHTS
NEW: A source says the arrested man is not legally in the United States
Onyango Obama is arrested for driving under the influence of alcohol
The arrest occurred on Wednesday
The arrested man is the half-brother of the president's father
(CNN) -- An uncle of President Barack Obama was arrested last week in Framingham, Massachusetts, for allegedly operating a vehicle under the influence of alcohol, police Lt. Ronald Brandolini told CNN on Monday.
Onyango Obama was arrested on August 24 after failing a field sobriety test, Brandolini said.
An administration official confirmed to CNN that the arrested man is the half-brother of President Obama's father. There was no other administration comment immediately available.
According to a a federal law enforcement source who spoke on condition of not being identified, Onyango Obama was not legally in the United States and has been previously ordered removed from the country. His case is now going through the immigration process, the source said.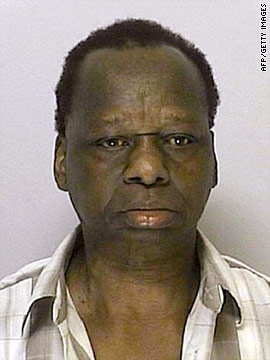 Gallery: Presidential relatives who made headlines
A spokesman at the Department of Homeland Security said U.S. Immigration and Customs Enforcement does not comment on specific cases.
According to a statement from Framingham police, an officer in an unmarked police cruiser stopped Onyango Obama just after 7 p.m. after a sport utility vehicle he was driving failed to make a proper stop at an intersection.
The arresting officer, Val Krishtal, said Obama had red and glassy eyes, slurred speech and appeared unsteady on his feet, the statement said. Obama told Krishtal he had consumed two beers, and then failed "several" field sobriety tests, according to the statement.
Obama was arrested for operating a vehicle under the influence of alcohol, failure to yield and operating a motor vehicle to endanger, the statement said. Obama was being held without bail at the request of Immigration and Customs Enforcement, it said.
CNN Chief White House Corrrespondent Jessica Yellin contributed to this report.