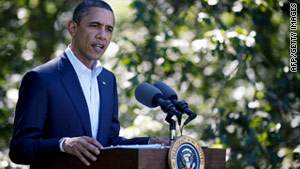 President Obama will propose ideas to reach a deficit reduction plan that exceeds the required $1.5 trillion.
STORY HIGHLIGHTS
NEW: White House aide says Obama will propose more deficit cuts than mandated
Lawmakers Murray, Hensarling say they are discussing committee rules
The two co-chairs also are looking at a meeting schedule
Most of the 12 committee members are examining past work on the issue
Washington (CNN) -- President Barack Obama will propose ideas for how the special congressional committee created by the recent debt ceiling deal can reach a deficit reduction plan that exceeds the required $1.5 trillion total, a White House spokesman said Wednesday.
"It's fair to say that the White House and the president will lay out some specific ideas about how ... the super committee can go beyond their $1.5 trillion mandate," said Josh Earnest, the deputy White House press secretary.
Meanwhile, the co-chairs of the committee said Wednesday they are working to set rules for how the panel will operate and to determine a meeting schedule.
It was the first joint statement from Sen. Patty Murray, D-Washington, and Rep. Jeb Hensarling, R-Texas, since their appointment earlier this month as co-chairs of the Joint Select Committee on Deficit Reduction.
The 12-member panel, evenly divided between House and Senate Democrats and Republicans, has until November 23 to work out $1.5 trillion in deficit reduction after an initial round of more than $900 billion in spending cuts in the debt ceiling agreement.

Zakaria: Super committee will deadlock
Congress will then have until December 23 to vote on the proposal, with no amendments permitted.
A simple majority on the panel -- seven of 12 members -- is needed to approve whatever package it comes up with, meaning that it will take a lone member of either party to push something through by voting with the other side. The committee's proposal would then need a simple majority in each chamber of Congress to make it to President Barack Obama's desk.
If the committee fails to reach agreement or Congress fails to pass whatever package is recommended, a trigger mechanism would enact further across-the-board cuts in government spending, including for the military.
"In our capacity as co-chairmen, we are engaging in serious discussions to determine what set of rules will govern the committee's operation, examining a schedule of potential meetings and exploring how to build a committee staff that will help us achieve success," said the Murray-Hensarling statement.
It added that "most of the committee members" are reviewing deficit reduction work of the past few years, when a deficit reduction commission appointed by Obama and a group of six U.S. senators came up with similar plans calling for spending cuts, tax reform and changes to entitlement programs such as Social Security and Medicare.
Earnest told reporters that Congress faces tough choices in coming up with a deficit reduction plan, regardless of the size of the package.
"So if there is an opportunity for us to do something even bigger than $1.5 trillion, I think you can make a pretty good argument that doing something bigger is actually something that many members of Congress would find easier to support and vote for than something smaller," Earnest said.
Months of rancorous negotiations on deficit reduction have failed to resolve a fundamental dispute between Republicans and Democrats involving the size of government and whether to raise revenue while cutting spending.
Obama is pushing for a comprehensive plan that includes spending cuts, increased tax revenue and entitlement reforms, while Republicans seek to shrink government by proposing spending cuts and entitlement reforms without increased revenue.
An impasse over the tax revenue issue led to the debt ceiling agreement, which imposed the initial round of spending cuts and set up the special committee to work out further deficit reduction. The agreement also enables the federal debt ceiling to be increased through 2012, allowing the government to borrow what it needs to meet its obligations.
The brinkmanship of the negotiations, with uncertainty over whether the government might default if no deal is reached, was one reason that ratings agency Standard & Poor's downgraded the U.S. credit rating from AAA to AA-plus earlier this month.
CNN's Ted Barrett and Tom Cohen contributed to this report.
FOLLOW THIS TOPIC